Today we hit a high adventure note and offered several out of camp trips to the girls. While some of the adventure offerings here at Rockbrook are part of our regular activity schedule (for example, zip lining and Alpine Tower climbing), and hence happen almost everyday with almost every camper experiencing them at some point, others are "sign up" trips that are special off-camp outings. The girls sign up for these out-of-camp adventure trips when announced the day before.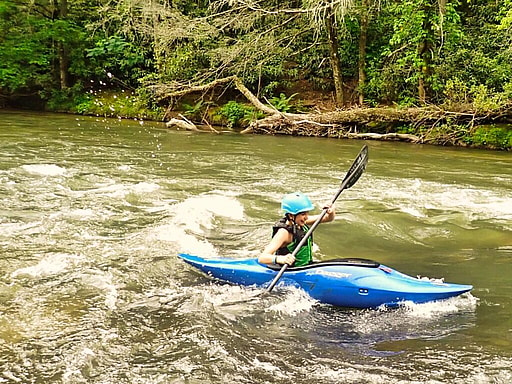 One of those trips took a group of campers over near Saluda to the lower section of the Green River for whitewater kayaking. The Green is the next step in our kayaking progression after a trip on the French Broad (which also happened this week!). The Green takes basic skills applied in moving water— catching an eddy, ferrying, and peeling out, for example —and turns them up a notch. The water on the Green is moving a little faster, has more features, and few true rapids where the girls need to maneuver their boats more precisely. Our longtime lead kayaking instructor Leland Davis (who by the way is very well-known in the national paddling community) loves introducing kids to whitewater boating. Our Rockbrook girls had a good day out on the water. Leland says they all did well, even successfully surfing one section where the water makes a perfect waveform. With the Green River successfully run, there'll be more challenging rivers to hit next week.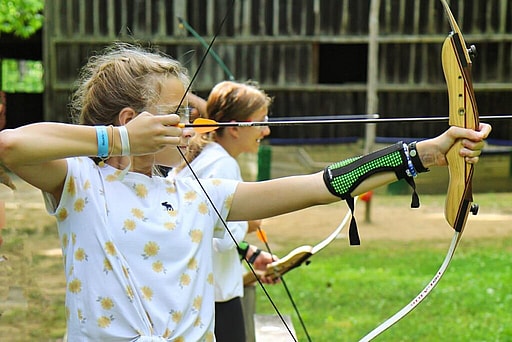 Another boating trip returned today after spending the night out camping. This was an overnight canoeing trip along the French Broad River here in Transylvania County. The girls gathered tents, cooking equipment and food, and their personal items (clothes, sleeping bag, etc.) in special "dry bags" so everything could be loaded into canoes. They paddled tandem canoes, two campers per boat— bow and stern —starting near Rosman and gently making their way downriver toward Rockbrook. About halfway, they pulled over to set up camp on a grassy field near the river. A campfire, s'mores, and sleeping in tents turned it into a real camping trip. More paddling in the morning, the crew returned to camp before noon, tired but cheerful.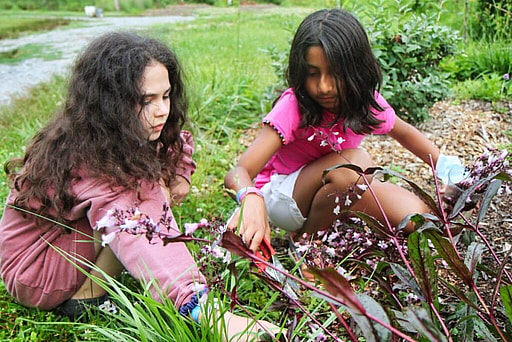 After dinner tonight a cabin of junior campers (Juniors are the youngest girls at camp.) took a special trip to a local berry farm owned by our Staff Director Wendy Manner and her family. The girls were thrilled to spend time with ducks and chickens, and a very furry bunny. They could experience the animals up close, pick them up feeling their feathers and fur. The farm grows flowers as well, so the girls were able to harvest a few different varieties and make their own bouquets. They learned a bit about the plants grown, the organic fertilizer produced in a compost pile, and how the eggs are gathered from the chicken house. To round out the evening, there was a campfire where the girls could roast marshmallows, make s'mores and sing a few camp songs. A classic treat before taking the short drive back to camp.
It's wonderful to see these Rockbrook girls jumping feet first into all this adventure. They are showing that with a dash of bravery, and with some enthusiastic encouragement, they can do what might initially seem scary or even impossible. Together they find themselves meeting challenges and solving problems. Even in these adventure settings, they are accomplishing things, handling what comes, and growing more confident in the process. You might think these girls need a lot of help. But mostly, they don't. In so many ways, these Rockbrook girls can…!