Today we proved once again that Rockbrook girls love to go whitewater rafting, as we spent the day over at the Nantahala River. It was back in the early 1980s when Rockbrook received a Forest Service permit to run rafting trips on the Nantahala. Rockbrook is still the only girls camp to have this type of permit. This allows us to take everyone who might wish to go (though only Middlers and Seniors are old enough), use our own equipment, train our own guides, and take trips at our convenience. Over the years, whitewater rafting has become the most popular adventure trip we offer. I'd say 95% of the girls eligible to go will sign up for one of the trips. Today 71 people rafted the Nantahala in two groups, with half going in the morning and the other half after lunch— two trips in one day.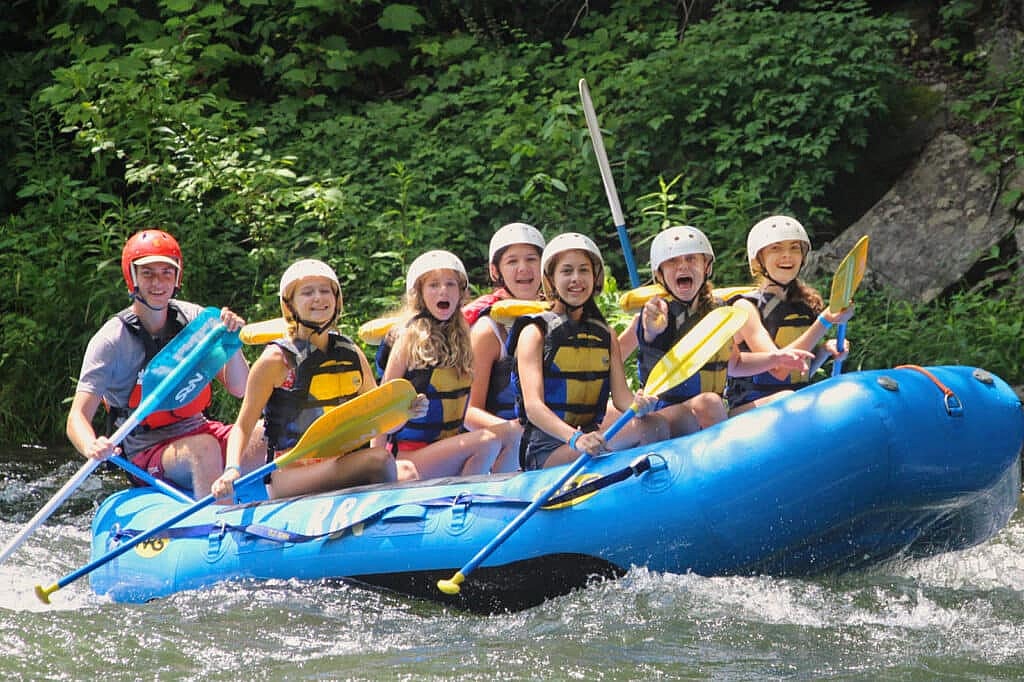 Take a look at the online photo gallery of today's rafting and you'll see right away that the girls had a fantastic day on the river. Something about rafting inspires even more silliness, more laughter, and more frolicking. While rafting, they're posing for the camera, making "high fives" with their paddles, "playing dead," and recreating movie scenes, for example. Even though they have to paddle the boats now and then, the splashing water and bumps from the rapids keeps things playful and exciting.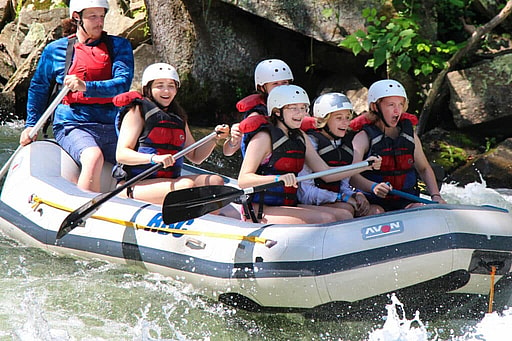 Today's weather was ideal for rafting too— hot and sunny, which is nice when combined with the chilly 50-degree water of the Nantahala. The 9-mile section of the river takes us about 2 hours to raft. It's a series of calm floating sections and wild whitewater rapids with names like "The Bump," "Patton's Run," "Delbar's Rock," and "Surfer's Rapid." Like most things at camp, a big part of the fun of rafting comes from the fact that you're doing it with friends. This makes every surprising bump hilarious, especially when someone falls out of the raft and needs a pull to get back in, or when "riding the bull" on the front of the raft ends up in a fall backwards into the boat, feet waving in the air. The final rapid of the trip is the Nantahala Falls, a class-III, double drop rapid that is powerful and fun. It never fails to get everyone screaming, and at the bottom, to create feelings of celebration after making it through. It's the perfect highlight ending for a day of adventure.
Back at camp in time for dinner… well actually about 20 minutes late, which meant we joined the meal already in motion, the girls were surprised to find the dining hall tables rearranged and everyone sitting in different places (not in their cabin groups as usual). There were 12 large tables, one for each month, because it was "birthday night!" Everyone was seated according to their birth month. Plus, there were some amazing costumes on display. It was a "not so scary Halloween" costume dinner, with wild hats, wigs, sunglasses, colorful shirts and dresses. Each month had its own decorated cake to share as well. With funny halloween-themed music playing, it was s party!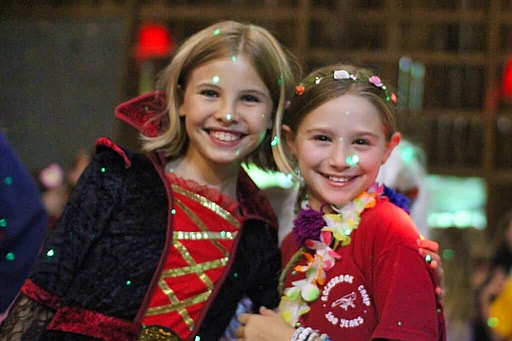 Keeping the costume theme going, our evening program was an all-camp dance in the gym. Our friend and local DJ, DJ Marcus, was set up with his sound and light equipment when the girls arrived in waves. Soon the gym was packed with girls jumping and singing along to their favorite pop songs. I'm always impressed how Marcus will mix in a few group dances like the "Cha Cha Slide" to encourage everyone, even the more reserved girls, to join in the moves.
Walking up the hill after the dance, one of the girls who had also gone rafting said to me she felt "pretty tired, in a good way." "Me too," I thought. Camp life is generally full of action, keeping us moving throughout the day. All the chatting, smiling and laughing, plus the intensely stimulating things we do— climbing, riding, creating, rafting, dancing, etc. —makes this a rich way be. We're not zoning out in front of a glowing screen. We're actively engaged with real world textures and sensations, bolstered by an incredibly enthusiastic and supportive group of people. There's really nothing, nothing this good, quite like it !