Today was the day when the girls attending our third session of the summer could finally begin their long awaited time at Rockbrook. Beginning at 8:15 am or so and continuing throughout the morning, girls and their parents (and sometimes their dogs too) lined up and drove through our check-in sequence patiently tolerating each step of the process. It was obvious to me that this last bit of waiting in line was torturous for the girls given how long they'd had already been waiting for this day, some waiting for months or even a whole year for this. Thankfully the line kept steadily moving and soon the girls were meeting their counselors on the hill.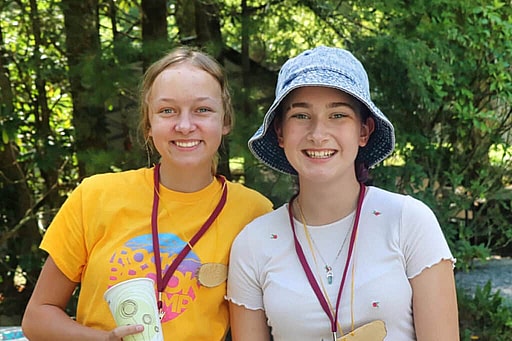 It's a big deal to get ready for camp. There's all the health forms, the covid testing and protocols (Thank you for doing that!), the packing, and the travel —all of these take a lot of planning and effort. Meanwhile, the campers have visions of camp in their heads —all the new people they'll meet, the different activities they're looking forward to trying, and the surprise events they know are coming. There's a lot to be excited about, especially when it's been building all summer long.
No wonder we saw girls literally vibrating with excitement, sometimes nervous excitement, but clearly jittery, wide-eyed and happy this day had arrived. These girls were ready! They were ready to get all this preliminary stuff out of the way, to stop just thinking about camp, and to finally get started doing it.
When they met their counselors at the last stop of the arrival process, each camper received a name tag made from a slice of mountain laurel and strung on a piece of lanyard. It starts out simple, but we encourage the girls to personalize their name tags adding nicknames, beads and other decorations that they might desire. Some can get quite elaborate! This summer the campers also receive a purple lanyard and clip so they can keep a mask handy. Especially at the beginning of the session, we are asking everyone to wear a mask when they are inside a building (except in their own sleeping cabin where masks aren't necessary). We're hopeful that our pre-camp COVID screening has been successful keeping the virus out of camp, but in case we were not 100% successful, masking like this will help minimize the spread of an infection if one should crop up. We hope to be able to relax these standards as the session unfolds.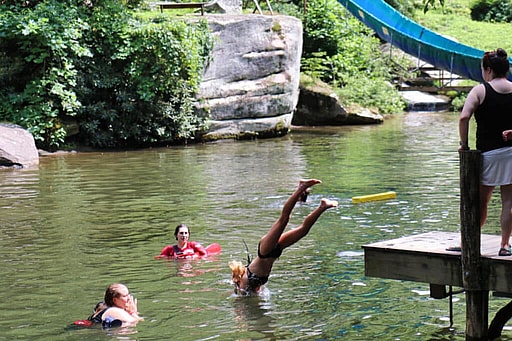 After a fantastic comfort food lunch (homemade mac-n-cheese, salad and cool fresh watermelon), the age groups took turns touring the camp, meeting with their Lineheads, and heading to the lake for the "swim demos." The tours are especially fun for the new campers because they learn about the major buildings in camp (dining hall, health hut, gym, office, etc.) as well as the different activity areas (archery and riflery ranges, climbing tower, tennis courts, nature nook, etc.). For the returning campers, the tours are another chance to chat and get to know the other girls in the cabin, and really to begin to settle down into the rhythm of camp.
It being so hot and sunny today (not record heat for us, but still close to 90 degrees), most everyone was happy to have a chance to jump in the lake this afternoon. Our "swim demos" are our introduction to the lake, and when the lifeguards assess how comfortable each camper is swimming in our chilly mountain lake. Showing you can jump off the dock, go under water, swim confidently and tread water for a minute are what we ask each camper to do for the swim demo. Campers who can't do all of this comfortably can still enjoy using the lake, but we will limit access to the certain parts of the lake or ask they wear a lifejacket as appropriate. These are the summer days when the lake is very popular. For everyone!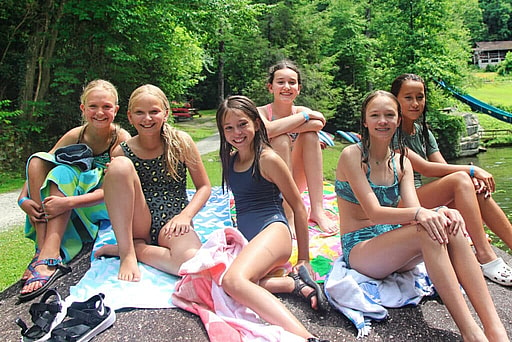 This photo helps summarize the feeling of camp at the moment. It shows a cabin group hanging out after the swim demo, chatting and getting to know each other. I think it shows a little bit of awkwardness, but also the beginnings of friendships. This makes good sense for a group that's been here only a few hours. I've found it can sometimes take a little time for the girls to loosen up and relax, both new and returning campers alike. Coming to camp is a big change from life at home, and it simply can take a little getting used to. It can take some time to dig into the activities (we'll launch right into that tomorrow), to understand that folks at camp are genuine and nice (no posing necessary), to realize that this is a place where it's easy to be included. It often takes a few days to understand the rhythms of camp and to become more confident away from parents.
But I can tell we're off to a great start, and whatever awkwardness is lingering at the moment will certainly fade. There are more stories to be shared, natural wonders to explore, new activities to try, and fun surprises to experience this session. There are more smiles on the way!