The last full day of our third session was today. After the upbeat excitement of the banquet last night, there was a different tone today. Instead celebrating with singing and dancing, we were more thoughtful. We slowed down and tried to savor the simple moments of camp. While packing we chatted with cabin mates. We admired each other's finished pottery pieces. Some of us rode horses for the last time at the barn party. We watched the play performance. Mostly though, we simply wanted to spend time with our friends, to hang out with them, not really doing anything in particular. Each minute of the day seemed to include that feeling of it being precious time. We knew our days together were waning.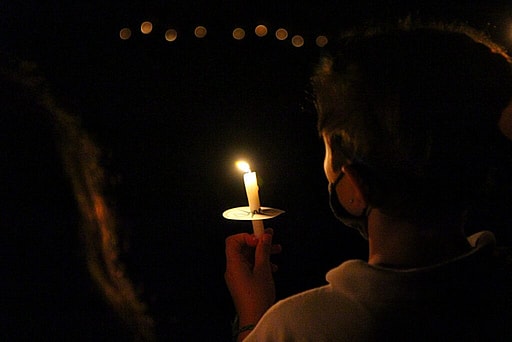 It's a fact about camp life; we don't want it to end. Especially during the 3rd session when school is right around the corner for most, we can't help but lament the ending of what we love about camp: the relaxed pace, the freedom to decide things on our own, the constant support and encouragement from the community, the feeling of belonging and love that follows from being our true selves, all the action, and the refreshment from being outdoors so much… and yes, even the break from social media and screen-based entertainment. We love all this and more about camp— it provides so much joy —so on the last day, it's a little sad to think about it coming to a close.
This tone carried into the final campfire of the session, our "Spirit Fire." The tradition of this ceremonial campfire started 100 years ago when Rockbrook was founded. With the whole camp gathered, it is a chance for everyone in the session to reflect a little about their time at camp. We sing traditional songs, and listen as campers and staff members take turns giving short speeches about what Rockbrook means to them. Tonight they talked about making quick friends, feeling at ease and at "home" after arriving here at Rockbrook, and also feeling incredibly grateful for all that camp has provided them over the last few weeks. There was a real awareness of how special this experience is, and how much they'll miss it back home.
As the girls circled the lake holding their candles and singing softly, it was clear again that camp was just right. It provided the deep human connection we all needed, helping everyone feel happy and normal again. Such comfort and satisfaction to end our day, and our time together, it was a touching, sweet moment I think we'll all remember fondly.