The Transylvania County Historical Society has made an interesting find that ties the Rockbrook Camp property to the oldest Presbyterian church in the area. Local historians Keith Parker and Gene Baker now believe the "Mamre congregation" had its "Presbyterian Meeting house below the mouth of Dunn's Creek" right across from the main entrance to Rockbrook. What's phenomenal is that this church was in place in 1798. That's the same year that the U.S. government officially obtained this land from the Cherokee! This means the property that would later become Rockbrook Camp (when Nancy Carrier's father Henry Peck Clarke purchased it) was a thriving community more than 100 years before the camp was founded. This area, known as the Dunn's Rock Township, was the third largest in the area when Transylvania County was formed in 1861.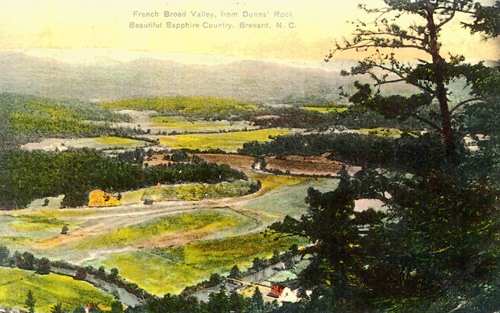 Now take a look at this view of the French Broad River valley from the top of Dunn's Rock. We're not sure what year it was made (and whether it's a colorized photograph or a painting based on a photograph; thanks to Roger Raxter for giving us a copy), but you can clearly see, along the bottom edge, the old "Dunn's Rock Bridge" crossing the river. Right next to it, you can make out the red roof of what we think is that old Presbyterian meeting house from 1798. It was just south of where the bridge crossed the river. Like the church, this bridge is no longer there.
Such important history surrounding Rockbrook!