After our late night 4th of July fireworks show yesterday, a crew of girls and their counselors woke up early this morning to go on a whitewater rafting trip at the Nantahala River. It was a 6:30am wake up and 7am departure event for us. A quick bowl of cereal and some yogurt still left most everyone pretty groggy for the drive over. It's about a 2-hour drive to the river, which gave folks a chance to doze in the bus. When we arrived, our Rockbrook guides had the equipment staged and ready, so the girls could hop out of the bus, apply some sunscreen and gear up with their PFDs, paddles and white helmets.
The weather was perfect for rafting. The morning fog burned off to bright, bright sun, which felt great compared to the cold, cold water of the Nantahala. There were six boats in the crew this morning. They bopped and bumped down the river, navigating around the rocks to follow the best lines through the rapids. The river alternates between fun splashy whitewater and more calm stretches where the girls can chat and mess around in the boats. There's always a discussion of some sort happening… maybe about the river, or about what pose to make for the camera, or just the regular banter of camp friends having fun together.
The last rapid is where the most intense action happens. It's a class III rapid called the "Nantahala Falls" and is a fun double drop that is guaranteed to bounce around your boat, and even toss out a person or two. Today, we had a couple swimmers, but after the excitement of being in the water, they were easily pulled back into their boats.
The whole crew enjoyed a picnic lunch with the second (afternoon) rafting group that arrived from camp right on time. Our excellent weather held nicely throughout the afternoon, making this second trip also a great success. Rafting is really an ideal summer camp activity. It's exciting, a little adventurous, highly social, cool on a hot summer day, and very fun every time you do it, whether it's your first or your fifth time. Everyone, guides and campers alike, had a great time on the water today.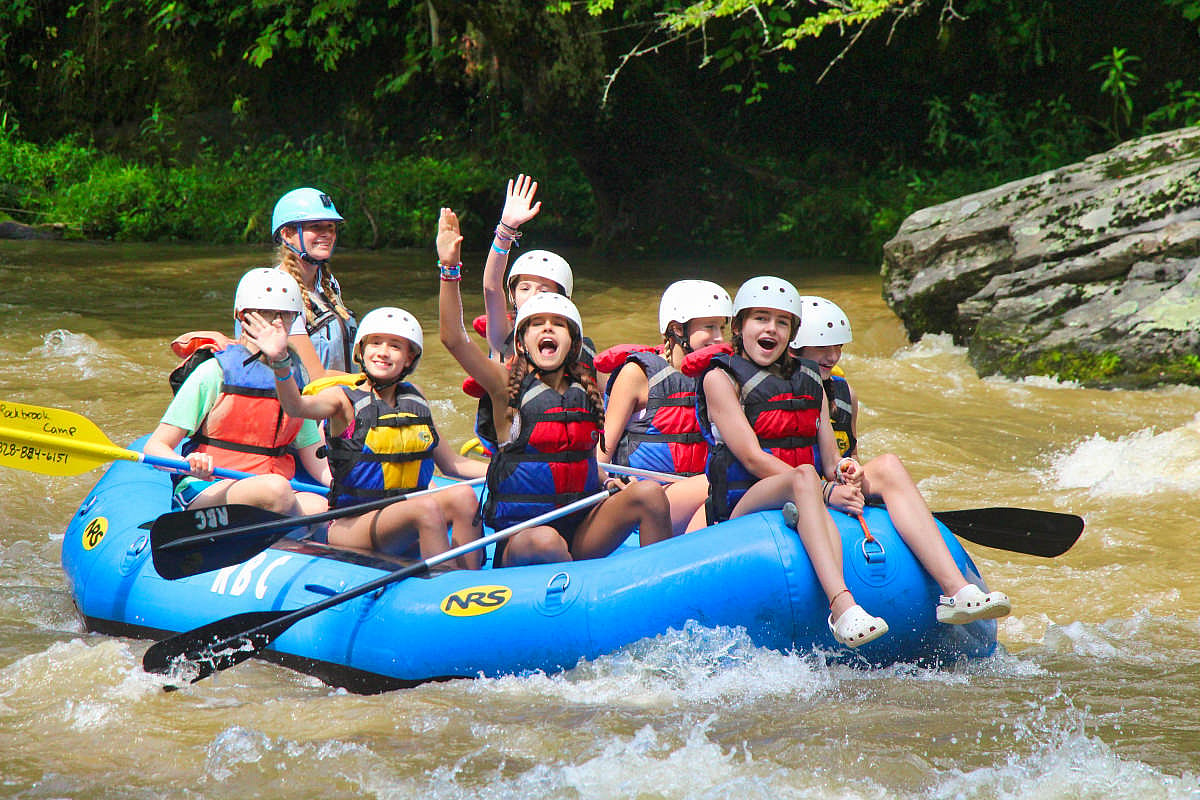 Yes, the experience of rafting is fun, but I think there's an even deeper benefit to be gained from it, something that can serve as a life lesson of sorts, or at least a moment when an insight can be realized. There's a hint of it during the pre-trip safety talk Ruby, the head guide, gives to everyone. She says things like, "everyone in your boat has to power to save anyone who falls out. Yes, even you can save your guide!" She explains how this is done too, how a small girl can grab the PFD of the guide and pull that adult back into the boat. Yes, this has happened (pretty often!), much to the amazement of the girls involved.
There are a couple of possible lessons here:
Despite this being a risky activity (someone might fall out), we can manage the risk and still carry on. We have good equipment, protocols and techniques that we trust will work if needed. Knowing these, we can be more confident when facing this particular risk. Instead of not rafting, instead of shrinking away from it because it's a little scary or uncertain, we can rely on expertise and even our own nerve in a situation. Like many times in life when we're afraid of what might happen, there are probably steps we can take to reduce the risks at hand. There is probably more we can learn and concrete things we can do to reduce the likelihood of something undesirable happening. Experiences like this help kids grow more confident in situations they find scary. These camp moments prove they can manage those feelings and still more forward.
Related to this is another lesson. Rescuing someone, pulling them back into the boat or reaching out to a swimmer using your paddle, proves to these girls, "you're more powerful than you think." This is another one of my phrases I use to encourage kids. I think they need to be reminded of this as much as possible. After all, so much of their experience is the opposite. They're often told, explicitly or implicitly, they're "just kids." Grownups do so much for them, ostensibly because they need help. They're not allowed to do so many things, apparently because they're unable to "handle it." Taken too far, kids can become kind of helpless, always looking for an adult to do things for them, soon believing they're incapable of "taking care of it" on their own. Rafting is different. Here they're told "we're counting on you to save people," "here's how you do it," and "you can do it." And they do! So for rafting, instead of assuming "I can't," there's proof that you can.
This is a great thing for kids to learn. Even if they're not always successful, I think it's a good habit to feel empowered in situations, and to know that you can learn how to handle things, even those that seem scary. The lesson is to learn more in those situations and to manage risks as well as possible, and with good reasons, to lean in. My hope is that Rockbrook girls learn some of these lessons. I hope they can remember they're more powerful than they think.