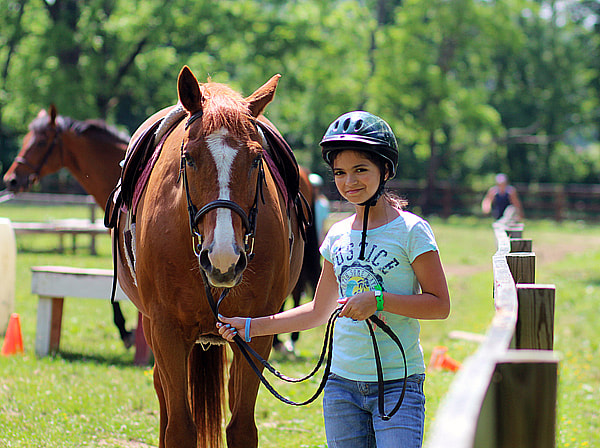 The first full day of camp opened quietly this morning with a thick fog lingering from yesterday's rain. Some girls, not yet accustomed to the schedule at camp, were up before the rising bell ringing at 8, while others seemed pretty sleepy when they arrived for breakfast at 8:30. Everyone though, enjoyed a hearty breakfast of oatmeal, fruit, yogurt, cereal and juice to start the day.
After breakfast, the girls assembled in their lodges (Each age group or "line" has it's own stone lodge.) for a quick meeting with announcements and a song or two. These "morning assembly" times are another way that the girls in an age group get to know each other, see their counselors lead and interact with the group, and simply have fun doing something together. Activity time was next. Hooray! It was finally time to run off to a part of the camp and begin climbing, swimming, paddling, drawing, shooting, riding, and creating in so many ways. Without a minute to waste, there were girls with their hands in clay, holding rifles and bows, gripping paddles and paint brushes, climbing up onto horses and all the way to the top of our 50ft Alpine tower. Happily, the weather cooperated beautifully and with sun shining, we could leave our rain coats in the cabins and instead carry a towel down to the lake for a swim.
If you haven't heard about Rockbrook's "Muffin Break," you certainly will from your daughter in a letter or after camp because it is a moment each day that everyone looks forward to. It happens between the first and second activity periods, and is exactly that, a break in the camp action to enjoy a freshly baked muffin served to everyone on the dining hall porch. It's particularly exciting because the flavor changes regularly, so the girls are always excited to learn if today's muffin is one of their favorite varieties. Today we enjoyed pumpkin chocolate chip, a classic and very popular kind.
This afternoon the "CA" campers, who are girls who have finished the 9th grade, took a hike in the Dupont State Forest. Their goal for the hike, besides enjoying the fantastic mountaintop views and blooming mountain laurel bushes along the trail, was to discuss their ideas for the end-of-session banquet. They needed to pick a theme for this special dinner/party they plan and produce for the whole camp, and since that theme is kept secret until the night of the banquet, discussing and debating the options away from camp is a good idea. They brainstormed more than a dozen initial ideas, and by the end of the hike they had selected an exciting and creative theme, one that included thoughts about the food to be served, decorations, costumes, dances, skits, props and music. They all seemed very excited about the idea… jumping with excitement …and I'm sure it will be a great event.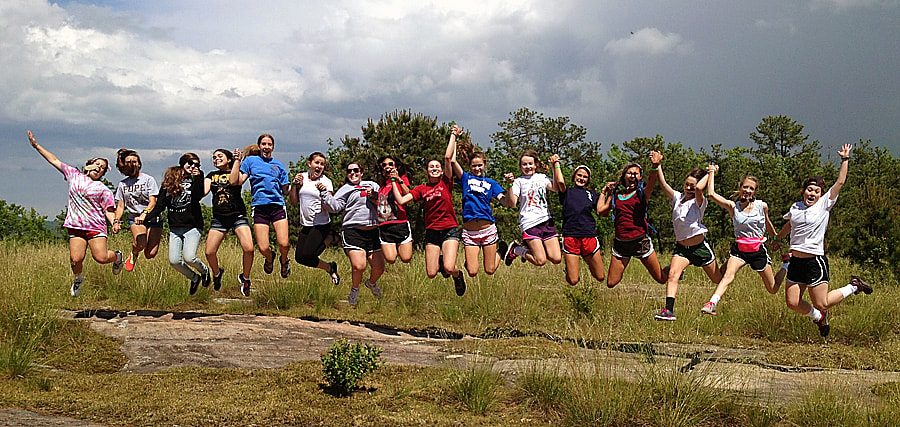 I hope you are enjoying the daily photos we have begun posting. If you haven't already, you simply login to your parent account, and click the photos link. You'll be able to browse through each day's galleries, mark your favorites, and at the end of the session purchase prints or high-resolution downloads, if you like. Karin, Becca and Rachel, our camp photographers, are busy taking and posting these photos for you. We hope you enjoy them.
Thank you for sharing your girls with us. Camp is off to a great start!