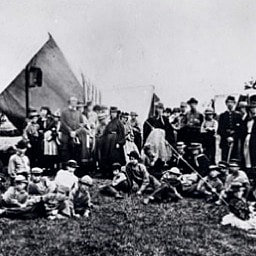 The American Camp Association, the national accrediting organization for summer camps in the United States and American camp professionals is celebrating its 100 year anniversary. It was back in 1910 that it was founded under the original name of the "Camp Directors Association of America."
As part of their celebration, the ACA has published a nice collection of historical photos, documents and interviews. It traces the history of organized camping to a particular event in 1861. Here's how the timeline starts:
The Gunnery Camp is considered the first organized American camp. Frederick W. Gunn and his wife Abigail operated a home school for boys in Washington, Connecticut. In 1861, they took the whole school on a two-week trip. The class hiked to their destination and then set up camp. The students spent their time boating, fishing, and trapping. The trip was so successful, the Gunns continued the tradition for twelve years.
It's nice to see summer camps so well represented, and interesting to think that Rockbrook's founding in 1921 came so soon after the ACA. By the way, if you want to learn more about the history of summer camps, there are some great resources out there.
Be sure to read more about the history of summer camp at Rockbrook.