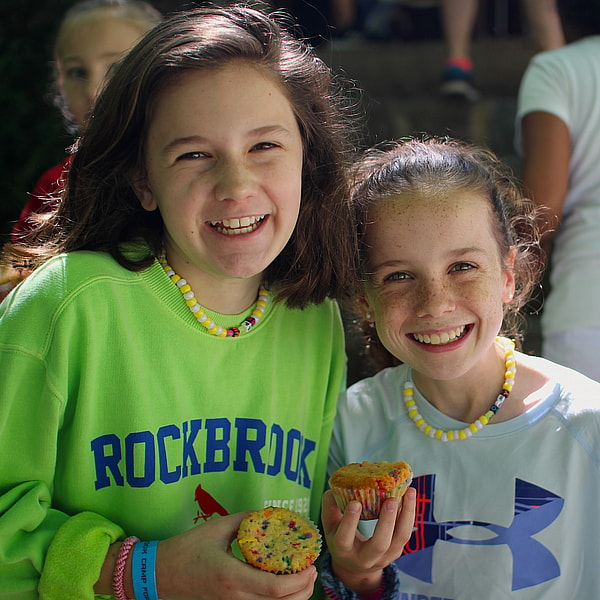 Don't be surprised if your daughter is far more interested in baked goods when she gets home from camp. Rockbrook has that effect on people, campers and staff members alike, because we enjoy freshly baked muffins, cookies, cakes and other desserts on a daily basis. There's a full time baker (actually 4 that work in shifts) keeping our giant mixer and convection oven working first thing in the morning and long into the afternoon. The most sought-after item from the bakery has to be the muffins we serve every morning between the first and second activity periods. Sarah invented the idea of "Muffin Break" years ago thinking the girls would enjoy a morning snack to help keep up the active pace of camp. She also thought it would be fun to vary the flavors and make each day a surprise. The bakers enjoy inventing crazy flavors as well as repeating classics. One day it's pumpkin chocolate chip, and the next it's raspberry swirl, strawberries and cream, confetti, or oreo (yes, with half an oreo cookie poking out the top!). Word about the flavor spreads fast around camp when the muffins are ready each morning, and you can count on everyone swinging by the dining hall porch to grab one.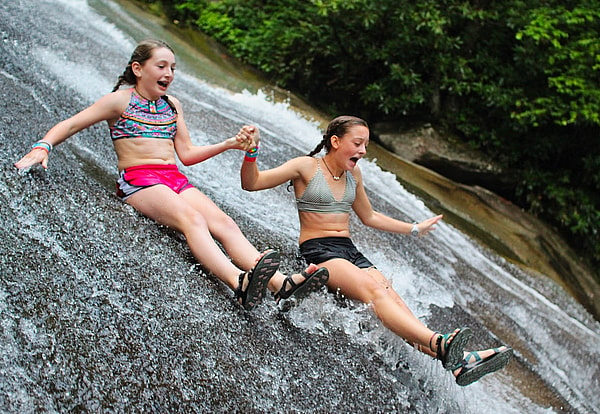 Let's take all the Middlers (5th and 6th graders) and their counselors to Sliding Rock. Like rafting, this has become one of the signature trips for Rockbrook girls, something they look forward to every year. Tonight our crew of more than 100 people, including all the staff members and lifeguards, took over the rock for the evening, sliding two-by-two down the 60-foot natural water slide formed by Looking Glass Creek. And these Middlers loved it! Slide after slide, wide-mouthed screams, cheers of encouragement from friends, and satisfied smiles proved how something this simple (no batteries required!) can be this fun. As others in the south struggle with summer heat, these girls were gleefully chilled and thrilled with this classic mountain experience. With no complex agenda and only the fading daylight to limit us, I think most girls were able to slide 3 or 4 times before we gathered everyone for the short ride to Dolly's Dairy Bar, our final stop of the trip. Of course the girls look forward to this too, a cup or cone of "the best ice cream in the world!" as one girl declared it. Whether it's "Rockbrook Chocolate Illusion" or one of the other camp flavors, a frozen sweet treat after riding down a freezing waterfall, is ironically exactly right. Add to it a few dozen friends, and that shared experience creates something uniquely powerful.
It's certainly worth repeating, but this unique power is another example of why camp is great for kids. The thrill of sliding down the rock is certainly active outdoor fun, but it's also exceptionally educational, helping to build confidence, independence and social skills. Surrounded by friends, the girls pull each other along experiencing more as a community than they otherwise would. They're learning to communicate, to consider others with kindness and generosity at heart, and to contribute to the larger group. Spending time in this kind of encouraging community, one focused on positive relationships and appreciative of nature and diversity, is inspiring for children. There's curiosity, wonder and joy to be discovered and celebrated each day at camp. Ordinary school experiences don't easily provide this kind of core learning, so more than ever, camp is a critical supplement for our growing children.
We take this educational responsibility seriously at Rockbrook, training our staff and strengthening our camp culture to encourage this kind of growth for our girls. Thank you for sharing them with us, and helping them help us make this experience so meaningful for everyone.