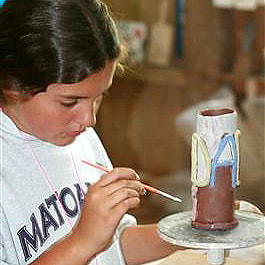 Going around camp today, visiting the different activity areas, you could tell that the girls have really settled in and begun to make camp "a place of their own." That's a phrase from the Rockbrook Camp mission statement. It's an attempt to summarize one of the real values of a camp experience for young girls, and it's part of the magic of why campers love their camp. The ingredients are simple: really good people who are eager to make friends, broad opportunities to be creative, sporty, and adventurous, and a caring environment where everyone can relax and be themselves. Combine these with the girls making their own activity selections, having plenty of free time to enjoy the wonderful natural beauty of Rockbrook, and simply enjoying time with their friends, and we have something special, something very different from home and school (where parents and teachers call most of the shots), and something truly their own. This is their camp and they love it.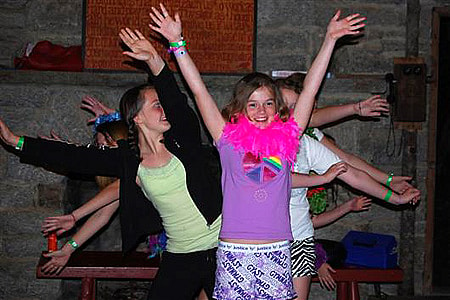 Of course, at camp a big group of girls can get pretty goofy and really let their silly side come out. Singing crazy songs outrageously loud in the dining hall, dressing up in a costumes for dinner, and making up skits with cabin mates are quite ordinarily part of the fun around here. This photo of an evening program cabin skit shows a little of that. Each cabin group is given a topic and challenged to come up with a group skit that they'll perform for the rest of the age group in their lodge. It can involve singing, dancing, acting and audience participation, but whatever it is, the funnier it is, the better. A lot of the fun is working together to create the skit, as well as performing it for your friends.
This afternoon we had our Wednesday "Cabin Day." This is a special day when after a morning of regular activity time (where the girls follow their individual activity selections), each cabin group sticks together for some special group event. Today, cabin groups were hiking to Rockbrook Falls and Castle Rock, building campfires to make S'mores, playing games in the gym and on the landsports field, cooling of by playing in the creek, and even making smoothies with the help of the kitchen. The mini session senior cabins took a trip to Sliding Rock, had a picnic and capped everything off with a stop at Dolly's for a sweet treat. Dinner was some of Rick's homemade fried chicken and warm yeast rolls. Good stuff. On cabin day, there's always a lot going on!
Oh! I forgot to mention the muffins today… White Chocolate Raspberry. They were awesome!