As the season begins to turn toward fall, this part of North Carolina offers something truly spectacular. The mountains that are home to Rockbrook transform. Shades of reds and yellow, and pops of orange and brown replace the blanket of greens that we know during the summer. Off in the distance and all around camp, the colors and textures of the forest become even more beautiful.
You should come see it!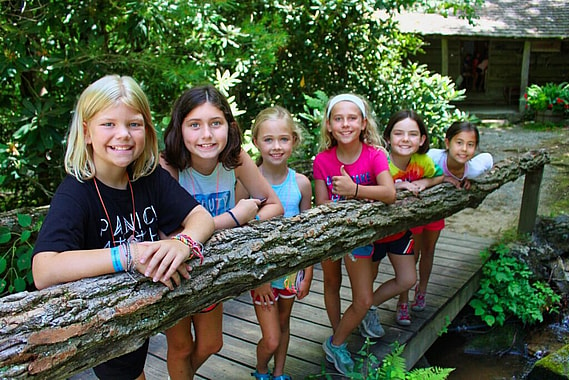 This fall Rockbrook will be hosting an open house, giving everyone an opportunity to come for a visit, and enjoy a bit of camp in the fall.
We think this will be great occasion for families to learn more about Rockbrook, meet the directors and senior staff members, explore the beautiful grounds, and enjoy a few surprise fall activities. This open house will also be a chance for current campers and alumnae to see Rockbrook in a different season, and perhaps introduce their family and friends to the "heart of a wooded mountain."
Consider yourself invited to our summer camp open house!
Open House Date
October 9, 2021
Drop in anytime between 10am and 4pm.
(scroll down to register)
What is the Fall Open House Day?
The Fall Open House Day at Rockbrook is an opportunity for existing campers, alumnae, families and friends, as well as prospective campers and their families, to spend a little time at camp during this beautiful season of the year.
---
What will we do at this open house day?
Our camp directors and other staff members will be on hand to greet everyone, lead guided tours of Rockbrook, and answer all your questions about camp life. There will be fall foliage hikes, a few fall activities, and warm homemade fall snacks.
---
Do I need to register to attend the Fall Open House Day?
Yes. Please give us a call to RSVP.
---
What does this open house day cost to attend?
There is no fee for anyone to attend, but we do ask that everyone RSVP.
---
Can I attend the Open House day if I am a current camper or alum?
Yes! We'd love to see you! In fact, we hope you will attend and we encourage you to bring a friend or family member who may be interested in coming to camp with you next summer! This is the perfect opportunity for you to show your BFF around camp and to let her in on all of the fun we have at Rockbrook!
---
What about social distancing and mask wearing due to CoVid-19?
North Carolina still requires face masks be worn when six feet of distancing between people is not possible. We plan to spend all of our time outside and maintain proper social distancing during these events. Our staff will be wearing masks when near guests and we ask that all our guests wear them as well. Also, please do not attend the open house if you or anyone in your party is experiencing any CoVid-19 related symptoms, or you have been in contact with anyone who has tested positive for CoVid-19 in the past 14 days.
---
Can we spend the night at camp?
Unfortunately, we will not be able to offer any overnight accommodation for this open house event, but we encourage you to consider staying in the area. Here is a list of nearby places to stay.
---
Why should I attend the open house day?
We all need a fall weekend in the mountains, and we think you'll really enjoy visiting Rockbrook! Come say hello and sample that Rockbrook spirit.