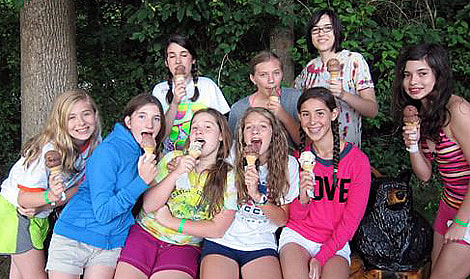 One of the great things about coming to a sleepaway summer camp is the way the environment, the setting, and the culture of the place, all encourage kids to make friends. We're really seeing this these days at Rockbrook, as obvious groups of laughing girls seem to always be together, to be signing up for activities together, and grabbing muffins together at "muffin break." We've talked about the importance of camp friends before, but it's so obvious to notice in action. These girls are sharing so many wonderful experiences, meeting so many nice people who are relaxed and open, and exploring the outdoors together, it's just an ideal setting to forge meaningful relationships. Away from the more rigid expectations of school and their school peers, and immersed in a place like this where you can be your true self, camp is a magical place where girls easily make true friends.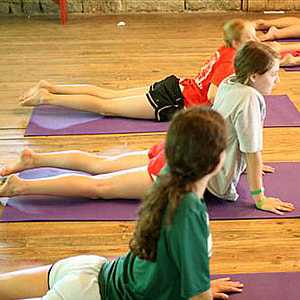 This morning we were treated to amazing mountain weather with a little fog and low 60s when we woke up and then bright sunshine throughout the day. It made our morning activities in camp and our out of camp trips (a waterfall hike and a rock climb) just perfect. The girls were finishing up their first set of activities today, so it was great fun to dig deeper into camp. Shooting a real gun, making a cool new pottery mug, learning a few yoga poses, and climbing up a 100ft tall rock. Pause for muffin break… today "Oatmeal Cinnamon Raisin." Then, we're off for more adventure, sports, arts and horseback riding, sprinkled with a good dose imagination.
The afternoon, it being Wednesday, brought "Cabin Day," a time each week when we stick together as a cabin group for activities instead of breaking up and following our individual activity schedules. Groups of girls were playing games on the hill, taking hikes to Castle Rock, swimming at the lake, making baskets and others enjoying smoothies in the dining hall… all great ways to build cabin camaraderie. Later in the afternoon, the entire Senior line took a trip into Pisgah to visit Sliding Rock. We waited until later so the crowds would be gone and we could have the rock for ourselves, which turned out to be a good idea since we had 85 people in our group! Most of the girls slid down 4 or 5 times, until we all got hungry enough for a picnic supper (some of Rick's homemade salads— potato, egg, chicken and pimento cheese —on croissants, fruit and Alison's lemon bars. It felt so good to be out in the forest together enjoying each others company and good food after the big (and chilly!) adventure of Sliding Rock. And to top it all off, we just had to stop at Dolly's for a cone of their fantastic ice cream, the Rockbrook Chocolate Illusion being a favorite flavor. An awesome trip.