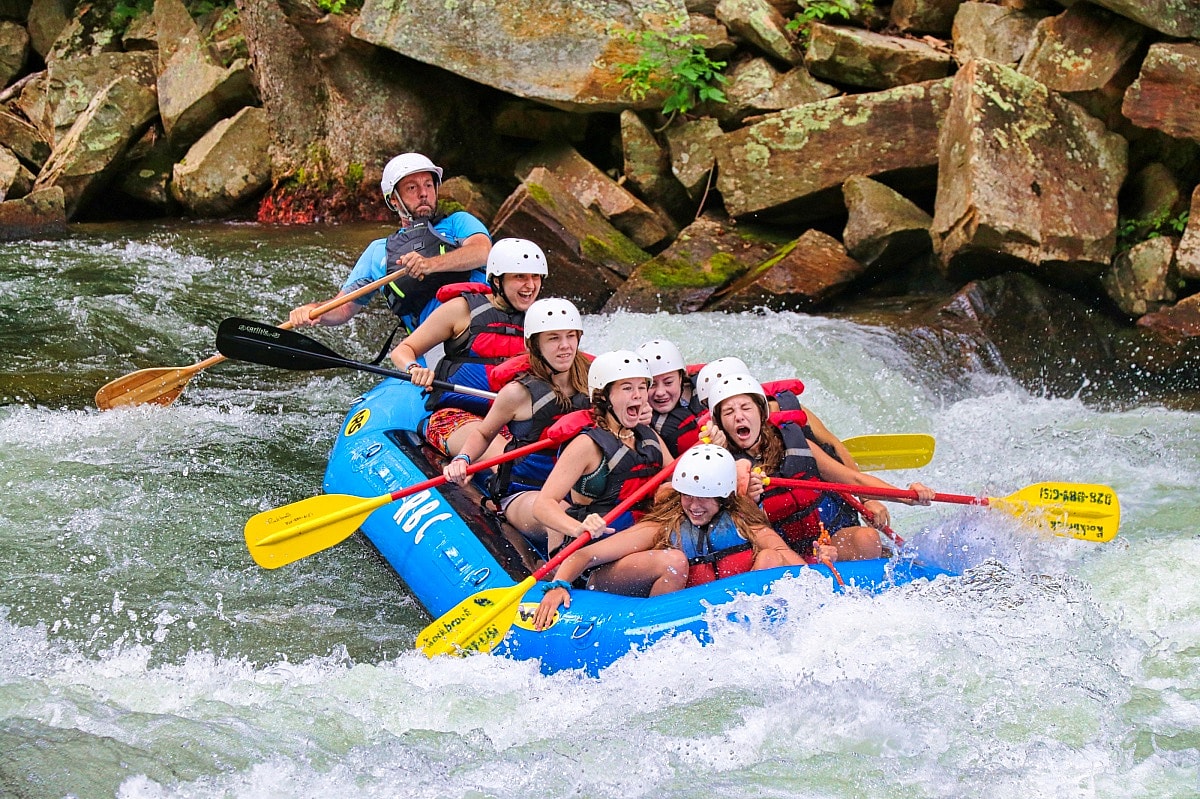 The Nantahala River today provided another perfect day of whitewater rafting for the Middlers and Seniors who just arrived at camp. We offered the trip to everyone, and probably 90% of the girls old enough were excited to spend the day paddling and splashing their way down the river. Our fantastic rafting guides arrived at the put in early to prepare the rafting equipment so that when the vans and buses of campers arrived, it took very little time to suit up (PFD, helmet, and paddle) and hear the safety instructions for the trip. Those instructions answer the girls' questions about where to sit in the boat, what to do when you fall out of the boat, how to be rescued with a throw rope, and the whitewater swim position. Today the weather was hot a sunny all day, making both the morning and afternoon groups enjoy even more the cold water of the river.  For example, an entire raft of girls decided at one point to jump out into the river at the same time, leaving just the guide in the boat! There are almost 20 named rapids along this stretch of the Nantahala, but the highlight of the trip is the final rapid called the "Nantahala Falls," a class III double drop. This is a heart-pounding, eye-popping, scream-inducing thrill that always elicits cheers when the boats make it through successfully. This photo (and others in the online gallery) gives you a sense of what it's like.
Meanwhile back at camp, there was a lot going on! Every building, every activity area, and even spaces in between, had groups of girls busy creating, joyfully playing, and engaging all the opportunities to try new things. And on the other hand, the daily schedule at Rockbrook provides regular times where the girls can slow down a little, rest, relax and explore as their mood and interests might inspire. Mixed in are times for nourishment, like an apple or peach grabbed on the go from the dining hall porch, or everyone's favorite, a freshly baked muffin (Today's flavor was divine… cranberry, white chocolate chip!) served mid-morning. There's time to soak in the natural beauty of the forested mountain, trees and flowers, and the running creeks that surround us at camp.
So much of this, so much of what life at camp requires, involves self-regulation by the girls. Many times throughout the day, the girls themselves make decisions about what they would like to do (float in a tube at the lake during free swim or read a book in one of the porch rocking chairs, for example). Likewise for their scheduled activities, would they like to spend time being creative tie-dying a t-shirt, getting a little sweaty playing dodgeball in the gym, or feeling their feet tingle high up on a rock face during a climb? Should they pay attention to the drizzle-threatening clouds, to the cricket in their cabin, to how many days it's been since their last shower, and to their score in riflery? What will they do when they feel tired, or a little too hyper, or maybe frustrated for some reason. How will they behave when it's time to help with cabin chores, when their friend didn't receive any mail and they got 5 letters, or when their cabin mates are arguing about who plays what role in an evening program skit?
Back in 2015, researchers at the University of Chicago published a report summarizing decades of theory and research drawn from the fields of youth development and education, and describing what children need to achieve "success" in life. Rather than academic skills, they identified four "foundational components" which underlie a child's ability to fulfill his or her goals, influence the world around them, and have a clear sense of who they are. These four components are:
Self-regulation: the awareness of oneself and one's surroundings, and management of one's attention, emotions and behaviors to achieve goals.
Knowledge and Skills: information or understanding about oneself, other people and the world, and the ability to carry out tasks.
Mindsets: beliefs and attitudes about oneself, the world and the interaction between the two, which serve as the lenses through which individuals process everyday experiences.
Values: enduring, often culturally defined beliefs about what is good or bad and what one thinks is important in life.
If you are interested in this sort of thing, in thinking about the core foundations of child and youth development, there is a great infographic summarizing the report that I would highly recommend. For now, I hope it is clear why I bring it up; I believe a sleepaway camp like Rockbrook is a fantastic context to gain the sort of developmental experiences that bolster all four of these components. In addition to self-regulation, camp provides opportunities for practice and reflection on beliefs and values as they relate to the world and others. It offers numerous opportunities to gain knowledge and skills, and ultimately to develop a strong sense of self defined by "healthy relationships and a meaningful place within a community."
This is the youth development work that takes place at summer camp. It hints at the invaluable learning that takes place here amid the zany, colorful fun. We know that girls love camp— just ask; they'll tell you! Camp is also delightfully nurturing in these very important ways. It's fun that matters.