As our first week of camp hit its stride today, the campers seem to have simultaneously relaxed and energized. It makes sense when you think about it. After these first few days, any initial jitters have been calmed by the friendly atmosphere here, the smiling counselors who are always ready to encourage, the overall feeling of openness and acceptance that colors everything. At Rockbrook, there's simply no pressure to measure up; we don't compete for awards or recognition for being the best at something. Instead— and this can take a few days for girls to realize —the camp environment, Rockbrook's culture, substitutes caring for criticism. It finds friendship before judgment, silliness and laughter before concern.
Within the structure of scheduled activities and periods of free time, the girls here have the freedom to try new activities (climbing, shooting, weaving!), to follow their whim meeting and playing with scores of wonderful inspiring people, and to explore what they enjoy, expand what they know, and develop who they are. It's a strange but wonderful feeling of deep happiness and well being that springs simply from being in this kind of genuine girls camp community.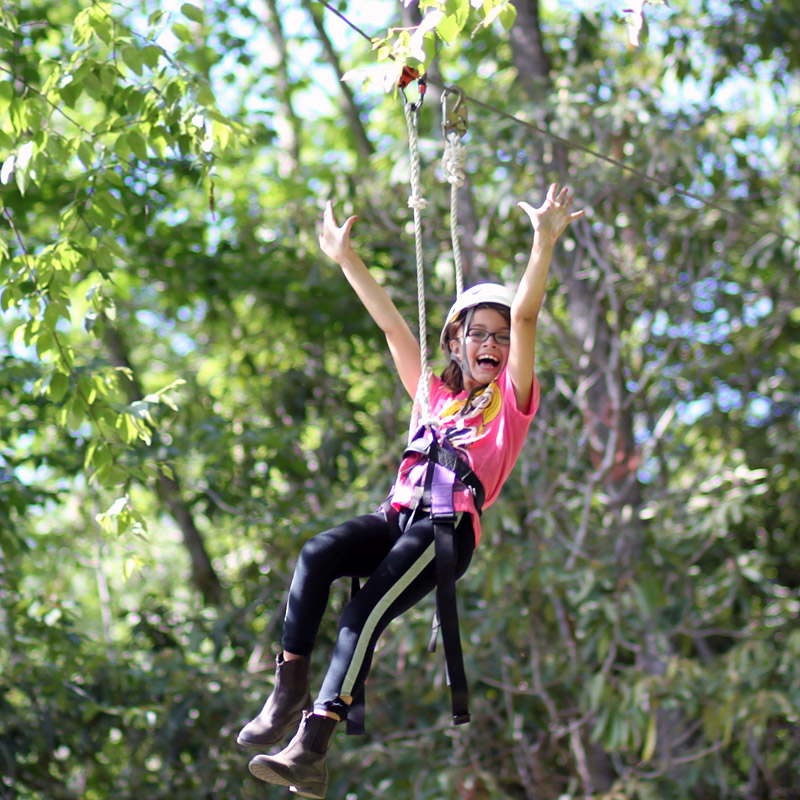 Out of this relaxation bubbles energy and excitement. It's inevitable; with this freedom comes all sorts of activity, from thrilling outdoor adventure activities like screaming down the Rockbrook camp zip line course, to the concentration and creativity that combine to tie friendship bracelet patterns. Letting go at camp inspires you to overcome challenges, to join a big group playing gaga ball, for example. It stiffens your nerve at the top of the 50-foot tall water slide. It elevates your voice to sing louder in the dining hall. Suddenly, wearing a crazy costume, or making up a dance with your cabin mates, or lying on the grass in the dark to stargaze, or getting really dirty in the creek— all seem perfectly normal. Relaxing into camp life, fully embracing the contagious kindness of our camp community, is deeply encouraging.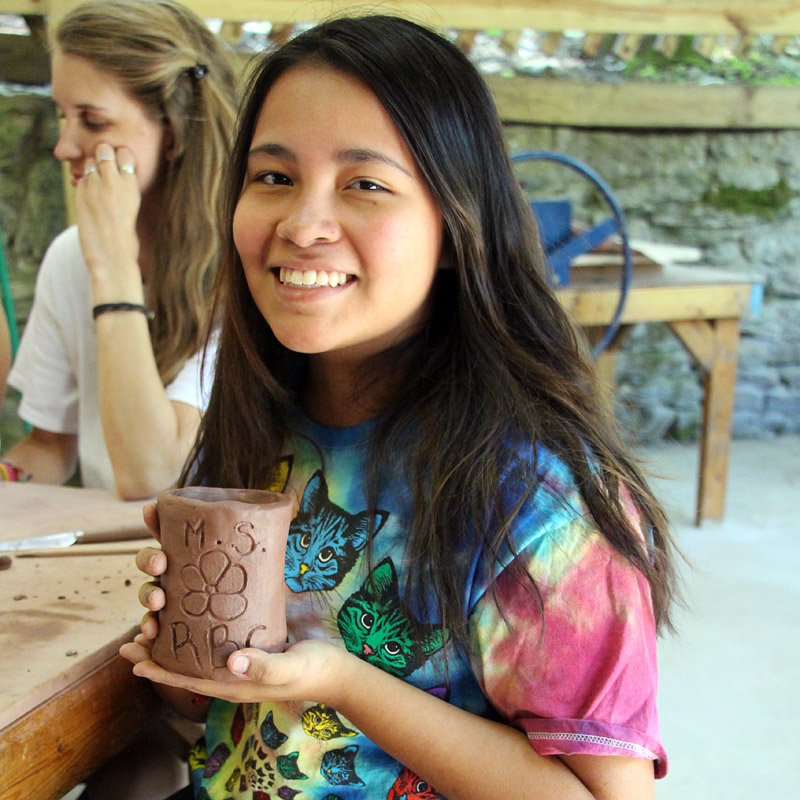 Of course, this all adds up to what the girls simply call "fun." It's fun to have friends like this, to be with them all day and night, to get to know each other this genuinely. It's fun to feel supported by everyone around you, and thereby find the confidence to step far beyond what you thought was your limit. It's fun to make things, to be this active all day, and laugh this much. It's fun to exercise your personality so thoroughly, to empower your creativity, your compassion, your awareness of the world around you. It's fun to have a break from "real life," from (yes, believe it or not) the distractions of technology, and thereby discover so much to experience and appreciate. The girls will say it was fun to roast s'mores over the campfire, to ride horses, and to swim in the lake, but I think there's something more fundamental and lasting at work.
Today, after just a few days, it was so entirely clear. For your girls, camp provides the freedom they crave, the challenges they need, and the full-bellied fun they love.