First I have to tell you about today's muffins. They were amazing! Liz created yet another one-of-a-kind masterpiece flavor: peanut butter and jelly. I'm pretty sure they didn't teach this recipe at the Ballymaloe Cookery School in Cork Ireland where Liz was trained, so she deserves all the credit. A classic camp flavor turned into a fresh baked muffin. YUM!
As most everyone on the east coast is experiencing record-breaking temperatures this week, we have found plenty of ways to stay cool at Rockbrook. First of all, temps are still falling into the 60s at night, and stay cool most of the morning as it takes a few hours for the sun to come up over the hill. In addition, the lake has been a very popular spot in the afternoons. Even if the campers don't have swimming as one of their regularly scheduled activities, everyone can go for a dip during one of the two open "free swim" periods each day. That's also when we open the "Toy," "Aqua Ropes Course," or "Water Challenge Course." As you can see, it's quite the obstacle. Campers first try to climb up the outside edge, grabbing the ropes, and stand on the top rails. From there they grab the dangling rings and go hand-to-hand from one ring to the next. There are five in all. It's really tough to reach all five rings (see how it's sloping uphill?), so we reward anyone who can with a special treat, usually a trip to Dolly's. Missing means just a big splash!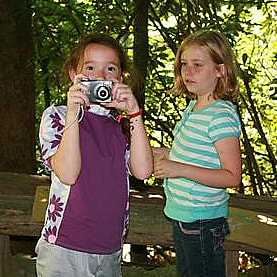 In the photography activity, former camper and now star counselor Jane, who is majoring in Fine Art Photography at The Corcoran College of Art & Design in Washington, DC, is helping the girls learn how to take better pictures. To make this more fun, she's planned several games that send the campers scurrying around camp looking for certain color pallets, shapes (e.g., letters), or textures. She's challenged the girls to take 20 photos of a single small object making sure each is different. She's also helped them learn a bit about stop motion photography, and make short motion clips using play-doh. We're planning to show these short movies to the whole camp on Sunday night before the movie. Several are quite good!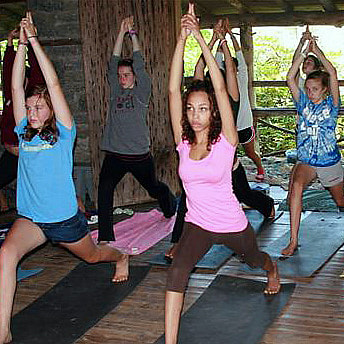 Jessi's yoga classes are very popular with the senior girls. She offers them as special extra activities once or twice each week.  With yoga mats and towels in hand, they meet in the upper Hillside Lodge to spread out across the wood floor. Jessi plays nice, relaxing music as she leads the girls through a serious of stretching exercises and yoga poses. The class lasts only about an hour, but that's plenty for the girls to have a workout. Everyone feels great afterwords… a little more relaxed, limber, and calm. Staying so very busy and active at camp, practicing a little bit of yoga like this is really nice.
All in one day, the RBC girls can stay cool swimming in the lake, focused in photography class, and relaxed doing yoga! 🙂