Let's start with an update from the kayakers, particularly the staff and campers who are enjoying a week-long specialty camp devoted to kayaking. Over the last few years, we've seen a growing interest in whitewater kayaking among the girls at Rockbrook, so to meet that interest, we now offer two specialty kayaking camp sessions called the "Rockbrook Rapids." Led by Leland Davis, and our two head kayaking instructors Sarah Arvidson and Stephanie Whiting, these 1-week sessions are essentially small-group kayaking trip camps where the girls can improve their boating skills while enjoying some of the many whitewater rivers in the area. Everyday is a different river trip, with some including overnight camping. Today the girls ran the lower section of the Green River, which is a great place to start out because it provides a series of class II rapids, plenty of moving water to practice eddying and ferrying, and at one point a perfect surfing wave. Despite the light rain that fell most of the day, the girls had a great time on the river. Back at camp for a hot shower and a huge pasta meal, they seemed happy and proud of the day's accomplishments on the river. If you are an Instagram user, Leland is posting now and then to a specialty account for the Rockbrook Rapids. Follow along! (By the way, here is our main Rockbrook Instagram account.)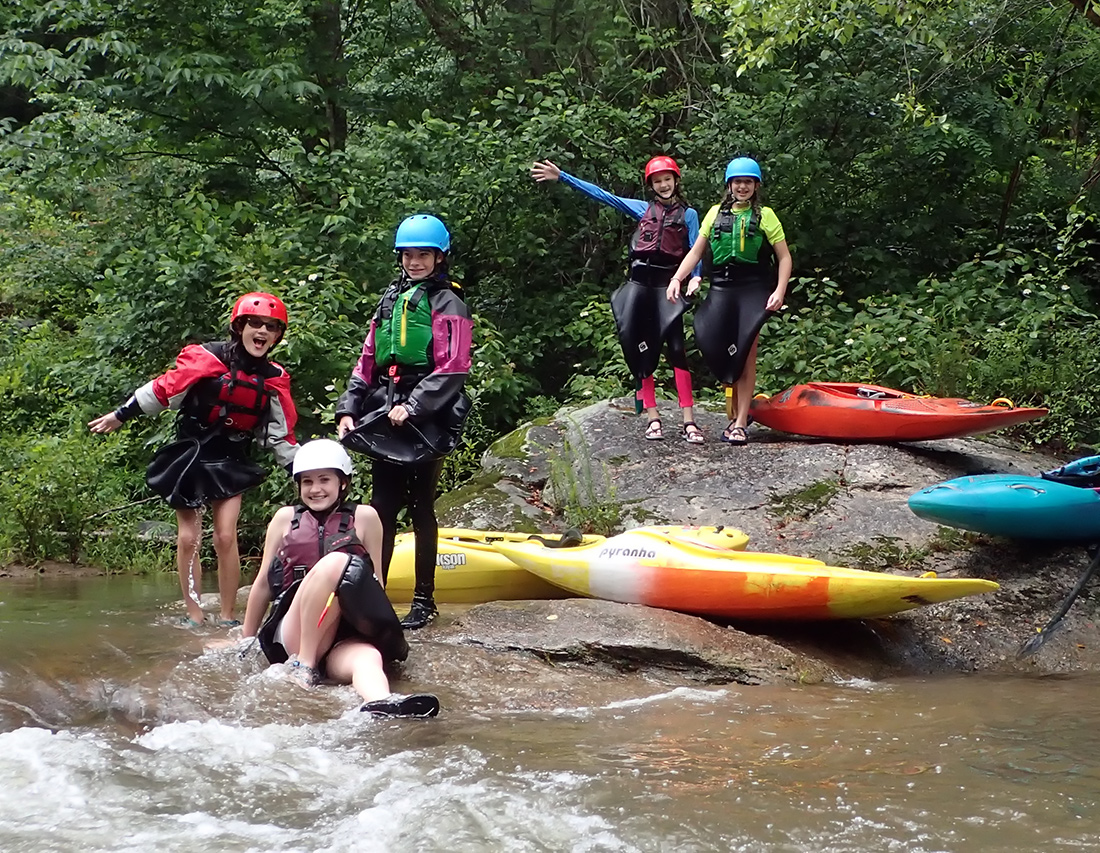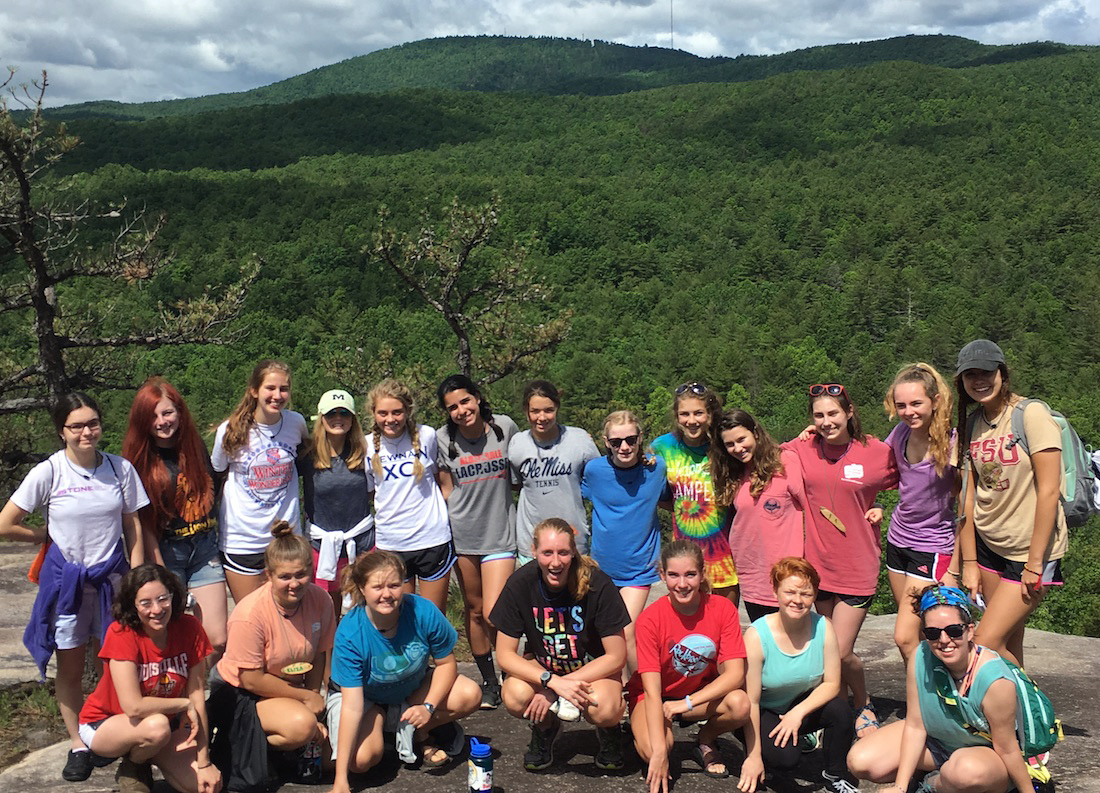 Our 9th grade girls, who we call "CA campers" or "CAs," accomplished an important goal today. They selected their banquet theme. Right after breakfast, we loaded up a couple of buses and drove to the Dupont State Forest for a hike, and more importantly, a private place to discuss what the secret surprise theme will be. The girls brainstormed more than 40 different ideas, and after hiking to a beautiful overlook, stopping along the way to narrow down their list, they settled on their theme. They cheered after the final decision, and immediately started offering new ideas about the special food, decorations, music and costumes they would organize for their big party of the session. The girls were so eager to take on the responsibility of planning and implementing this complex project for the whole camp, I can already tell that this is going to be an excellent banquet.
Our 10th grade girls, known at camp as "Hi-Up campers" or just "HUPS," likewise had a special day— their first "Girls With Ideas" meeting. Getting together with their counselors, this was a discussion session focused on what it means to be a Rockbrook girl and how those character traits can help make our camp community stronger, contribute to the magic of camp for the other, younger campers' experience, and potentially make the broader, outside-of-camp, world a better place. The Hi-Ups are the oldest true campers at Rockbrook, so we count on their leadership with several camp projects, special events, and important jobs, like clearing dishes from the dining hall, and setting all the tables before each meal. This particular group of HUPS is already showing amazing maturity and enthusiasm for their new roles at camp.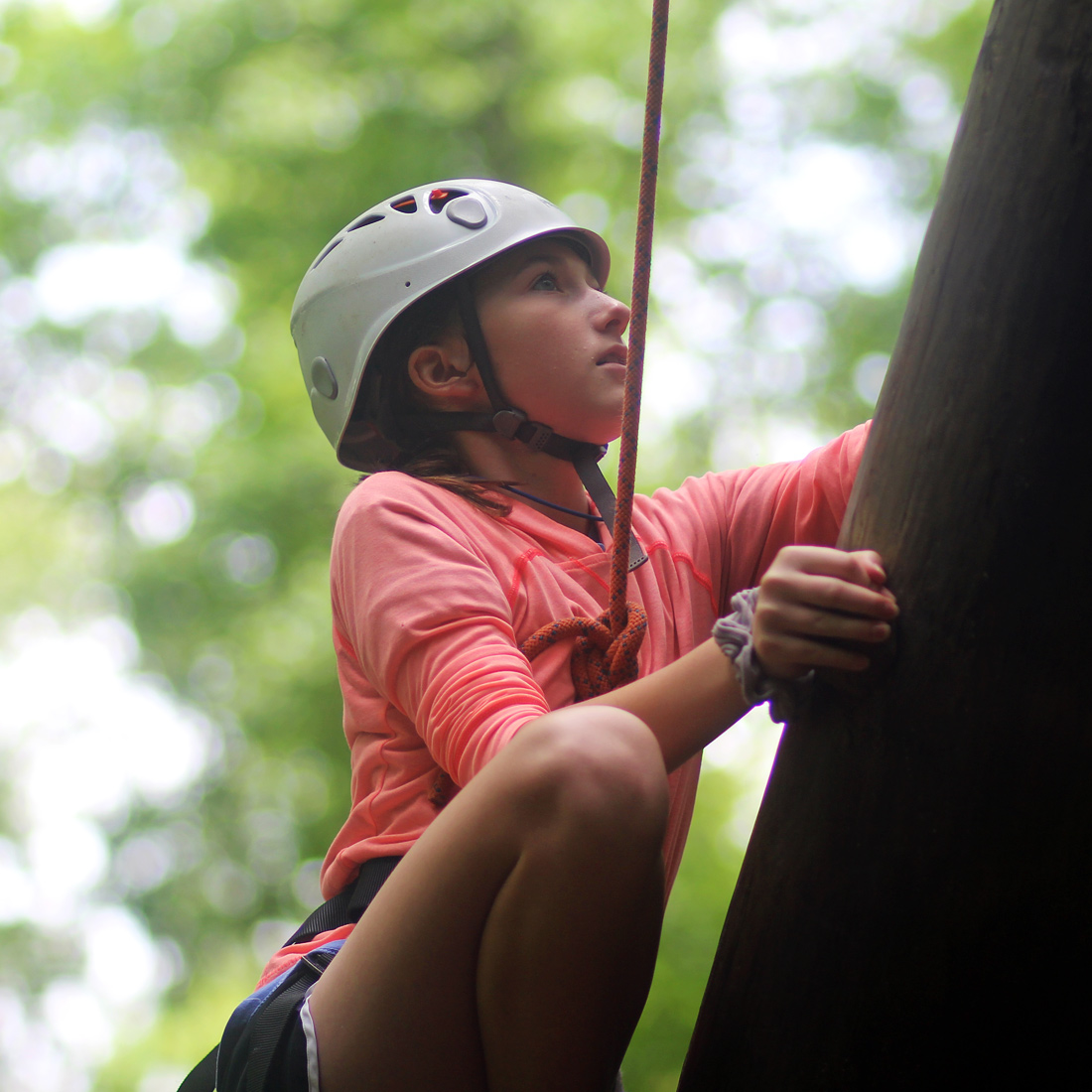 After tenth grade, we offer one last step in leadership training, and it's for those girls interested in becoming a cabin counselor at Rockbrook: our "Counselors in Training" or "CITs." These 11th grade girls (We only accept six per session) live in the cabins with the younger campers, and as their name suggests, take on the duties of a counselor managing cabin life. They teach a camp activity for part of the day, and also take on the task of running the kitchen dish washing machine after every meal. You can imagine, depending on the meal, this can be a monumental endeavor easily taking a couple of hours. So these girls are hard workers! It's a paid position designed to be ideal training for returning as a full counselor.
For our 9th, 10th and 11th graders, this coaching and progression of camp responsibilities, adds up to concrete leadership training. Working together as a cooperative group, focusing on important tasks, accepting responsibilities with real consequences for the broader camp community, these teenage girls are growing more confident and capable while developing real-life leadership skills. …Another example of how "camp is a place for girls to grow."
With good sunny weather most of the day, and only a slight late afternoon shower, this has been an excellent first day of activities. The girls have scattered across the camp excited to try everything— adventure, crafts, sports, and horseback riding. It's been a great start to what already feels like a fantastic session!