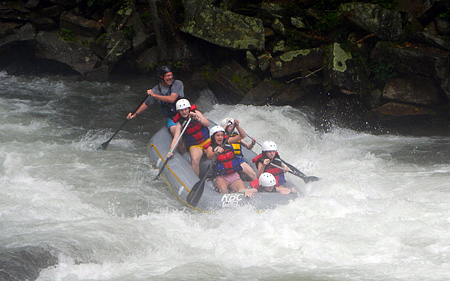 One of the outdoor adventure trips available to all Rockbrook Middlers and Seniors (girls who have finished the 5th grade and older) is whitewater rafting on the Nantahala River over in Swain County. We don't make girls sign up for these trips before arriving at camp (or charge extra for them) because we know part of the fun is deciding to go, or not go, with your friends. And when there are two options available -a day-long trip or an overnight camping version -making that decision is important. These girls just want to be together! This can make the logistics of planning rafting trips complicated, but we have plenty of experience making it happen. Like today, when surprisingly 77 girls wanted to raft, we simply ran an extra raft of girls on both trips to accommodate everyone. After meeting our veteran guides at the river's put-in, and suiting up in the RBC gear (Rockbrook has a special permit to do all this ourselves), the morning trip hit the first rapid called "Patton's Run" in bright sunshine. The girls had a ball over the next two hours, laughing and screaming with every bump and splash. Some of the rapids on the Nantahala really get your heart pumping, like the one in this photo, the final big rapid called the "Nantahala Falls." There are calm spots too, making a nice balance of floating (and chances to sing camp songs!) and high adventure whitewater. The afternoon trip also started out warm and sunny, but did have some rain for the last 30 minutes. This didn't stop the fun however. Their Rockbrook Spirit, a kind of collective euphoria, kicked in and the girls just sang louder and paddled harder.
Back at camp, creativity ruled the day with all kinds of arts and crafts projects taking shape- watercolor painting, t-shirt scrap weaving, extruded form pottery, triple pattern friendship bracelets, beaded headbands, embroidered pillows, and paper craft decorated boxes. For some girls, sports and games like dodgeball, tennis or yoga kept them moving, if they weren't signed up to ride the zip line course or attend the sharpshooters club taught by Cliff down at the rifle range. Elaine had the gymnastics girls working on balance and posture, and down at riding, Kelly was giving similar instructions to girls cantering around the lower ring.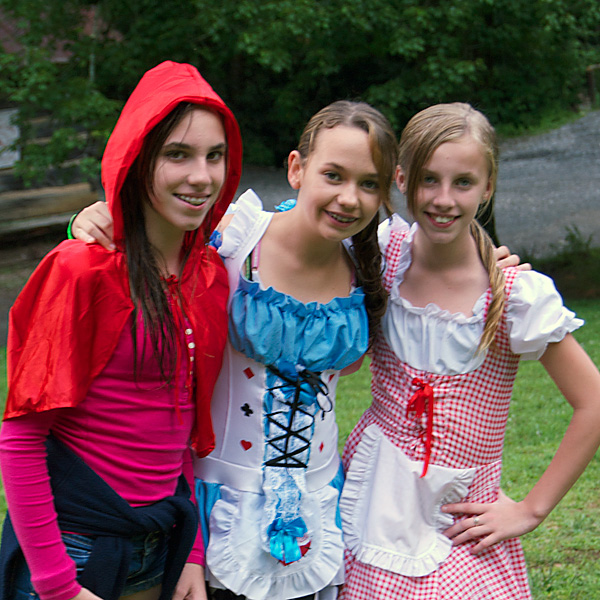 For dinner Rick brought back his homemade pizza… completely homemade, with pounds of flour, yeast and water going into the dough, gallons of red marinara sauce, and a mountain of shredded mozzarella cheese. There's something about the chewy soft crust of this pizza that really makes it extraordinary. Some like it with pepperoni, and others with veggies, but even if it's plain cheese, the girls gobbled up tray after tray tonight. Everyone had some of the spinach salad and strawberries served on the side too, but it was the pizza that made the meal. To top it all off, Katie made fresh blueberry cobbler that had a perfectly crunchy, crumbly topping, though I suspect most of the girls were pretty full when the Hi-Ups brought out the dessert platters. So many delicious things!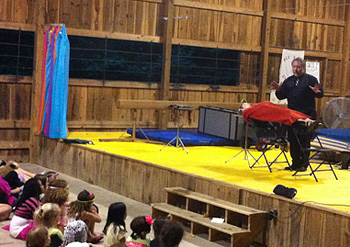 Tonight after dinner our friend Bill Grimsley entertained the whole camp in the gym with his world famous magic show. Bill has been a full-time, professional entertainer since 1986 and has toured all over the world to perform. He is a talented comedian, juggler and stage magician, and tonight he didn't hold back. He made two doves appear in an empty box, only to cover the box again and reveal a live rabbit instead. He sawed a counselor in half (reconnecting her shortly thereafter!), and levitated a camper by removing the chairs supporting a plank she was lying upon. The Juniors sitting on the front row were rapt and wide-eyed. He performed other classic magic tricks too, like cutting and magically restoring a rope, mysteriously connecting large metal rings, and a card trick where a card with a ripped corner appeared in a box across the stage. The Senior girls seemed particularly impressed by a mind reading trick where Bill correctly guessed one girl's favorite food (French Fries) and another's favorite vacation spot (New York City). "How'd he do that?" "I don't know, but it's pretty cool."
Lastly, I spotted this article about the benefits and intangible skills kids gain by attending overnight summer camps. If you know camp, most of it will sound familiar, but it's still worth a quick read.