Coming to camp is so much about friendship. Camp means meeting new people and making friends. It means learning how to be a good friend, a true friend. Life at camp shows you that friends can be older or younger than you (doesn't matter), friends can be from far away (even from another country), and friends can be deeply supportive (especially when they know you so well).
At Rockbrook making friends starts before you even arrive. That's because, in the spring before camp, everyone coming is paired with a pen pal. Your pen pal is another camper who will be coming to your same session, and is someone we think you'll enjoy getting know. She'll be similar in age, and possibly assigned to your same cabin. Your penpal could be a returning camper or someone who is experiencing Rockbrook for the first time.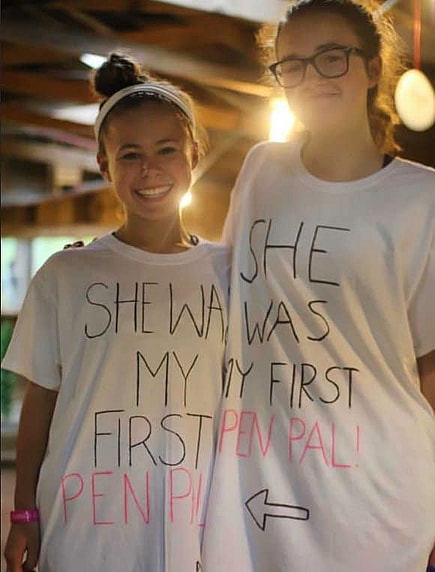 For years now, decades actually, we've paired up girls as pen pals before camp because we know how much fun it is to share your excitement about camp with another girl who will be attending. That's the point— to begin making a connection with a new camp friend even before arriving.
Even if this is your first time at camp, and even if you don't know anyone who already attends, your pen pal can be your first camp friend. You can look forward to seeing a friendly face you on your very first day. You can sign up for activities together, go to free swim together, and sit together during evening programs.
Every April, we send each camper the name and address (and email address) of her new camp pen pal. In the letter, we also enclose a fun postcard to help inspire your first letter.
So let's get started! Grab a pen, some markers, or colored pencils and write that card. Or, if you'd rather, compose an email introducing yourself. Or, really get creative and write a whole letter on a piece of paper you decorated. But, don't delay! Your pen pal really wants to hear from you!
What to write? Almost anything about yourself will be great— What's your favorite food? Do you have any pets? Brothers or sisters? Hobbies? Sports? What are things about camp you're looking forward to? Are you planning to pack a funny costume for camp? Ask some questions too, so you can get a conversation going.
Go ahead and write more than once! Everybody loves getting mail. If your pen pal doesn't write back at first, don't let that prevent you from writing again. It will help!
Writing your penpal is really fun! Hooray!