How we spend our Sundays at Rockbrook is a little different than other days of the week. It begins at a relaxed pace by sleeping in a little later, resting a little longer, and instead of doing cabin chores and getting dressed for breakfast right away, the girls shuffle into the dining hall still dressed in PJs and robes- literally, just rolling out of bed. There's a special "real world" treat waiting for them too- boxes of freshly delivered Krispy Kreme doughnuts to supplement the regular fruit, cereal and yogurt bar, and today, Rick's perfectly scrambled eggs.

The campers then dressed in their camp uniforms, which for Rockbrook means a white polo shirt, white shorts and a red tie, and assembled on the camp hill for our flag raising ceremony just in time for the sun to rise over the mountain behind camp. From there it's a short walk along the "path of silence" to the Chapel area of camp. The Middler campers and their counselors led the Chapel this morning. They chose to sing songs, read poems and other meaningful passages, all revolving around the theme of gratitude. These gatherings are not religious ceremonies for us (they do not include readings from religious texts, for example), but rather are opportunities for the girls to reflect upon their time at camp and the broad human values and feelings that strengthen our community. We want girls of all backgrounds, no matter what their religious beliefs, to feel comfortable and included at Rockbrook, so our Chapel gatherings, set so beautifully in the woods, reflect that priority.
Meanwhile today, we also welcomed our July Mini 2 campers to Rockbrook for the start of their session. As they rode up the driveway with their trunks and duffel bags packed (in some cases, packed for weeks in anticipation!), it was absolutely clear that these girls were more than ready for camp to get started. They wanted to rush through the check in process, barely containing their enthusiasm, fidgeting while the nurses and the office checked things out. Up in their cabins, they finally got to meet their counselors and cabin mates, select their bunk, and settle down. All of this doesn't take long, so parents are sometimes surprised how quickly they are "dismissed" by their daughters. "I got this, mom." It can even be a little unsettling to see your girl skip off with her friends with just a wave or sly smile, but it's good to remember that Rockbrook is her camp, not yours. It's a place for her to be herself, grow up a little, try lots of new things and build really strong friendships. And all of this on her own! It's a special recipe for encouraging independence and growing self confidence. Such good stuff.
After lunch a brief thundershower cooled things off and cleared up in time for the whole camp to charge up for a wet and wild carnival down on our sports field. A group of counselors, with the help of Frampton, Charlotte and Sofie, organized the event which included an inflatable obstacle course and water slide. The girls came dressed in their swimsuits and ready to get wet. There were sprinklers spraying, water pistols for just about everyone, water balloons and a bucket dumping game to satisfy that desire. The girls played the RBC corn hole game to win silly prizes, made small sand art bottles, tossed Pocket Discs around the field, and ran around stopping to hula hoop between getting a face painting design.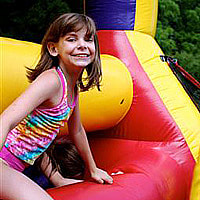 For snacks we had goldfish, an endless supply of snow cones, and drinks for everyone. Bringing the whole camp together for this kind of raucous event, mini and full session girls alike, is a great way to kick things off for the new girls. They can let loose right away, and by the end of the afternoon, they're already feeling at home. I took a short video of this crew you see below. It's posted on the Rockbrook YouTube channel and is very cute.