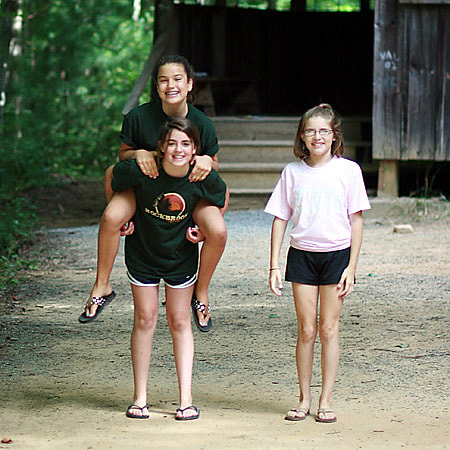 One of the top reasons camp is great for kids is that it's full of action! With almost 30 different camp activities, sports and adventures each day, everybody is on the move. Girls are zipping around Rockbrook all day long, up and down the hills, in and out of the lake, and from here to there with their friends. Camp is moment after moment of "Hey, Let's go… (fill in the blank)!"
Even better, most of this action happens outside. So in addition to the simple physical benefits of being active, campers also find themselves being more relaxed, more perceptive, and even more caring. The research supporting the positive effects of outdoor experience for children is strong and convincing.
Now there is a national campaign that recognizes and supports most of this. Launched by First Lady Michelle Obama, this initiative, titled "Let's Move!", is dedicated to solving the problem of childhood obesity in America by encouraging common sense strategies and providing important information to improve child nutrition and physical activity. Our kids need to eat healthier food and to be more active if we are to address this growing problem.
Camp can easily be seen as a model for the Let's Move! initiative. After all, outdoor activity is the name of the game around here at Rockbrook, but also, we proudly serve excellent, nutritious meals, using local produce when we can, avoiding trans-fats, and making most things from scratch. If you haven't seen our Taste of Rockbrook video, check it out and see what I mean.
As we, and the Let's Move! initiative, advocate for a more healthy, active, balanced life for children, let's get our kids outside this summer, and let's get them to camp!