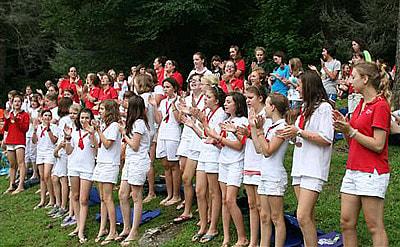 Welcome August Mini Session Campers!! Welcome to Rockbrook! Today a big group of new and a few returning campers arrived for this, our last mini session of the summer. Like our other mini sessions, these are shorter sessions perfect for younger and first-time campers, so for the majority of these girls, this was their first day at Rockbrook. After waiting most of the school year and now until August, their anticipation made for high pitched, and maybe a little nervous, excitement. It doesn't take long though to settle down after meeting the staff members and other girls, and realize how friendly and welcoming everyone is. Parents are sometimes surprised how quickly and easily their daughter is ready to say goodbye, and to run off with her new cabin mates.
While the new mini session campers were checking in and getting settled, the full session girls followed our regular Sunday schedule— sleeping in a little, enjoying a breakfast with fresh Krispy Kreme donuts, dressing in their white uniforms and red ties, performing the flag raising ceremony, and attending the wooded chapel service. Chapel today was put on by the Senior campers and the theme was "Growing." Right before lunch the whole camp gathered under the big walnut tree on the hill with the gorgeous mountain view in the background, for our Sunday assembly. This a chance to introduce key staff members (e.g. Mandy, Jessi and the Line Heads), see skits about the various activities available at camp, present the "Mop Awards" to the cleanest cabins, learn and sing a couple of new camp songs, and afterwords, take state photos. Biggest state this session? North Carolina, by far.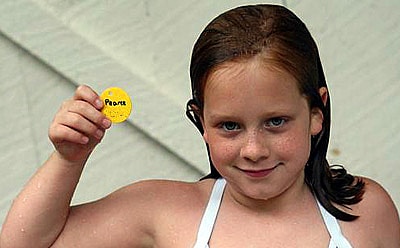 Right after lunch the new campers and their counselors zipped down to the lake for their "swim demonstrations." Sarah, several lifeguards, and Elizabeth, our head of the waterfront, ran through the exercise designed to test everyone's ability to swim and tread water. When a girl "passes" the swim demo, she receives a special colored buddy tag alerting the lifeguards of her swimming skills. If someone's uncomfortable in the water, or if they can't complete the "demonstration," she will have to wear a life jacket and stay in the shallow end of the lake, but is certainly welcome (though not required) to come down for swimming lessons during her swimming activity or during one of the free swim periods.
The afternoon's activity was a crazy water carnival we held down on our sports field. It was crazy because there was so much action, so many girls having fun in different ways at the same time. We had a giant inflatable water slide where after climbing up, would shower you as you flew down into a pool of water at the bottom. There was a tent where several counselors were painting faces (and arms, and backs and stomachs!). We had a coconut bowling game going on, and a "cake walk" game where the girls danced in a circle, landed on numbers, and if lucky won a tasty cupcake prize. The snow cone machine was making icy treats non-stop, and everywhere there was someone working out a hula hoop.
The slip-n-slide was probably the biggest hit. What could be a better use for a long sheet of plastic? Stretch it down a gentle hill, add a little baby soap and water, and launch yourself down for a wet slippery ride! Add some upbeat music and you've got an awesome time. The big surprise though, was a shaving cream fight at the end of the Carnival. We passed out a couple of cases (yikes!) of shaving cream, and the girls took off trying to spray each other, splatter it in each others' hair, and ultimately cover their entire bodies in white slippery foam. All kinds of creative hairstyles soon appear, with laughter and smiles all around. Be sure to check out the photo gallery to see more of that. We rinsed off a bit under the hose, and headed back up for a quick shower before dinner. Whew! What a fun afternoon, and a great way to open the August Mini session.