With all of the adventure, crafts and sports going on in camp, it's easy to forget that through the tunnel and across the road at the Rockbrook fields, there are campers riding horses everyday. They are girls being introduced to English horseback riding, with its emphasis on balance, posture and seat position, and others improving their riding skills in mounted lessons. They are getting to know the Rockbrook equestrian staff, led by Cara and Audrey, and the 29 horses at camp this summer. It can get pretty busy down there at the stables with horses being prepared and led back and forth from the barns, campers dressing in their boots and helmets eager to learn who they'll ride that day, and lessons being taught in all three riding rings. If you add to that taking care of all those horses, for example when the ferrier makes his weekly visit, you have quite a hive of activity. During any of the activity periods, and even in between, you can see examples of this engaged enthusiasm and hard work. It's impressive!
The middle picture here is of Cool Beans and his little sidekick Cloud Nine, two of our celebrity ponies at camp this summer. You may have met them on the opening day of camp. They have been well-loved this session, especially by the juniors.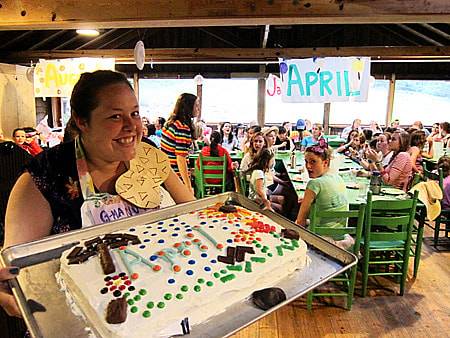 Have you heard of the Birthday Paradox, the surprisingly high probability that two people in a group will share the same birthday? The magic number is twenty three; if you take a group of 23 randomly selected people the odds there will be two with the same birthday are about 50% (1 in 2). So what happens when you take an entire summer camp of 223 campers and 60 staff members? The probability is greater than 99.9999999999999999999999998%!
We tested this paradox tonight during our special all-camp birthday night dinner. We rearranged the dining hall so everyone with the same birth month could sit together at one giant table for each month. Everybody born in April sat together, May together, and so forth. This meant some of the tables, like September, were huge and others had only 10 or so. Throughout the meal everyone compared birthdays, and sure enough we had about 4 different pairs sharing the same day. Each table also thought of other famous people to whom they could shout out a birthday greeting… "Happy Birthday Justine Bieber!" Or, "Happy Birthday William Shakespeare!" It's not clear how many of these were true, but that wasn't particularly important. What mattered was coming up with funny examples for everyone to hear. The biggest bubble of excitement, however, erupted when the cakes came out, one elaborately decorated, in a "Candyland" theme, birthday cake for each month/table. As you can see in this photo of the April cake, Alison baked up simply gorgeous cakes, again, all from scratch. These were big cakes, and believe it or not, there were several tables that couldn't finish theirs! An example of being good, but maybe a little too good!