The weather in this part of North Carolina is extraordinary, often impressive, even astonishing at times. We're located in the western mountains and have enough elevation to help us stay cooler in the summer, but also far enough south to moderate our winters. We are surrounded by national and state forests (many hundreds of thousands of acres) and are far enough away from large cities that we enjoy remarkably clean air. By the way, we haven't seen any impact from the Canadian wildfires affecting areas of the northeast. This morning when we woke up, everyone was surprised how chilly it was. Checking the Rockbrook weather station, the low temperature was 44 degrees! Brrrr! Time for another layer! Once the sun rose from behind the hill it warmed up fast. By noon it was 70 degrees, and later in the afternoon, the temperature hit 80. Perfect!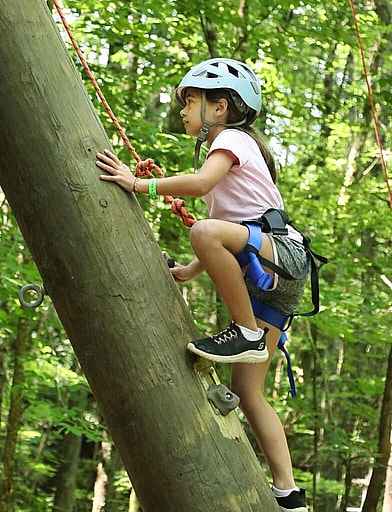 Yes, perfect weather for climbing. Our Alpine climbing tower, which is located in the woods a short distance from the gym, sees climbing all day long. It's a 50-foot tall system of logs cabled and bolted together providing dozens of different routes to the top. It can accommodate up to 6 climbers simultaneously, each exploring different routes and overcoming unique climbing challenges on their way up. This makes it an excellent place for learning how to climb, even for our youngest campers. They start by learning essential climbing knots, understanding rock climbing equipment like an ATC, and practicing belay commands used by climbers worldwide.
The Alpine Tower provides such a variety of climbs it takes quite a while to conquer them all. Some are direct routes to the top, stepping on the small holds and gripping others one by one like a ladder. Others involve pulling up on ropes or rope cargo nets, and navigating swinging obstacles. A few are really challenging because they are vertical or even overhanging, or involve more arm strength to reach the next hold.
Some girls are even climbing the tower blindfolded just for the fun and added challenge. It's incredible to witness how they can successfully climb without the ability to see the next hold.
After each climb, there's an exciting thrill of swinging on the belay rope, sometimes even upside down, while being lowered down.
Another area buzzing with activity at camp are our fiber arts programs. In the activity Curosty, campers can weave headbands, bookmarks, placemats, among other projects on our vintage restored looms. The historic building the activity takes place in is even older than the camp itself! On the idyllic back porch, campers can work on their weaving or needlepoint while listening to the creek rushing by. Campers who especially fall in love with weaving spend multiple other free-swim periods perfecting their projects, adding extra color, beads, or other personal touches.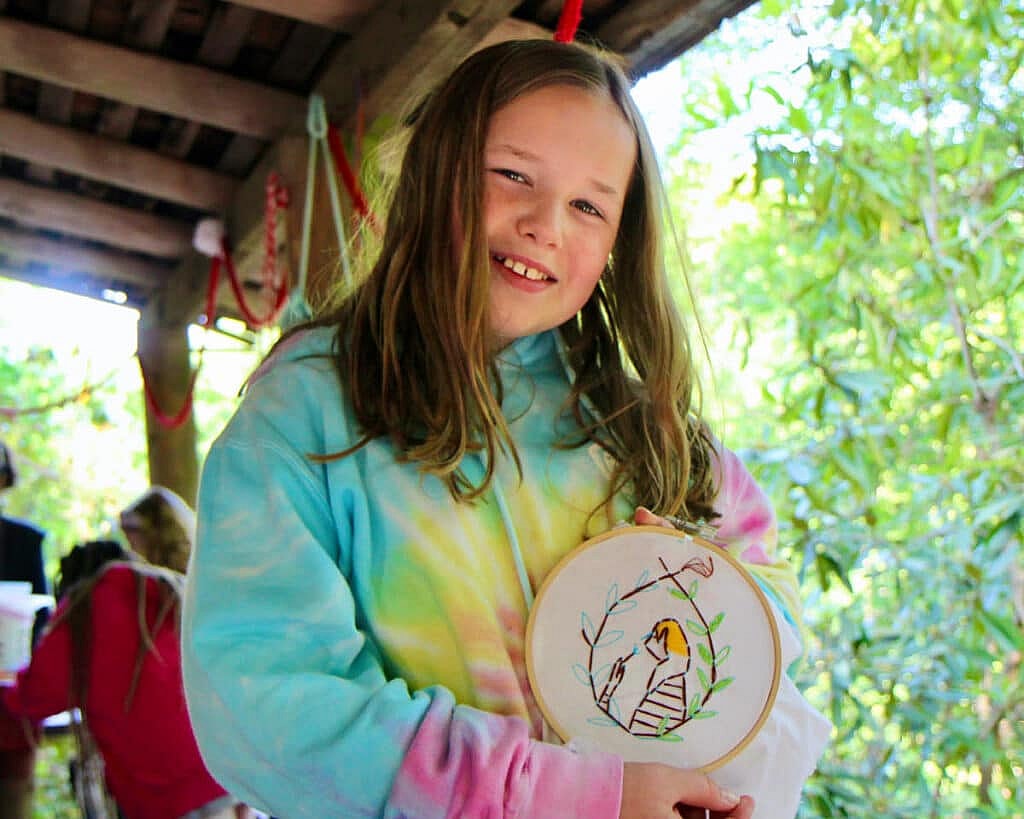 In the other historical building on camp, Goodwill, named after Nancy Carrier's birthplace, another popular activity takes place: KIT. KIT, which stands for "Keeping In Touch", focuses on paper crafts. Campers take advantage of our arsenal of craft supplies, using colorful paper, stickers, rhinestones, stencils, markers, and beads to perfect their masterpieces. Some favorite activities to make in KIT include stationary, greeting cards, journals, calendars and keepsake boxes. KIT has some of the best vibes on camp, with the cozy lighting of Goodwill combined with laughter of campers as they create their unique projects makes for a truly special scene.
One last word about the importance of sending Mail. After lunch, all the campers rush to check their mailboxes to see if they received a letter. It can truly put a smile on your campers face to see a letter in their box, even if it is a short note. So keep those letters and emails coming, your camper will truly thank you!