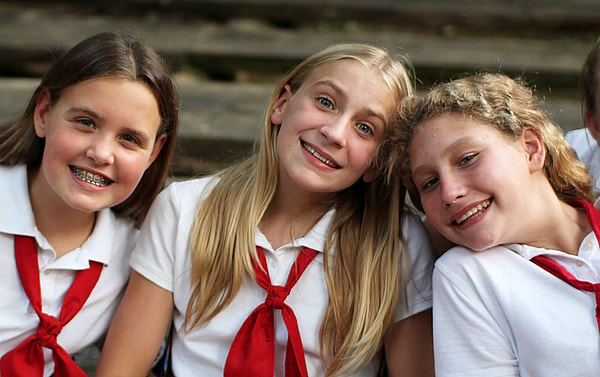 It's hard to say goodbye, but it's especially difficult to leave good friends, and even more so when it may be a whole year before you see them again. That's how we all felt this morning as the first July Mini Session campers finished their time at Rockbrook this summer— a little melancholy, wistful, even confused about what to do next. For everyone at camp, today marked a change. The Full Session girls suddenly had fewer camp companions, making most things feel oddly vacant, and the Mini Session girls were abruptly returned to the "real world" as parents began arriving by car. Reuniting with family members (parents, siblings and pets!) while simultaneously departing from their camp community… it can be an intense blur of emotions. As the goodbyes spread across the morning, it was very clear to me that these girls will miss each other. We hope the many wonderful memories gained this session will sustain their new friendships until next summer. Thanks to everyone, this first July mini session was a great one!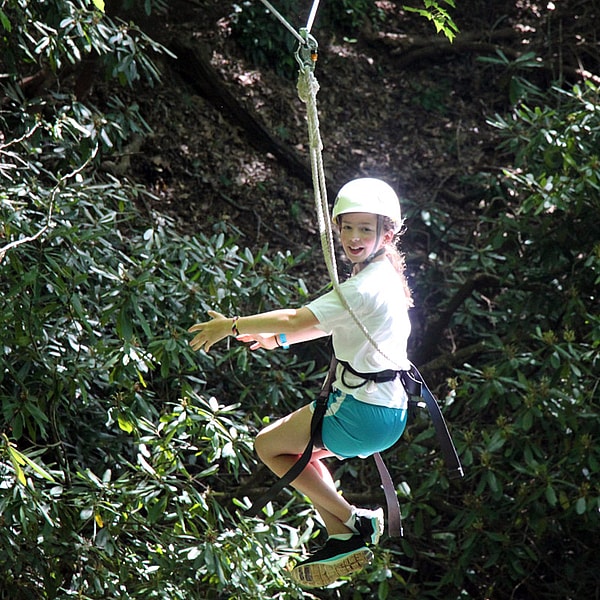 Meanwhile, camp life carried on at Rockbrook with adventure trips heading out of camp (a whitewater kayaking trip to section IX of the French Broad River for example) and the full array of in-camp activities in action. Both morning activity periods took a full slate of girls through our new zip line course. This summer we expanded our existing zip course by debuted two new zip lines and two different additional suspension bridges. Now when girls sign up, they spend an hour on the course, zipping high above tall rhododendron bushes, maneuvering over the different bridges, and screaming past the new office building for the 450-foot final zip. The entire course is beautifully harmonized with the natural features of camp, the massive rocks and waterways in the forest here. The first zip, for example, is a gentle ride, about 60 feet in the air, between rock faces that frame Stick Biscuit Falls. The course is truly a special experience. Calling it "scenic" would be a serious understatement, and the girls love it!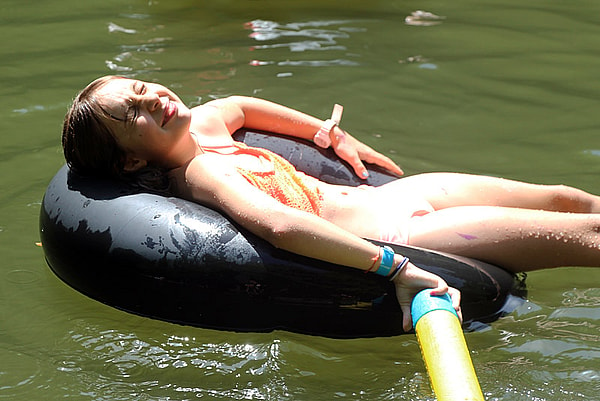 Warm summertime weather (high temperatures in the upper 80s) has been inspiring a great deal of activity at the Rockbrook lake lately. Not so much sun bathing —though there's been some of that too— the girls have been swimming their "mermaid laps" increasing their tallies, inventing crazy poses flying through the air off of the diving board, zooming down "Big Samantha" our water slide, and just relaxing on a tube aimlessly floating in the cool water. Bright warm sunshine and the chilly mountain lake water make a wonderfully refreshing combination. It's almost irresistible, prompting even several directors to join the crowd of campers getting wet during the open "free swim" periods before lunch and dinner. On days like this, the lake, like the dining hall during meals, is a community meeting place where everyone, campers and staff members, young and old alike, gather to enjoy the water and each others company. It's a delightful place all day long.