You may have heard of the special event at Rockbrook called the "Banquet." This is an all-camp party held at the end of each main session. Our 9th grade campers— the "CAs" —plan and present the banquet, and since it is their project, they also decide what will be the event's central theme. This is crucial because it is the focus of every part of the Banquet: the food, decorations, costumed performers, choreographed dances, and treats for the campers. Also, the theme is kept secret until the unveiling of the event. It's just more fun to be surprised!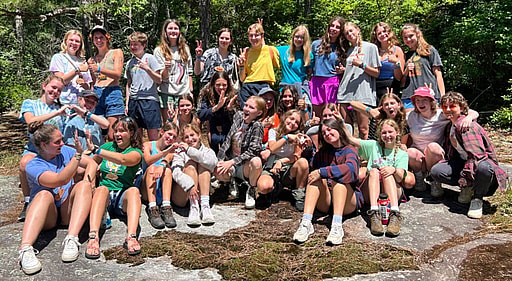 Today, this session's CAs picked the theme for their Banquet. As you might guess, 23 girls can think of a lot of different themes, and that selecting one could be a challenge. To narrow down their list, we leave camp— for privacy —and then take a hike, discussing all their ideas, weighing what sounds best for the group. Today we began with about 50 different possible themes, but after an hour of walking and talking, one idea was the clear favorite. It was almost a unanimous decision with everyone pitching in ways to make the theme even better, and getting excited about how they'll be involved in the preparations. What did they pick? You'll find out in a few weeks!
Today was also the first full day of camp activities, with the girls fanning out across the camp to tack up horses, snap on a climbing helmet, take careful aim at an archery or riflery target, grip their tennis racket, shape hunks of clay, dip a paintbrush, twist a crochet hook, and so much more. We had the littlest Juniors flying through the trees on the zip line course. All 32 horse down at the barn had at least one rider today. Every craft area unleashed waves of creativity. The girls laughed and learned. They ate their first warm muffin (mint chocolate chip was today's flavor.). They checked their mail after lunch and relaxed in their bunks during rest hour. This day was moving!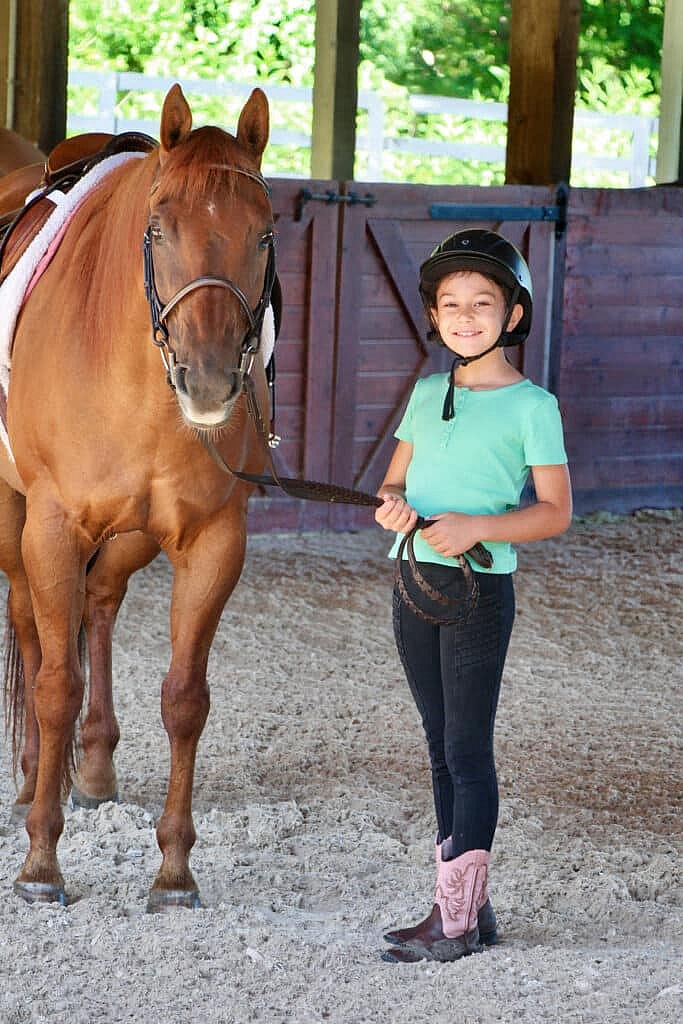 Tonight's dinner was a picnic on the hill. Rick prepared a hotdog meal for us, including both beef and veggie dogs, buns, homemade coleslaw, pickles, baked beans, and all the condiments. For dessert, the kitchen baked delicious lemon bars. So good! The weather was perfect on the hill with bright sunshine, low humidity and a light breeze. Once the girls had their plates, they spread out to different areas of hill to sit and eat with groups of friends. It was a happy and relaxed scene.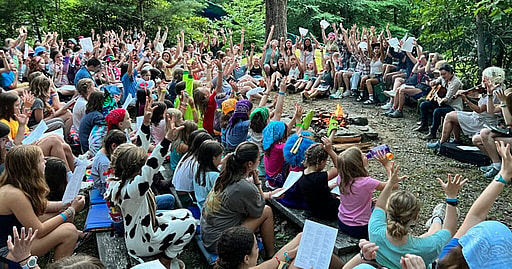 A little later, the Evening Program was a fun all-camp campfire. Here too, we announced a theme and invited everyone to come dressed in a costume. At camp, everyone knows that costumes make anything more fun. Tonight it was a Appalachian Mountain theme, something we call a "Jug Band." Sarah came dressed as her alter ego "Sayree," the fiddling, granny with a pet (rubber) rattlesnake named "Fish." With a guitar, Ukelele, and fiddle playing along, the Hi-Ups helped lead everyone in a program of songs and skits. The campfire crackled and bathed us in wood smoke, while we laughed, clapped and sang into the evening under the big white oak trees nearby.
This was a wonderful way to finish up our first full day together at Rockbrook. I can already tell this group of girls loves camp. There's kindness and enthusiasm coloring everything. There's a beautiful mix of familiarity and excitement for what might be new. There's already a sense of community that, no doubt, will only grow stronger over the next couple of weeks. Stay tuned; this is going to be good!