Ever since Harry Potter Day, I have been thinking a lot about personality. In the context of Harry Potter, it comes down to which house would I be in? The brave and chivalrous Gryffindor? The friendly and loyal Hufflepuff? The intellectual, witty Ravenclaw? The ambitious, cunning Slytherin? Of course, personality is not so neatly cut between these categories (and that is never how it was originally intended in the series). Still, the diversity of personalities at camp is possibly its greatest treasure. Rockbrook, in particular, is a place where girls from many personalities can fit right in and feel at home. Girls are free to be honest and bold, or shy and peaceful; there are times when outgoing and loud girls let their personalities shine, but also times for quiet contemplation. Today's agenda displayed how Rockbrook is able to play to all kinds of interests and personalities, and how everyone can find a part of the day that fulfills their needs.
Everyone was looking forward to today, a day that allowed us to sleep in and get some needed rest as we prepared for our final week at camp. We awoke at nine and then went to breakfast in our pajamas. Krispie Kreme donuts were placed on our tables, a favorite Sunday tradition, and then we went back to cabins to get in whities and get ready for chapel.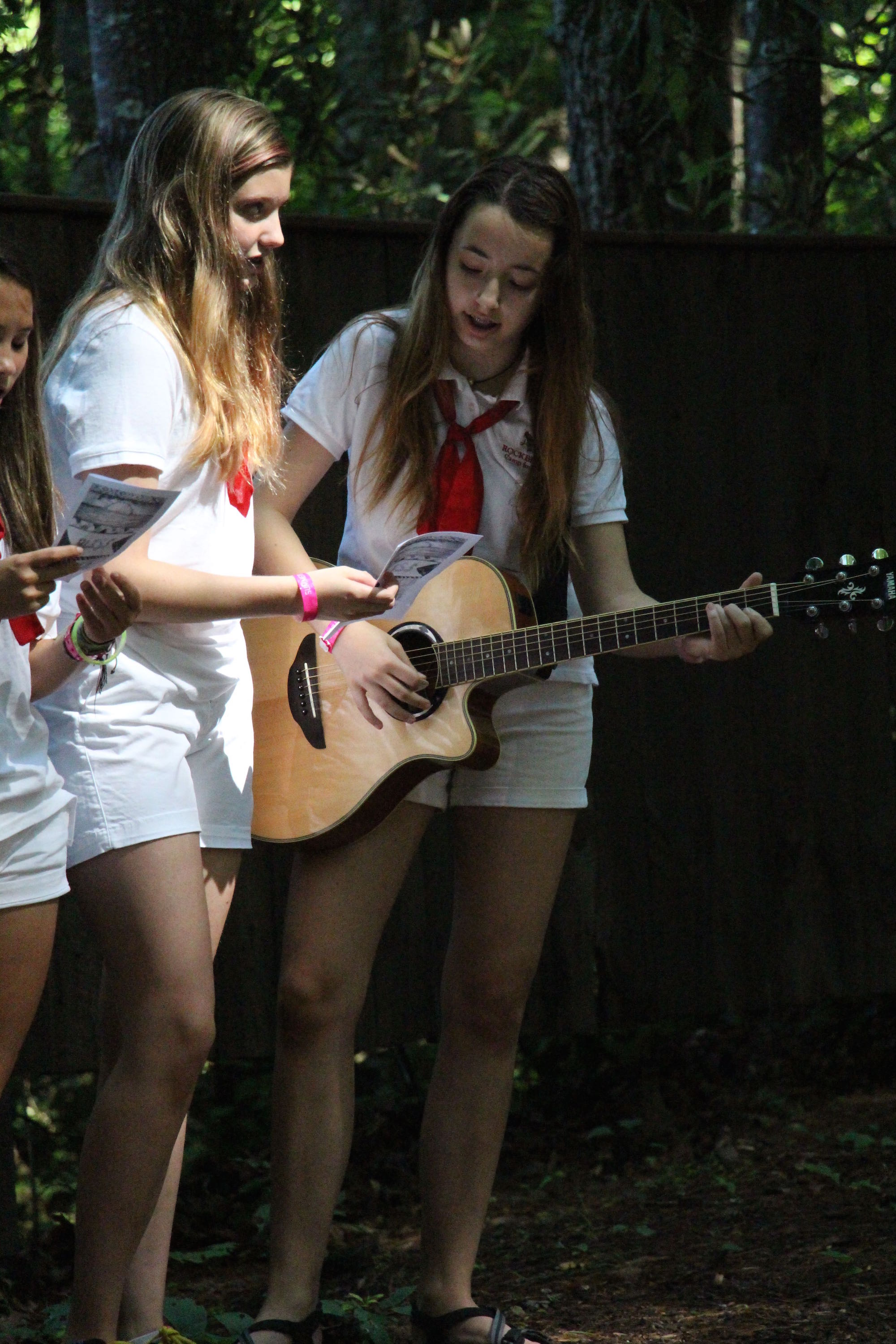 We stood in a horseshoe shape and raised the flag before quietly reflecting on the walk to chapel. Chapel is one of my favorite spaces and times at camp. So often, camp is loud: singing in the dining hall, cheering on friends on the hill. During chapel, though, we find a peaceful place to reflect on an important theme of camp. Today's theme was bliss, or the light continuous feeling of happiness. The senior line led chapel this morning, so two girls played guitar as girls filed in. Then, they led song such as 'Let's Go Fly a Kite' (complete with kites as props), 'Unwritten,' and 'Wildflowers.' The girls spoke about what bliss meant to them and how it related to life at camp.
After chapel, we cleaned cabins and tried to get our belongings organized. Sunday provides a perfect opportunity to reset for the week ahead. Then, we gathered on the hill for another Sunday tradition, Assembly on the Hill. This is a time that is loud where girls and cabins get recognized for their efforts throughout the week. All of the lines sing their line song loudly and then line heads present cabins and individuals with awards. The Mop Award is for the cabin that has the most points from inspection, and the Spirit Award, Manners Award, and Bend-a-Back Award go to individual campers who have been examples of spirit, etiquette, and going above and beyond for others. It is a challenging decision because there are so many reasons every camper could earn each award! Then, all of the mermaids and bull's-eye club members were honored. Assembly on the Hill is a great time to show your cabin pride and so many girls cheered loudly for their friends as they were honored!
This afternoon, we had Miss RBC. This is a time-honored Rockbrook tradition where cabins gather together to present a short skit, song, or dance in front of the rest of camp. This year, we have asked campers not to use background music (they couldn't use an iPod) so they had to be more creative and come up with their own music. Their talents were amazing—some cabins performed skits about life in the dining hall; some cabins danced and stomped; some made Rockbrook versions of songs ("We started as Pen Pals, and now we're besties" was substituted for "So here's my number, now call me maybe"). This was an event where every girl could get involved. Girls have a lot of practice planning performances because they plan skits most nights during evening program. In our cabin, many girls love dancing, so they were able to patiently teach everyone a dance that everyone agreed on in record time! The performances were met with enthusiastic response for every cabin, and we were all thoroughly entertained while listening to a representative from each cabin answer fun questions like "If you had a pool of Jello, what kind would you jump in and why?"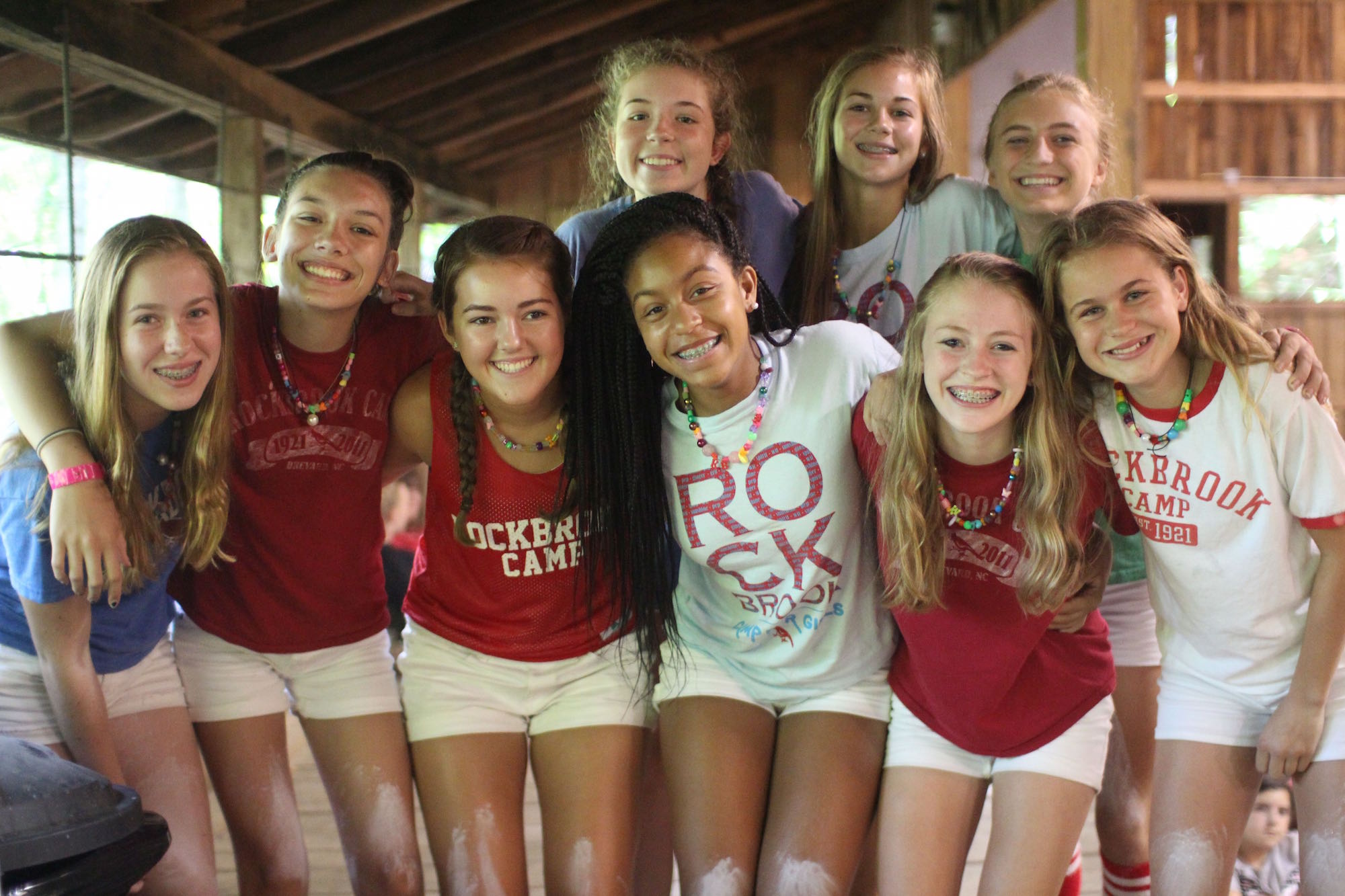 For twilight tonight, we had a very special event: a string trio and quartet from the Brevard Music Center came to Rockbrook and gave us a performance as we ate dessert! One of the musicians talked about the different periods in musical history (baroque, classical, and romantic), and they played examples of each. Girls had the opportunity to ask about the instruments and the experiences of each musician. Sitting there listening to beautiful music after an action-packed and energy-filled day could not have been a better end to the day. Many girls loved the opportunity to listen to fine music and get lost in their own thoughts as inspired by what was being played. It was a calmer, more contemplative (yet still interactive) way to spend the evening, and it made me appreciate how everyone could take something beautiful away from this day.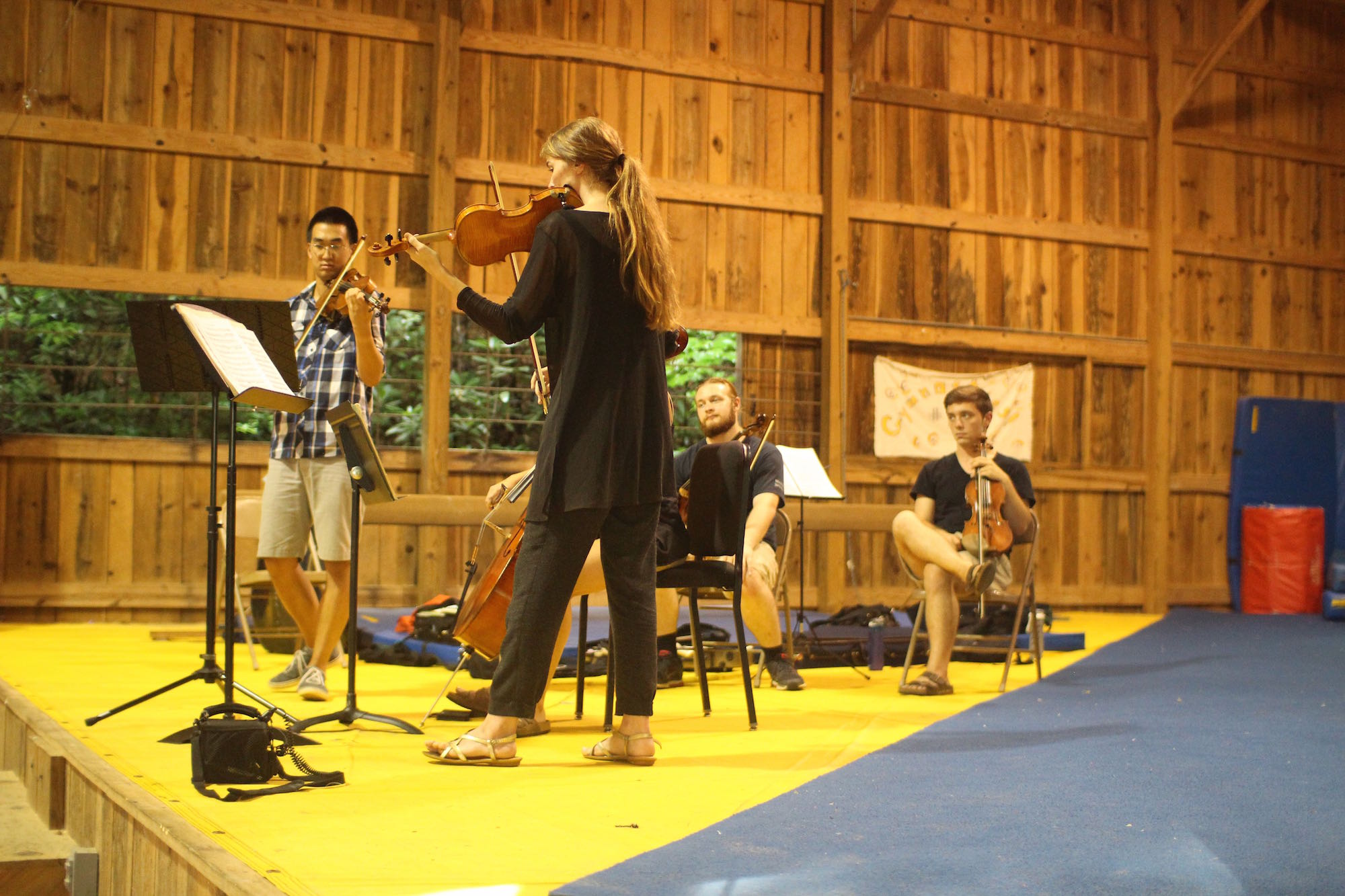 We lived a lovely day today. Chapel and the string ensemble gave us time to be contemplative and reflect on all of the action we have lived. Miss RBC and Assembly on the Hill gave us times to be loud and enthusiastic, basking in the spirit of camp. In the coming, final days, we will find other activities that meet our needs. Activities like curosty, needlecraft, and yoga give us a calm space to center ourselves whereas sports and games, swimming, and climbing give us more opportunities to live out loud. At Rockbrook, some girls like to have conversations in small groups whereas others love big groups and being the life of the party. Some girls love crowds and spirit, and others love the calm peace of nature. Most girls love both, which is great, because Rockbrook is able to provide an atmosphere that suits every type of girl and that celebrates every type of personality.