"If I know what I shall find, I do not want to find it. Uncertainty is the salt of life." –Erwin Chargaff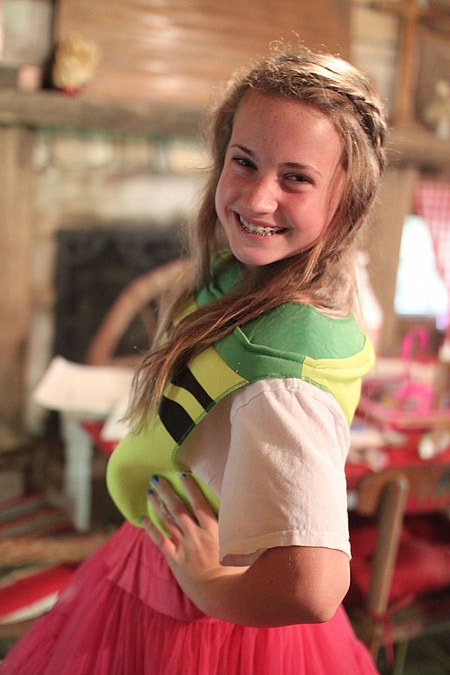 Anyone who has been to Rockbrook knows that there is some degree of certainty at camp: there is a regular schedule, there will definitely be muffin break every day at 10:45 (thank goodness!), and there is always something structured to do. Yet days like today, with nothing out of the ordinary planned, remind me that we all thrive at Rockbrook because when we wake up, none of us know exactly what the day will bring, and that makes each moment of each day exciting.
No one knows exactly what a day outside of camp will bring, either, but what I have noticed recently is that Rockbrook fuels this sense of curiosity and energy by creating a camper-driven environment. Because Rockbrook is set up like this, campers feel free to take initiative and take their spontaneous ideas and turn them into real fun.
This has been exemplified all day long at camp. No one batted an eye when a whole cabin of girls arrived to breakfast decked out in costumes from head to toe, but many of them got great compliments for their senses of style! At the end of breakfast, the girls made an announcement that, as a reward for clearing their table without being asked, two girls got to dress the other girls in their cabin. The girls all loved it and enjoyed parading around in their costumes all morning!
While walking around today, I dropped by KIT, which stands for "Keeping in Touch." In this activity, girls make stationary, calendars, and boxes—anything that helps them write letters or keep special camp memories. KIT takes place in Goodwill, an historical building that is cozy with soft lighting and red curtains. The environment is relaxed and laid back, as the counselors who teach KIT have made sure that each girl is doing a project she wants to do. Conversation flows easily as the girls who have already spent a week at camp get to know those who just arrived. Everyone is engaged in their craft and content with their choice, happy they got to decide for themselves what to focus their energy on.
When I passed by WHOA, our activity on Wilderness Hiking and Outdoor Adventure, I heard something I do not usually hear casually around camp: The Star Spangled Banner being sung around a fire pit. Curious, I joined in the song, and tried to blend in. As the song ended, girls got up to speak, and I realized quickly that this was a memorial service for the miniature rafts the girls had tried to create. A particularly memorable moment of the speech was, "It was the Titanic of rafts, and that's probably why it sank." No one would have thought that a sunken raft would be an avenue for the subtle hilarity that ensued afterward. With a healthy dose of flexibility and an emphasis on process instead of outcome, every small activity can become something exciting and unexpected.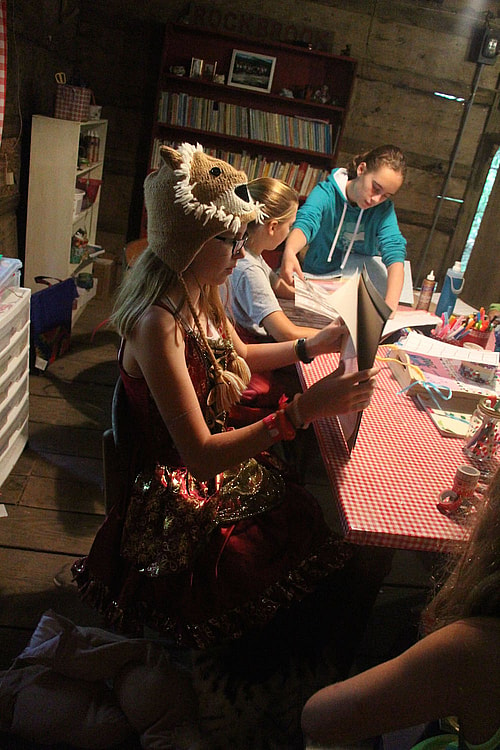 This notion of camper ownership extends to every part of the day and every place around camp. Eating in the dining hall is always a little unpredictable because no one ever knows what songs will get sung. The Hi-Ups (the oldest Rockbrook campers) get to choose and lead the songs, but any table can request them! My absolute favorite part of meals, though, are announcements. There are many predictable (and important) announcements about adventurous trip offerings, tie-dye pick-ups, and lost and found. What makes Rockbrook different, though, is that campers take initiative and make their own announcements too. We were treated at dinner to two juniors performing a self-written song on their favorite activity: Nature! Set to "The Shark Song," a familiar camp tune, the girls replaced the verses with "terrariums", "Rockbrook Falls", and "cool counselors". The girls even made the journal in which they wrote the lyrics down! The rest of the camp gushed at how perfect the announcement was, and broke into excited applause. Not only do campers take ownership of camp, the rest of camp enthusiastically celebrates their initiative because everyone appreciates this spontaneity.
Twilight gave us another avenue to explore as a group of girls chose to venture down to the Rockbrook Garden. Every age group was represented, and it was moving to watch the senior girls helping the younger girls get excited as they walked down the hill together. When we arrived at the garden, Chelsea, the friendly and calm Rockbrook gardener, addressed the campers saying, "Girls, welcome to your garden." The garden is a plot of land by the land sports field. Chelsea works hard to plant a variety of vegetables, fruits, herbs, and flowers. It is incredibly calming and relaxing to be there during this twilight time, when the day's heat is finally easing up, when the sun is setting, but there is still gold in the sky, when wind chimes are providing us with gentle sounds, and we get to romp around in what feels like a secret garden. There are rows of fruits, vegetables, and herbs that will eventually find their way into the Rockbrook dining hall! Surrounding the vegetables are beautiful flowers—heaps of sunflowers and daisies of every color. It is nothing short of perfection.
Even better, we got to do so much more than look at it. Girls proceeded to pluck strawberries right off the vine and eat them; others tried kale for the very first time. Some created bundles of lavender and verbena to tuck into their pillows at night, while others picked flowers and fashioned bouquets for their new friends. Chelsea also gave the girls some lettuce to plant in the ground, and many also helped water the plants. Regardless of what they did, I saw so much sheer joy in being able to actively engage in a space like the garden. On the way up the hill, I heard a girl comment that she was somewhat hesitant to come to the garden because she thought it would be a structured lesson about plants. She had no idea she would be allowed to pick anything or try anything, and that most requests she had would be answered with "yes," and a smile.
After the garden, we headed back up the hill for evening program. Most nights, cabins work together to plan a skit. Though counselors are always nearby, we try not to be too involved—it's a great opportunity for girls to work together and get as creative as we please! As I was watching a skit whose characters were debating the origin of French Fries (France or the United States…in the end, it was actually Belgium!), I was struck by the originality that stems from campers creating so much of the direction of their camp lives. I realized that, at Rockbrook, the phrase I heard at the garden should be applied more broadly. It's as though every moment of every day is saying, Girls, welcome to your camp.