Your personality. You take it with you everywhere you go in life. Just like your trunk and your linens, it certainly comes with you to camp. Dr. Ethan D. Schafer describes different aspects of our personalities in his article How Understanding Your Personality Will Make You a Better Counselor. He shows us how understanding these components and their interplay with one another can transform our success as counselors.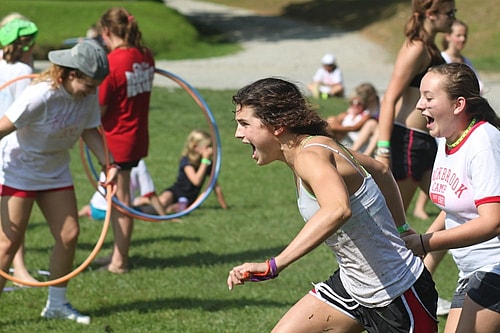 Dr. Schafer outlines "the big five model". This is a set of five major traits by which we can all be measured- thus, our personalities. Each of the five traits exists in a continuum rather then a category. If you categorize your personality your claim, then, is that you're either, for example, an extravert or you're not. You may not be surprised that researchers claim that your personality is much more complicated than that. Most of us fall somewhere in the middle of these two claims.
The "big five" personality traits Schafer suggests that counselors explore in their own personalities are extraversion, neuroticism, conscientiousness, agreeableness, and openness. As previously mentioned, considering each trait as a continuum, counselors determine where their personalities fall by aligning with a "very low" or "very high" amount of each trait on the five scales. It is important to keep in mind, Schafer warns, that personality traits are neither "good" nor "bad- they are what they are. The importance in understanding our own tendencies lies in how we use our personalities to effectively interact with the world.
Extraversion:
Extraversion refers to how strongly someone is programmed to seek positive emotions. In general, high scorers on this scale are sociable and enthusiastic. At camp, these counselors will embrace all the new opportunities presented to them, but may struggle to "follow through" on certain tasks. Low scorers are sometimes called "introverted." They tend to be more careful and measured in how they relate to others or how they try new things. These counselors may prefer small group settings and will need to schedule more down time to refresh themselves.
Neuroticism:
Neuroticism refers to how someone is wired to experience negative emotions like anxiety or sadness. High scorers tend to be "sensitive", they feel emotions intensely. This can work well at camp because these people tend to be more prepared for stress as they have had more practice dealing with it. They are more likely to be on guard for dangers; a very useful tool in risk management. These counselors really need to monitor their emotions while at camp. Low scorers on this scale tend to stay calmer in a crisis situation, but are less likely to take the emotional distress of others seriously because they struggle to connect with it. These counselors need training in risk management.
Conscientiousness:
Conscientiousness refers to self-control. High scorers tend to be disciplined and organized. These counselors do well at camp with autonomy and a set of responsibilities. They may have trouble when a situation calls for flexibility. Low scorers are a bit more spontaneous and impulsive. They do well with situations that are fluid and constantly changing. These counselors must work on skills such as planning and promptness.
Agreeableness:
Agreeableness refers to caring about others. High scorers are empathic. Counselors with high agreeableness will be very patient and understanding. They will, however, need to work on listening to constructive criticism without taking it too personally. Low scorers put less weight on emotional factors and interpersonal issues when making choices about how to behave. These counselors tend to do well with making difficult decisions without taking matters personally. Low scorers need to make deliberate efforts to understand the emotions of other staff members and campers.
Openness to Experience:
High scorers in this category tend to be unconventional and creative. At camp, this leads to innovated thinking and leadership styles. These counselors may need direction, however, to value the traditions and the structure of camp. Low scorers are more literal and concrete. These counselors love to work on concrete tasks. They need to work to remember not to allow their disinterest in more free-flowing ideas to influence their camper's decisions.
Schafer concludes by stating that learning what works best for our personalities is a lifelong process. Camp is the perfect place to begin.