Sometimes it's fun to show off your skills in a competition. Ordinarily around here, we don't hold contests to determine who is the best at something, since we'd rather pay attention to the fun of what we're doing than to keeping score. But we're still building our skills along the way, improving our shot in archery and riflery, our rock climbing ability, and our weaving technique for example.
Tuesday, we got a little more serious because we invited the boys from Camp Carolina over for three friendly matches pitting our girls against their boys in tennis, archery and riflery. In recent years, our girls have traveled to Camp Carolina for these tournaments, so we were especially excited to host. To show it, the girls were ready with painted banners decorating the courts and shooting ranges, along with matching team outfits— custom t-shirts, all black for the riflery girls, white with big yellow tennis balls for the tennis team, and grey for the archers. The final tally gave the boys a slim margin of victory in both archery and riflery, while the girls ended up winning in tennis. If your daughter participated, I'm sure she'll be proud of the outcome either way.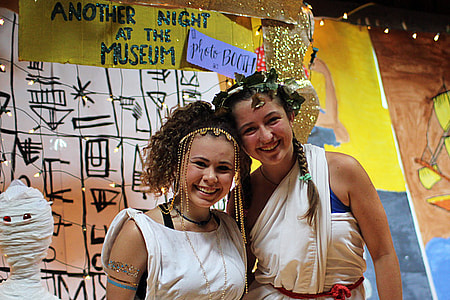 After weeks of planning and preparation, Tuesday night the CAs (9th graders) unveiled their surprise banquet theme to the rest of the camp. Entitled "Another Night at the Museum," the theme transformed the dining hall into an amazing collection of Art, Culture and Natural History museum displays. The CAs dressed as elements of these displays: Roman and Egyptian figures, a dinosaur, living paintings (e.g., A Girl with Pearl Earring), Albert Einstein, tourists who visit a museum, and the counselors as security guards. The campers arrived dressed in their red Rockbrook t-shirt and were thrilled to see all the painted posters lining every inch of wall space in the dining hall, and then amazed as the CAs performed a series of skits and dances where the Museum characters came to life and interacted with everyone. There was music and dancing, candy to enjoy, and a real celebratory feeling. It was an incredible fun evening for everyone.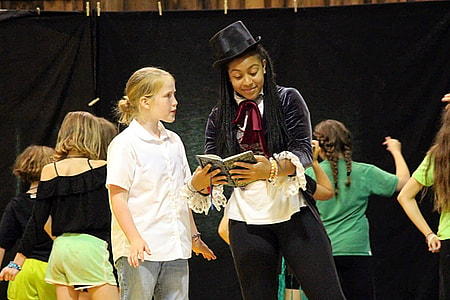 This afternoon the whole camp (and a few invited parents and guests) gathered in the gym to watch a performance of this session's musical, "James and the Giant Peach." Adapted from the children's novel by Roald Dahl, this play tells the story of an orphan boy, James, who befriends several magical insects, and despite his cruel aunts, Spiker and Sponge, embarks on a journey to New York City inside a giant peach. Fantastic and offbeat, it was fun to see how much the girls enjoyed acting the parts and singing the songs of the show. During a brief intermission, the dance classes presented their end-of-session choreographed shows. The whole afternoon was really entertaining— a marvelous culmination and artistic celebration of the session. These girls have talent!
Closing our session tonight was the ceremonial campfire we call "Spirit Fire." This is another of the long traditions at Rockbrook. The campers and staff dress in their uniforms and gather around a great campfire set on the large rock ("Vesper Rock") overlooking the camp lake for a program of traditional songs and personal reflections offered by counselors and campers from every age group. Tonight the fire looked gorgeous glowing orange amid the crowd of red and white uniforms, huddle closely. As the sun set and the woods around us grew bluer, then more grey before turning black, we could hear the waterfall splashing into the lake and the crickets chirping all around. In this beautiful setting we heard speeches recalling how Rockbrook has become important to these girls, the friendships formed, and the many ways we've all grown over these last few weeks. Sarah talked about the importance of finding moments during our busy lives to slow down and reconnect to those around us, like we do here at camp. She encouraged the girls to keep a journal throughout the year to record important experiences and to provide a quiet moment now and then for reflection.
We hope time at Rockbrook has a lasting positive effect on the girls who attend and settle into the culture of this place. The feeling that comes from joining this kind of caring community can make a powerful difference in these girls' lives, enlivening and recharging their deepest humanity, strengthening who they are long after camp. It's been a pleasure this session to witness so many wonderful examples of this transformation. Thank you everyone for helping to make it possible.