Tonight two junior cabins embarked on their very own Junior Overnight. This special trip is reserved just for our youngest campers, and the girls get to venture a short distance into the woods with their counselors, make s'mores, sing campfire songs, and hear stories. For some of our youngest girls, the Junior Overnight is their only opportunity to leave camp and sleep outside, and it's a major highlight of the session for them.
The announcement was made during dinner: "Junior One and Five cabins, what're your plans for tonight?!" The two groups looked puzzled being asked this question in front of the entire camp, completely unprompted. "We don't know… ," said one girl in the back. "YOU'RE GOING ON YOUR JUNIOR OVERNIGHT TONIGHT!!!" As soon as I declared the news, the girls squealed with excitement. Their time had finally come!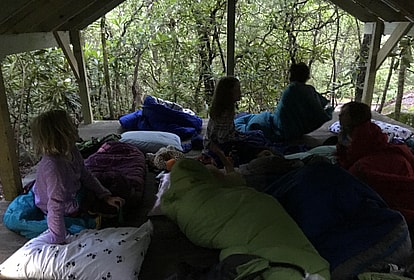 The girls wiggled into their pajamas and packed after dinner, running up to their cabins as they remembered water bottles, bug spray, or a critical stuffed animal before we left. Once we made it out to the outpost, I immediately started making the fire. One curious camper asked me to explain each step, which I was thrilled to do. Afterwards, the campers inhaled some s'mores and learned some new songs, including my personal favorite, the Cider Song.
For bedtime, after some discussion of sleeping arrangements and keeping spiders away, I read the girls a story about a girl who snuck cookies to her pet cow and another about a girl who dreamt of going to the moon. Most of the campers fell asleep before I was asked to tell "a Chelsea original," which featured a little redbird who traveled the world helping others.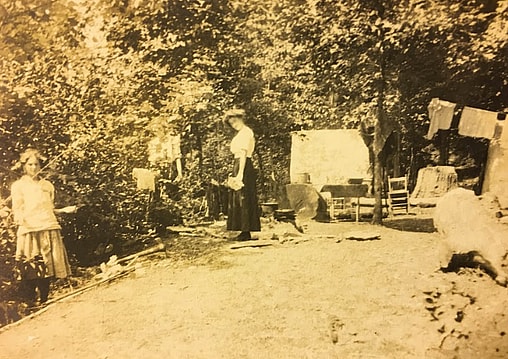 Full disclosure, I love this trip. My most treasured camp memories involve sleeping outside, eating something by a fire, hearing a funny story from a Director or counselor, and overcoming a little nervousness about a bug potentially crawling on me during bedtime. It was those particular experiences that brought me back as a counselor years later.
The Junior Overnight entails what summer camp is meant to be in its simplest form—quality time with friends in nature, away from modern conveniences. In my opinion, for these reasons, the simple little trip also celebrates the very reasons Rockbrook was founded.