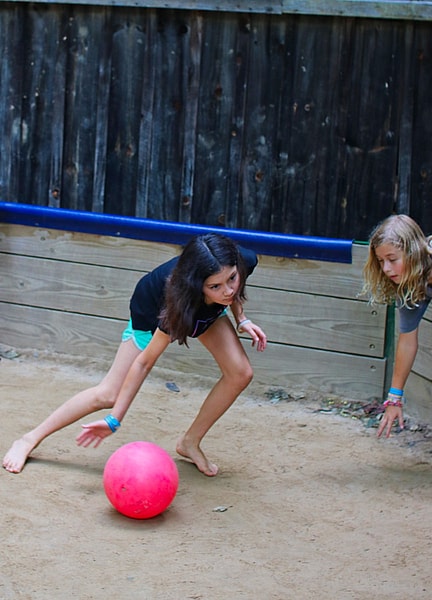 At Rockbrook, we play all the time. Walk around camp at almost any time of day, and you'll see the intensity of a gaga game, a line of girls waiting to play tetherball, and hear the familiar bounce of tennis balls being hit during free swims. Even though all of these are competitive games, Rockbrook considers itself to be a noncompetitive camp. By that, we mean that we emphasize playing over winning. Though of course winning has a certain thrill, there is beauty in living in a culture that reminds us that the point of playing isn't always to get ahead. Sometimes, it's about finding the joy in what you're doing, to focus more on the process of the game, rather than just the outcome. In this, competitions continue to be a way of building each other up, whether we are the next Serena Williams, or a complete novice. We learn to support each other, to win and to lose gracefully, and most importantly, to have less inhibition about just playing the game.
Our Rockbrook camp girls really embodied this ethic today, as we went to Camp Carolina for riflery, archery, and tennis tournaments. When we got there, it turned out another camp, Keystone, was also there, so it became a tri-camp tournament! Throughout the competitions, I was really impressed by how the Rockbrook girls embodied the tenants that come from Rockbrook's focus on sportsmanship and support, even in a more competitive environment. This morning at breakfast, Rockbrook sent its support to the tournament girls by singing the tennis song, "I'd rather play a tennis match than any other girl I know…" and the archery song, "archery, that's for me, it's my favorite activity…"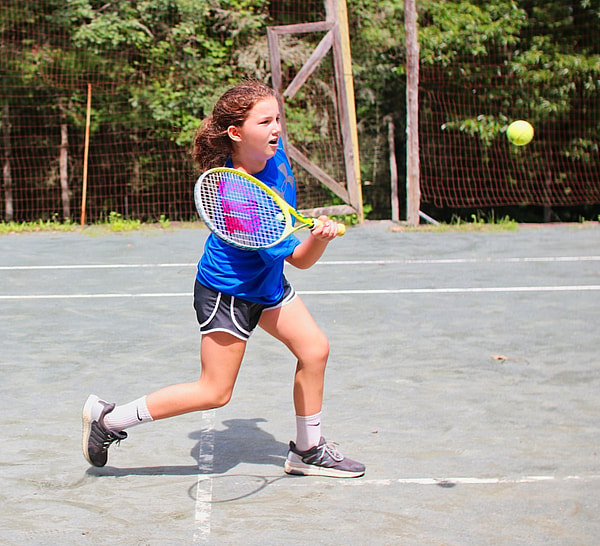 The girls left camp in matching shirts that the counselors had made for them, bringing Rockbrook spirit to Camp Carolina. This spirit pervaded everything they did. For example, I watched a match played by senior girls against Camp Carolina boys. One of the girls clearly had a ton of tennis experience whereas the other one was newer to the sport. I heard her laugh as her partner helped direct her around the court as she was serving, "Oh," she said with a smile, "It's not that different from volleyball!" The two constantly communicated back and forth, and she was able to hit most of her serves in. When they missed a ball, they kindly said, "that's okay!" to each other, and when they succeeded, they clapped their racquets together in a high-five. Though the match was close, the duo ended up winning. Ultimately, though, the match felt uniquely 'Rockbrook' to me—the girls had so much fun throughout, and the majority of the focus was on building each other up, rather than being the tennis champion of the day.
Later that day, I saw a boy struggling to get his serves in the box. That same girl who did not have much tennis experience reassured him from across the court: "Don't worry about it!" she said calmly. "I hit them out all the time, too!" Not only was she a supportive teammate to her partner, she was also kind and reassuring to her competition. In some ways, I think this epitomizes Rockbrook's spirit. It's not that we don't care about winning, but we want everyone to feel that taking risks and making mistakes is okay; there should be joy in the process. In archery and riflery, Rockbrook girls loudly cheered on their teammates, no matter how many times they hit the target. At Rockbrook, being on a team means supporting each other no matter what.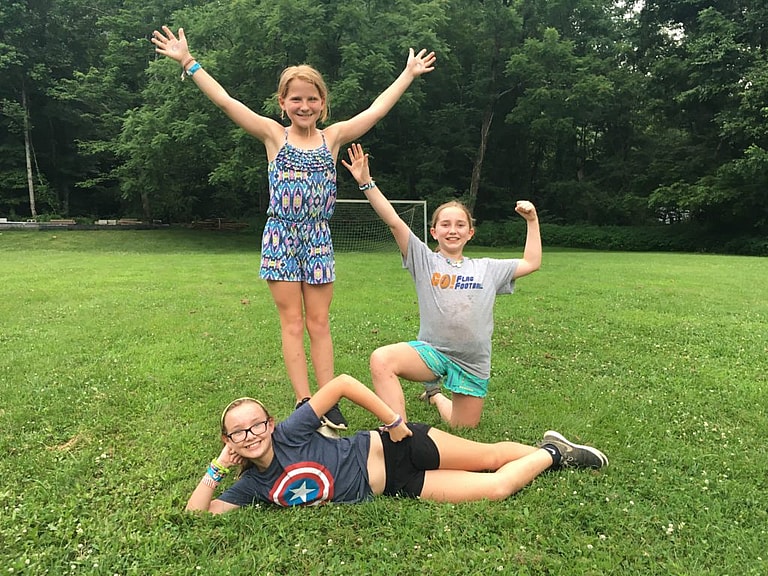 This same spirit continued later in twilight when girls went to land sports to play World Cup Soccer. As a camp, we have streamed the quarter finals and finals of The World Cup, and we certainly have some avid soccer fans at RBC. Girls got into teams of three, and adopted a country that was in the World Cup! All of the teams try to score a goal, and when you kick, you say your country's name! If you're the last country to score, your team is out. At Rockbrook, though, when teams get out, they go to the side and wholeheartedly cheer on their friends! In a funny coincidence, France won the World Cup at RBC this year, too! What a lucky country!
Today was a fun day of playing and competing. Soon, we'll go home to our own athletic teams, schools, and other activities that ask us to compete against each other a lot. As we come from Rockbrook's noncompetitive environment, I hope that we can all remember the lessons we've learned here. While winning is great, it is also important to remember to try things even when we aren't the best, it's still important to build each other up, even when they're competing against us, and at least some of the joy should come from simply playing the game.