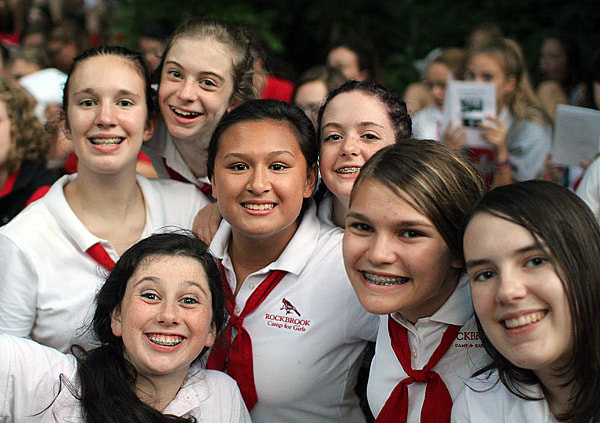 The day after the banquet turns everyone's attention to end-of-session events and practicalities because today was our last full day together. We found ourselves fighting the forces of camp entropy (the inevitable scattering of things that go along with kids playing) by sorting through piles of lost and found items, collecting what we could identify and packing it all into trunks, suitcases and duffel bags. We also celebrated all the great horseback riding accomplishments this session by holding a "barn party" were girls could ride their favorite horses, watch a few riding demonstrations, and decorate Cool Beans (a white Welsh pony everyone loves) with colorful finger paint. Late in the afternoon, we all enjoyed a performance of Willy Wonka, our musical this session. Using simple scenery and homemade costumes, the girls presented a fantastic show. It was at times funny, heart warming, and delightful, even as the performers seemed so relaxed and happy to be on stage. Almost equally, our dinner was a work of art with Roasted Turkey, Mashed new potatoes, stuffing, asparagus, cranberry sauce and homemade caramel brownies for dessert… A Thanksgiving dinner in June to mark our camp session.
The most significant mark, certainly the one most packed with emotion, is the closing campfire we held tonight, our "Spirit Fire." Sessions have closed at Rockbrook every year since its founding in 1921 with a special campfire focused on the experiences we shared together at camp, the solid relationships likewise uniting us, and the fundamental values and principles that have sustained the spirit of Rockbrook for these generations. The Spirit Fire program includes traditional songs interspersed with short speeches presented by new and returning campers and counselors representing each age group. Here is an example given by Caitlyn tonight:
"This was my first year at camp. Here at Rockbrook my days were filled with laughter, smiles and really great hugs. Being away from my mom and dad and brother for three weeks was hard, but here at camp I have a new family of sisters. We're all family here and it's a good thing too because we need it. I've made a lot of friends and learned a lot about friendship. Here at camp, there's this vibe that you get from everyone that's so outgoing and loving. And it feels really great. Everyone here really made my summer so wonderful. Camp was an amazing experience. I'm gonna miss everyone so so much, and I'm gonna remember all of our fun times. I love you guys."
For most of us, the Spirit Fire evokes these same feelings. Surrounded by friends, stars poking through a canopy of oak leaves high above, the quiet rush of the nearby waterfall into the lake, it feels really good to be here. A twinge of sadness colors the evening now and then when we recall that camp is ending, but that too arises from the meaningful connections Rockbrook has built for us. As we light our individual Spirit Fire candles, stand shoulder-to shoulder around the lake singing softly, the bright reflections of candlelight add even more shine to our faces. It shows everyday, but tonight we felt it even more strongly— We love this place. We love camp.