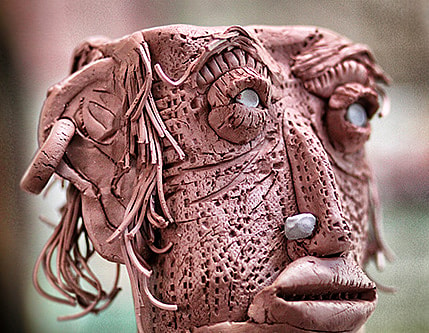 In addition to all of the clay vessels we make at camp, the cups, bowls, trays, dishes, pitchers and so forth, another fun part of the Rockbrook ceramics program is making sculpture. This means using the same hand building techniques, and even wheel-thrown pottery techniques, and combining pieces to build three-dimensional objects.
One important technique to learn for clay sculpting is using something called "slip." Slip is a form of liquid clay, or a runny mixture of clay and water. It can be used a number of ways, but when building a clay sculpture, slip is applied to join two pieces of wet clay together. For example, you might want to connect a coil to a slab, or a dome shape to something turned on the potter's wheel. The slip acts as a sort of glue helping the pieces stick together.
So what kinds of things can you sculpt out of clay? Anything your imagination might dream up! Recently at camp we've seen some great representational figures— fish, horses (of course!), turtles, snakes, and other animals. The campers have also made amazing human forms like faces and hands. Natural objects like leaves, ferns and branches make great textures to be incorporated as well. Need some other ideas? Here's a great web site with links to amazing examples of sculptural ceramics.
Seeing what the Rockbrook girls are sculpting in our pottery classes, it's easy to be amazed, and to understand why this arts and crafts activity is so popular at camp.