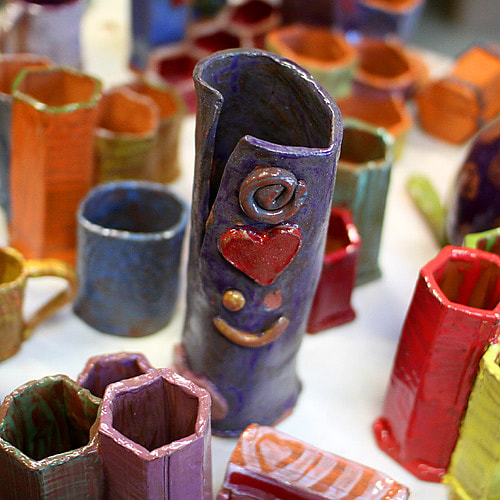 One of the ceramics hand-building techniques we teach in Rockbrook pottery classes is extruding. This involves creating clay forms, or consistent shapes, by pressing clay through an extruder, a simple hand-powered machine. An extruder is really a piston of sorts operated by a lever. On one end of the piston's cylinder is a wooden or metal plate called a die. Different dies have different shapes cut out of them. The whole thing works by filling the cylinder with clay, and pulling the lever of the extruder, thereby forcing the piston to push the clay through the die, and out in the shape of the cutout. It takes muscles to pull that lever, but it's so cool to see the extruded clay come out!
Some dies extrude circular tubes, but there are also square, hexagonal and octagonal tubes as well. You can extrude slabs, coils and even half-spherical shapes. Extruders are great at making long, even forms of clay.
Of course, these shapes then can become the building blocks for more complex hand-building projects. Extruded clay can be combined to make really complex sculptures, for example when extruded tubes are cut at different angles and joined to make multi-sided vessels.
And don't forget glazing and firing these pieces. Like all the pottery and ceramics projects at camp, the artistic results are beautiful! Yep, at Rockbrook, we do extrude.