It's really one of the most popular things we do at Rockbrook, something we all enjoy multiple times a day, in fact. We can't live without it, and fortunately we have an absolute expert guiding the activity for us. It's the meals at camp, the delicious food served by Rick and his staff in the kitchen! Three times a day, he serves home-cooked main dishes and fresh side items, all while adding extra preparations to suit the vegetarian, gluten- and dairy-free needs of the campers and staff. And you've heard about the full-time baker who thrills everyone each day with cookies, breads, and a surprise flavor (today was mint chocolate chip) of fresh-baked muffins. It's simply marvelous!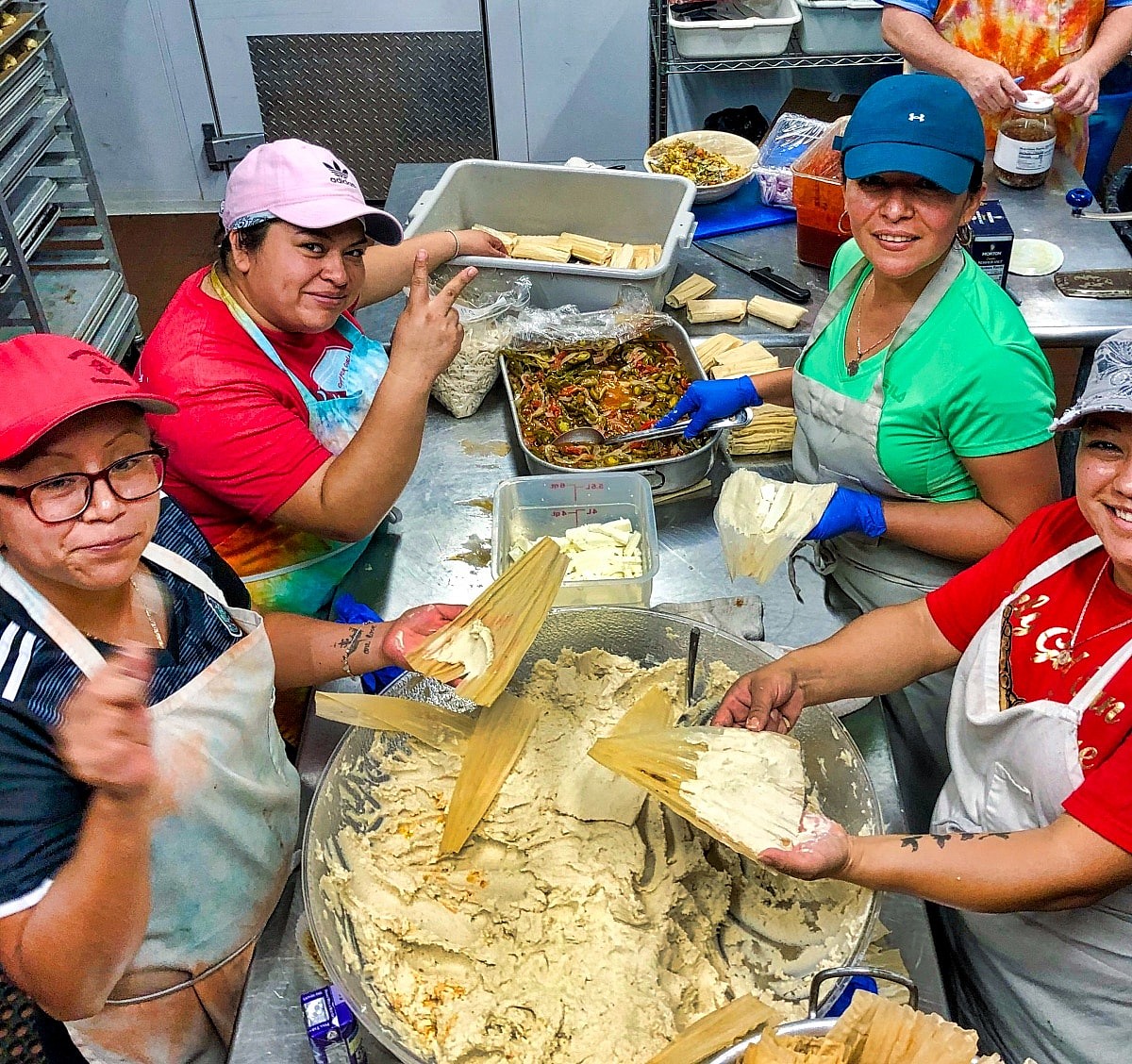 Today's lunch was a great example of the lengths Rick will go to make the food at Rockbrook special, uniquely memorable, and outstanding. It was authentic, completely made from scratch, tamales, served with black beans, fresh guacamole, sour cream, chips and salad. Preparations began several days ago, as the crew first made all the salsas: a bright red Guajillo chili sauce and a green variety combining serrano peppers, tomatillos, garlic and onions. They also roasted chicken in advance, pulling it off the bone in shreds, along with frying a blend of onions, green and red bell peppers. Each tamale has to be made individually and by hand, and when you need 1200 tamales to feed the camp, it's quite a project. One by one, a layer of tamale filling (a paste of fine cornmeal, lime, oil and stock) is spread on a corn husk, and chicken or cheese along with one of the salsas and peppers added before folding the husk into a pocket and carefully being layered into several large pots to be cooked by steaming. The result is many delicious, hot savory treats. Part of the fun of eating tamales is unwrapping them, revealing the yummy middle of the husk pocket— undoubtedly a new experience for some the campers and staff. I would bet, this will be remembered as a favorite meal of the session.
Meanwhile, this morning girls were offered several adventure outings: a kayaking trip to the lower Green River, a canoeing trip to the French Broad, a hiking trip to Moore Cove in the Pisgah National Forest, rock climbing at Castle Rock, and a zip line tour through the course on the Rockbrook property. Such amazing opportunities to dive deep into the unique beauty of this part of western North Carolina!
This afternoon, cabin groups and their counselors planned special activities for their "cabin day." One group had a relaxing float at the lake, while another chose an exhilarating ride on the zipline course. Two different groups took a hike to the top of Castle Rock to enjoy a view of the French Broad River valley. Two groups chose craft projects: one making tie-dye t-shirts, and another decorating compliment jars. One senior cabin planned an entire game show! —the wolves vs. the vampires in a competition to "Earn Lotso Respect." All of the junior cabins loaded up the buses for a short trip over to Dolly's Dairy bar, and for many their first taste of Rockbrook Chocolate Illusion or one of Dolly's other camp flavors.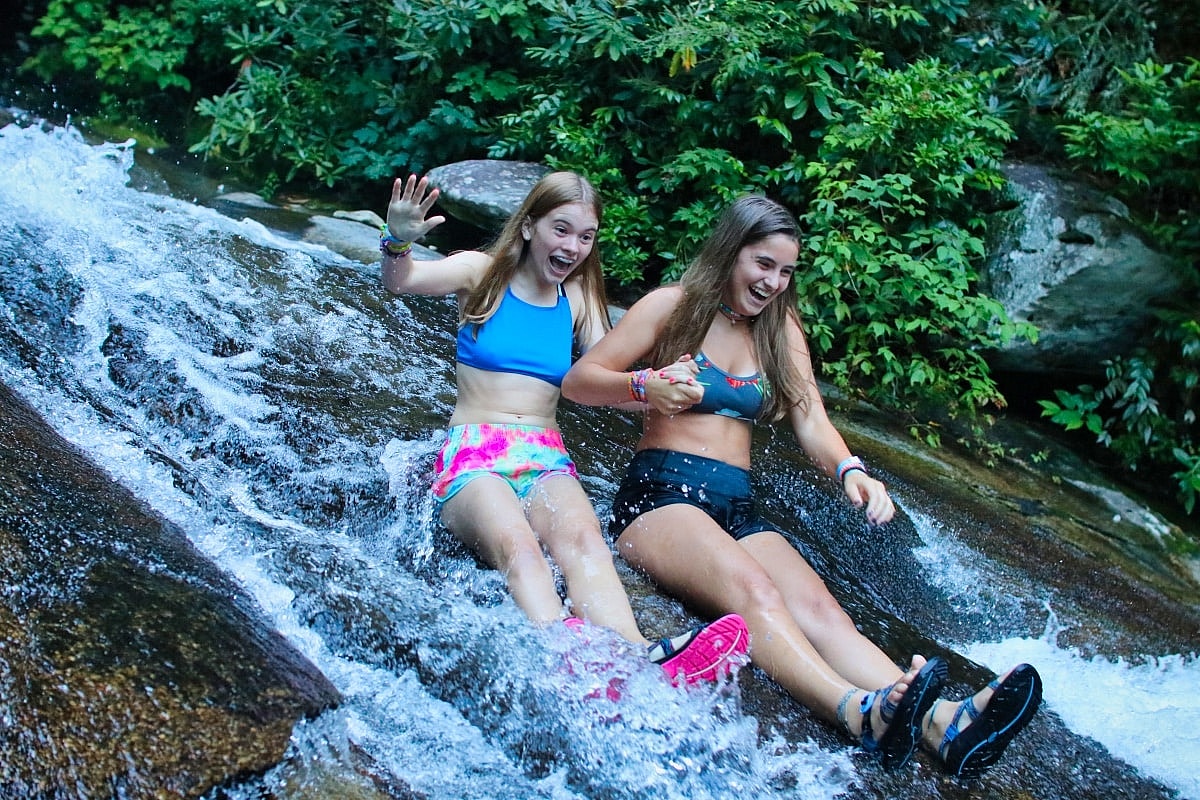 It was an exciting evening for the full session Middlers and Seniors. Along with their counselors, all 101 of us rode up into the Forest for a dinner picnic, visit to Sliding Rock, and final stop at Dolly's. We love this trip because it combines time together eating and playing games, top-of-your-lungs excitement on the natural water slide, and what one camper called "the best ice cream in the world." For many girls, this uniquely North Carolina experience is a highlight of their session.
Tomorrow we must say goodbye to our mini session campers, recalling fondly the fun we had together, and looking forward to our chance to be together again next summer. Thank you girls!