Just on the edge of Black Mountain, NC, about and hour away from Rockbrook, is Camp Rockmont for Boys. Founded in 1956 on the 500-acre campus of the former Black Mountain College, it's now a well-known camp that hosts about 400 boys per session. The beautiful Lake Eden is the center of the camp, along with it's dining hall, historic dormitory, several athletic fields, and gymnasium. The whole campus is beautifully designed and feels like a mountain retreat.
Tonight, for the first time in the history of Rockbrook, our girls had a "social" with the boys at Rockmont… finally the -brook and the -mont coming together. This was quite a logistical feat since it involved us transporting all of our Middlers, Seniors, Hi-Ups and their counselors to Black Mountain, but with some help from two chartered 44-passenger buses and all of our camp buses and vans, we were able to make the journey with 3 seats to spare.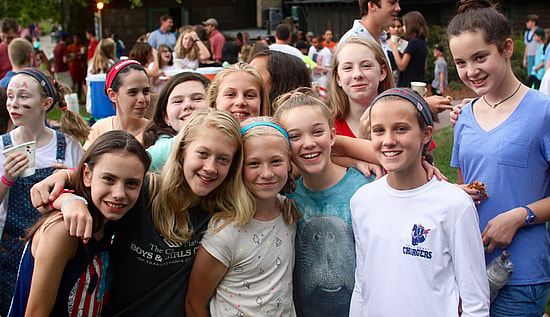 As our convoy of vehicles pulled into the Rockmont gate, a dozen or so of the boys stood out front waving and holding a hand-painted sign reading "Welcome Rockbrook!" Several other campers, and Shawn the Rockmont assistant Director, then led us from our buses up to a grassy area between their gym and dining hall, and adjacent to their lake where all the evening's action was planned. The weather was ideal— cool shade, light occasional breezes, and clear cloudless skies —so we were all excited to get started and see what this "social" would entail. And it was amazing! Up the hill in the gym, the dance music was rockin' with fun disco lights and kids dancing in a dance floor area marked by a set of moveable bleachers. Down in the dining hall, a couple of counselors were leading a craft activity and closer to the lake, another staff member was tending a big campfire where the boys and girls could just sit and talk. There were frisbee games and spikeball (AKA "slammo" or "battle bounce") games to play. There was a snow cone machine making cones for everyone, and plenty of water stations set up stocked with cookies to enjoy. They also had short hay rides slowly carrying groups of kids by tractor around a loop through the camp.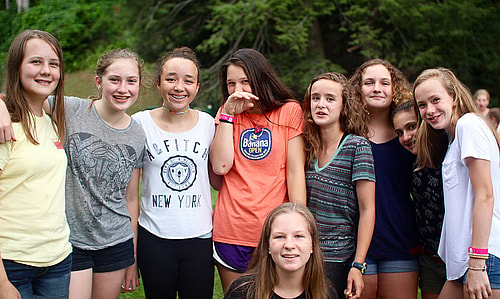 With all these options available, it was fun for the girls to flit from one thing to the other. They would hear a favorite song coming from the gym (like Y.M.C.A., for example) and run up to dance. Then feeling hot from jumping around to the music, would head back down to the grassy field to cool off with a cup of water. The girls mostly moved in groups, more comfortable having conversations and interacting with the boys with friends nearby. I think the most common question I heard being asked was, "How old are you?" Apparently, for these children, that's both important and a little difficult to guess. As the evening unfolded, it seemed to me that the girls became a less nervous and more of these conversations were taking place.
The highlight of the night was the fantastic fireworks show Rockmont presented to close the evening. It was their 4th of July celebration and included very professional mortars and rockets fired from the dock in the middle of their lake. With music blaring, and colorful explosions blasting in the sky, it was a thrilling show.
The bus ride back to Brevard got us home quite late, and the girls will no doubt be a little tired tomorrow, but it was a very fun outing for everyone. Thanks Rockmont! We had a great time visiting, and we hope to do it again soon.