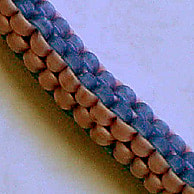 What is a gimp? Originating in France and popular even today at summer camps worldwide, it's what we call a lanyard. Did you know that "Scoubidou" (pronounced in your best french accent) is its original name? They're called "Scoubies" for short, and can refer to either the colorful plastic strands used or the final project of repeated knots. Sometimes, when the material is braided, it is called a "Boondoggle," a name that appears to have come from the boy scouts and their tradition of braiding a ring of leather straps to hold a neckerchief.
At camp, this traditional arts activity is insanely popular. You can see it everywhere.
This lanyard material is also referred to as "Gimp," following the name for twisted treads (usually silk, cotton or wool) used as decorative trimming on dresses. Our familiar lanyards have quite a history!
The world record for the longest Scoubidou (Boondoggle, Gimp, Lanyard) is held by Manuela Dos Santos of Brancourt, France. On November 11, 2008, she finished her Scoubi— 1,673 feet and 2 inches! An amazing project. It makes us wonder if the strands she used were single long pieces or sections tied together.
Want to learn more? Check out these links:
Basic Lanyard patterns
Fun Scoubidou projects
Cool Boondoggle videos