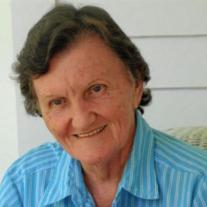 We were saddened to learn this week of the passing of long time Rockbrook friend Sybil Dodson. Sybil, fondly known to us at Rockbrook as Mrs. Potter, passed away Friday, October 8 in Asheville, NC.
Sybil and her husband John were the founders of the pottery program at Rockbrook. In addition to creating and running Rockbrook's pottery program, Sybil also managed the camp store as well as her family's shop Mud Dabbers Pottery. Sybil was like a mother to many of the campers that she interacted with and lots of girls spent time at the camp store just so they could visit with Mrs. Potter. Her kindness and bright smile were a gift to all of us at Rockbrook. Her contributions to RBC will be long remembered.
A memorial service will be held at 10 a.m. on Friday, October 15 in the Memorial Chapel of the Brooks-Howell Home, Asheville NC. In lieu of flowers, the family suggests that memorial contributions be made to Brooks-Howell Home, 266 Merrimon Avenue, Asheville, NC 28801. Condolences may be sent through the Morris Funeral Home.