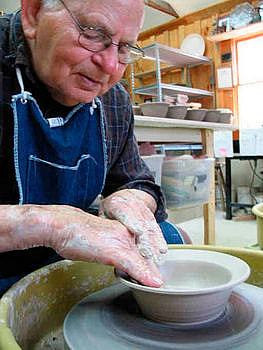 Although Rockbrook has offered pottery since the 1950's, it really took off in the 1980's when John and Sybil Dodson aka "Mr. and Mrs. Potter" began their work at Rockbrook. They created a fabulous program and helped build our first pottery studio, located down in the old garage of The Rockbrook House. For over 20 summers the Dodson's taught legions of Rockbrook girls the art of hand building, wheel throwing and glazing. If you were a camper during that time you probably also remember the petting zoo down at pottery! Mr. Dodson would often bring a goat or a chicken as artistic inspiration. When we hear from former campers and staff they often talk about Mr. and Mrs. Potter as some of their favorite camp leaders.
In addition to working at Rockbrook, Mr. and Mrs. Dodson had their own pottery shop. Mud Dabbers Pottery and Crafts was located in the Old Distillery Building on the Rockbrook property. It did not take long for them to outgrow their original shop with all of their amazing pottery, so they moved Mud Dabbers down the street to the Old Powell Store, where it is currently located. It is quite an amazing shop, filled with the work of over 20 artists. It is still a destination location for many people who journey up the mountain just to visit Mud Dabbers!
So, In honor of Mr. Dodson and all of his amazing work with so many people over the years, his family and friends are organizing a memory book for him for his upcoming birthday. If you have a memory of Mr. Potter that you would like to share for this special tribute, please write Shannon at: srood31@hotmail.com. Deadline for submissions is Memorial Day. We love you Mr. Potter!