Sundays at Rockbrook slow down a bit. We paused our regular activity schedule to give us some time to reflect about camp life and to enjoy an afternoon all-camp event of some sort. It begins by letting everyone sleep an extra 30 minutes and come to breakfast in their pajamas. Cabin chores can be done later in the morning, so most everyone sleeps in and stumbles to breakfast in a warm sweatshirt over their pajamas.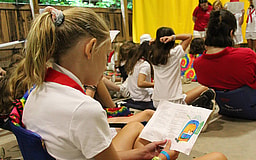 By mid-morning, everyone dresses in their camp uniform (white shirt and shorts with a red tie for campers) and assembles around the flagpole on the hill for a short flag raising ceremony conducted by the Hi-Ups. They raise the flag and we all recite the Pledge of Allegiance. Today the weather was threatening rain in the morning, so instead of walking to the Chapel area located past the end of the lower line, we made our way to the gym for the ceremony.
"Chapel" is not a religious ceremony at Rockbrook, despite its traditional name. Instead, we understand it as a time for us to recognize some of the important values and concepts we all hold as a community. We've started to understand "chapel," for this reason, as an acronym standing for "Celebration of Happiness, Adventure, Peace, Earth and Love." In addition to these, past chapel themes have been Friendship, Honesty, Compassion, and Community, to name a few. These are all experiences that we find at camp and we can endorse no matter what a camper's religious upbringing. The different age groups take turns selecting the theme for Chapel, and then designing the program of songs and speeches that address the theme. Sarah always contributes a few thoughts on the theme too. She usually does this by reading a children's book, and then commenting on how the book speaks to the theme.
Today, the Juniors presented their theme: "Adventure." They sang a few Disney songs about adventure and the bravery it often requires. Sarah read The Fossil Girl, a story about Mary Anning, who lived in England and discovered the world's first complete fossil of an Ichthyosaurus when she was just 10 years old. It's a true story of a young girl whose persistence and daring makes her success possible.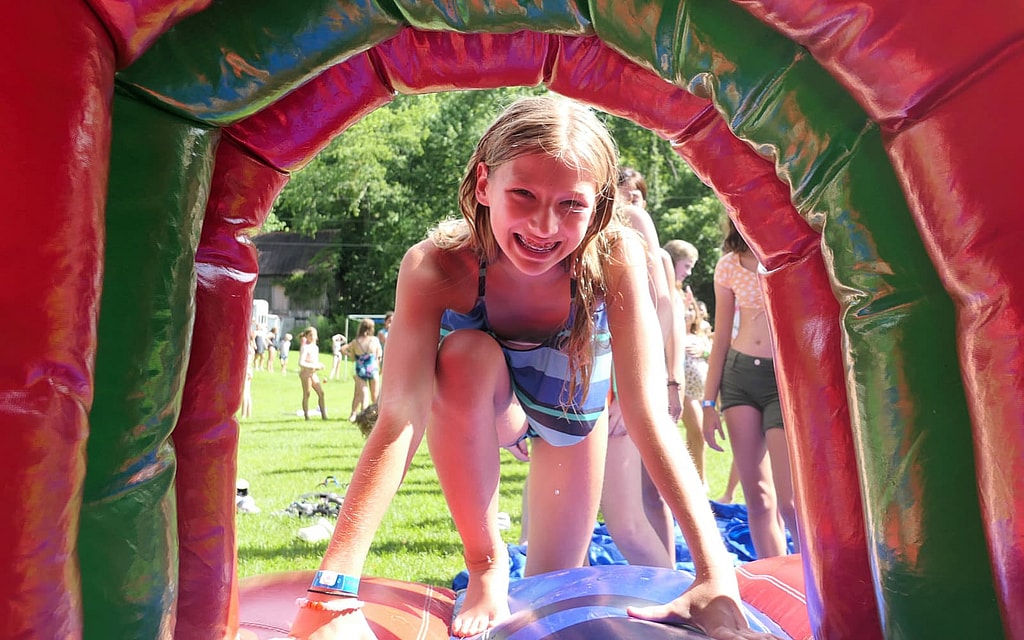 The day's highlight came after rest hour when we held a Candy land themed Carnival down on our grassy landsports field. This all-camp event featured 2 water based inflatables, silly games, upbeat music and special food. The girls came dressed in their swimsuits, and in the bright sun of the afternoon, climbed an inflatable waterslide to splash into the pool at the bottom. The other was a wild two-person race obstacle course that ended in another pool. We had a lawn sprinkler going too, so anyone could cool off if they wanted.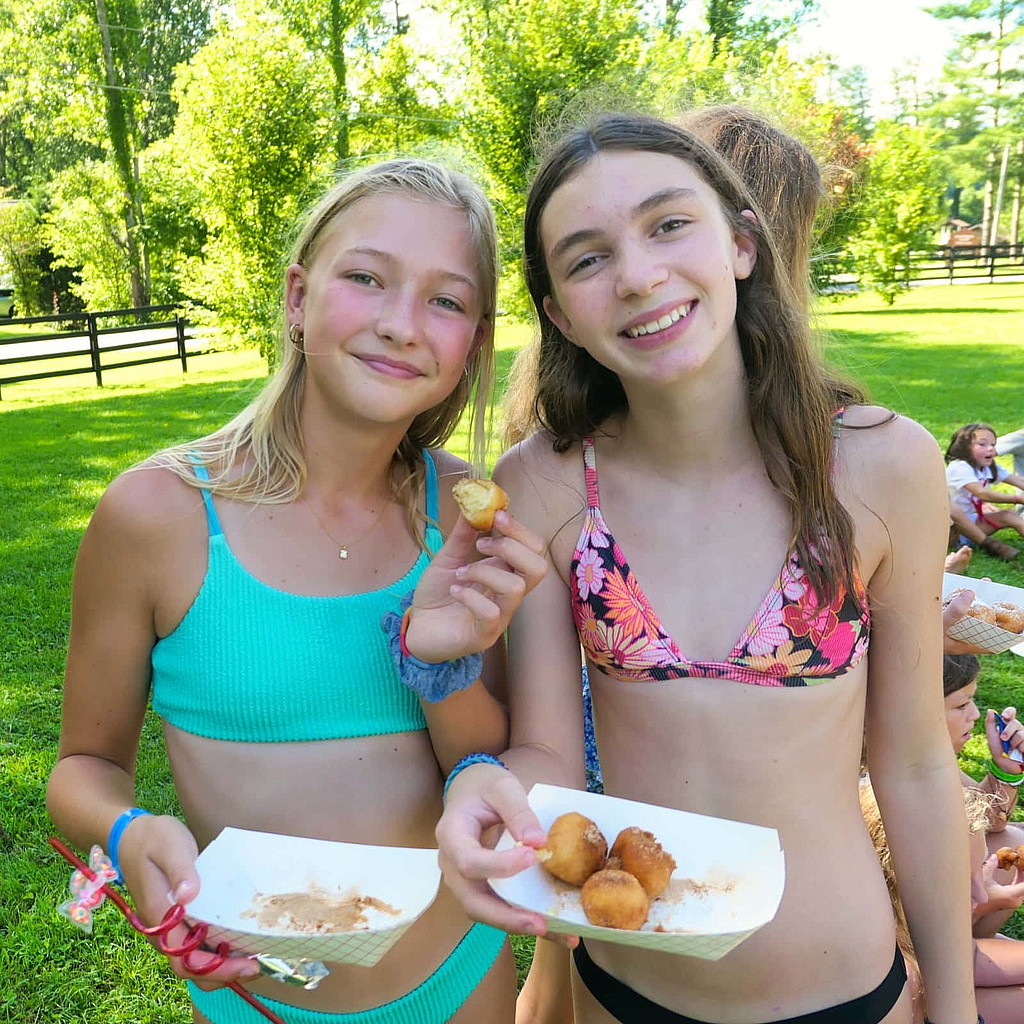 There were several carnival games to play as well: a life-sized Candy Land game that involved "rolling" a giant die, tossing an inflated donut challenge, a beanbag toss game, a dance competition game, and a strange game that challenged players to use only their feet to unwrap a giant ball of candy encased in plastic wrap. In all of the games, there were small candy treats and small toys to win.
For food, we had a special treat made by Jenny's Mini Donuts, a local food truck. Each person from each cabin group got to choose between cinnamon sugar or powdered sugar mini donuts. They were a huge hit!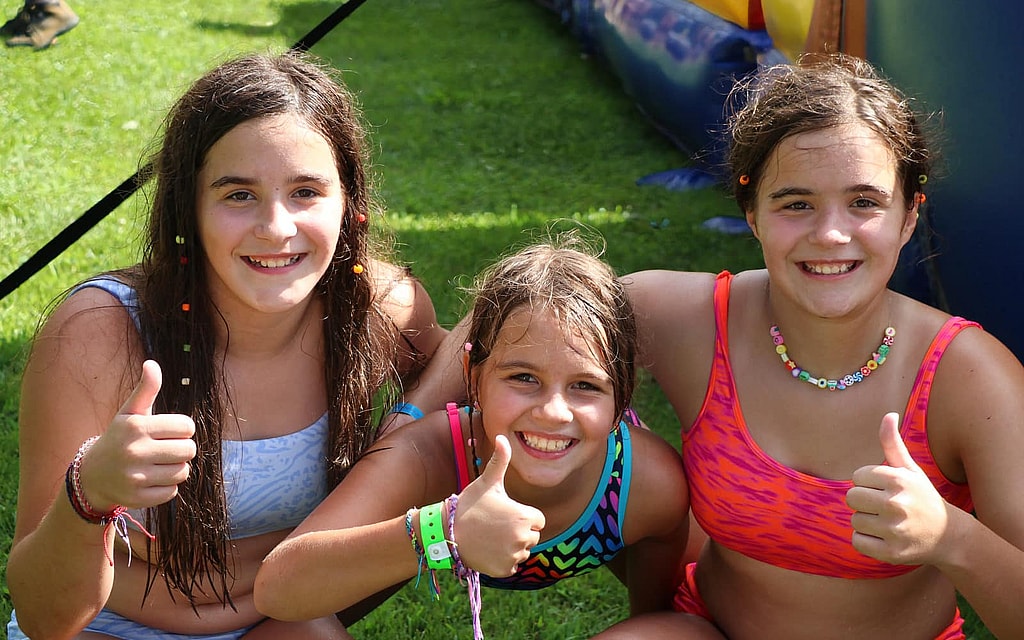 Bare-footed and excited, the campers zoomed from game to game, cooling off in the water events, eating the candy they won, and dancing with their friends to the music. The girls cheered for each other on the obstacle course and laughed with every splash at the bottom of the water slide. It was an exciting event, really an ideal way to spend the afternoon at camp.