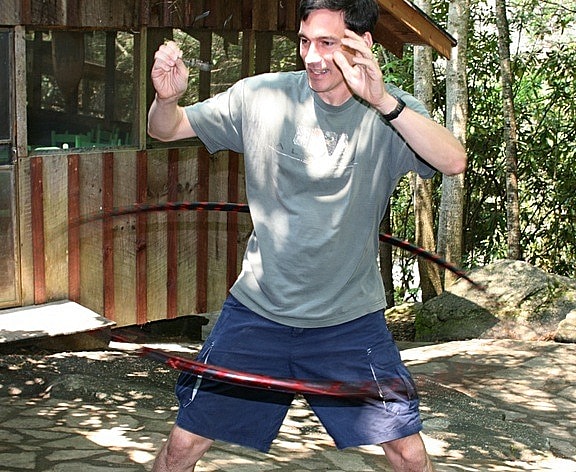 Jeff Carter began his Rockbrook career in the 1980s. Over the years he has served camp in more capacities than most staff members. Hired by previous owner Jerry Stone, Jeff planned and led hiking and climbing trips in his first summers at camp.
During this time he pursued many education opportunities including his degree in comparative religions from Davidson College, where he was also an All-American high jumper on the track team. Then he received his masters degree from Harvard followed by his doctorate at the University of Chicago. He spent a year living in Nigeria on a Fulbright Fellowship completing his studies.
After marrying Sarah (at Rockbrook!) and teaching at Davidson College, he returned to Brevard to help Jerry start the Castle Rock Institute (a college humanities program run at camp). During this time, Jeff continued to work behind the scenes at camp leading trips, keeping us technologically up-to-date, and fixing everything!
While Rockbrook is in session, Jeff continues to be our "Jack of all Trades." Combining his outdoor knowledge with his goofy sense of humor, he is always up to something new. During the off-season, he works on key staff hiring, website maintenance, health and ACA standards, camp improvements, and the list goes on. Also, when Jeff isn't busy with camp director duties, he enjoys being outdoors: biking, hiking, and climbing. Typically he brings his two daughters, Eva and Lily, along for an adventure!