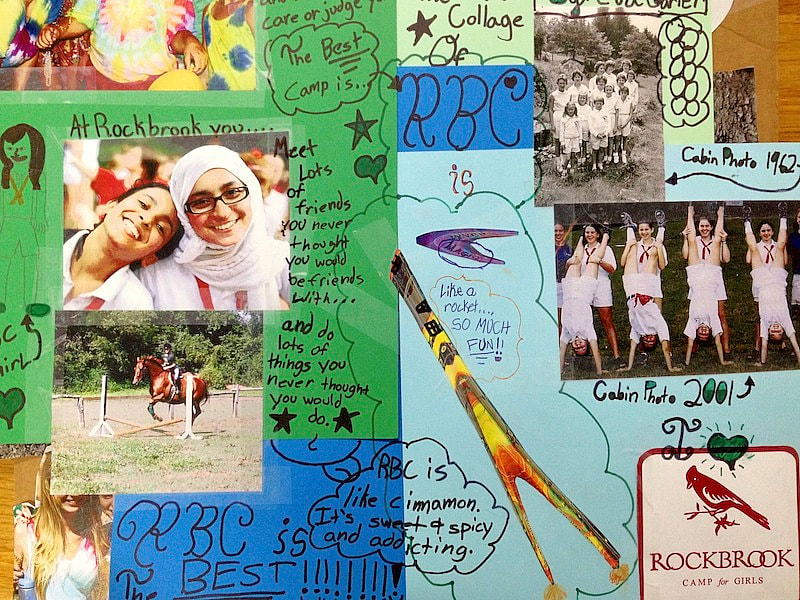 Less than a week! Rockbrook will open in just 5 short days, and boy are we excited! (Have you seen the countdown timer on the sidebar lately?). Throughout the spring as we've planned and prepared for our 2013 summer season, as we've finished building projects, organized activities and special events, we've gotten more and more eager to get started. This past Sunday was the start of our week-long staff training session. There are about 60 of these college-aged women who are now at camp because this summer they will be cabin counselors, outdoor adventure guides, equestrian instructors, craft specialists, and sports coaches. Add to that several nurses, the entire kitchen crew, and maintenance staff, and you can imagine the buzz of activity suddenly energizing the camp.
In addition to the directors and the staff members, we're hearing from campers too, many of the girls who are bursting with glee to finally get to camp. Here is a collage, made by Eva, that conveys this feeling of excitement. It's impossible to not feel excited when Rockbrook is so much fun "it's like a rocket," and is "addicting" like the "sweet and spicy" taste of "cinnamon." Whether in 1962 or 2001, or this year, Rockbrook is a place to make new friends and do new things.
Can you feel it? Are you ready for camp?