Our fantastic counselors from summer 2011 have been popping up recently at the camper slideshow parties. It's such a treat for Mandy and Sarah to visit with them in addition to the campers at the parties. Here are some updates from those visits!
Chase Nelson dropped by the party in Knoxville, TN. She is currently a junior at the University of Tennessee and is contemplating her degree focus. We can't wait to hear when she chooses her focus, but most importantly, she can't wait to get back to Rockbrook next summer. It seemed like she is enjoying being a counselor maybe even more so that her days as a camper.
The next familiar face was Michelle Postma in Atlanta. She drove all the way over from Athens, GA, where she is a sophomore at the University of Georgia. She seems to be super busy with classes. We are excited that she is planning to be back at camp next summer focusing her energy on outdoor adventure trips for our campers. Her wealth of knowledge about orienteering and the trails around camp are invaluable.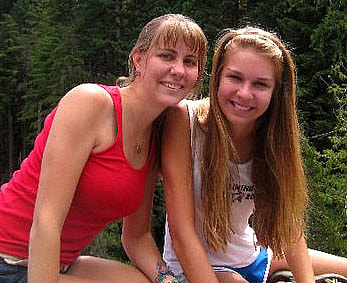 Finally, Maggie Cameron dropped by the Winston-Salem party. Maggie worked as a CIT (counselor in training) in 2010 and is very excited to be a full counselor in 2011. She is very busy finishing up her senior year at Mt. Tabor High School. While she isn't sure where she will be next year for college, she is busy applying and is most excited about Wake Forest and UNC-Chapel Hill. Good Luck Maggie!
Rockbrook counselors are amazing role models to our campers. We would be lost without them and their great experience. We'll see everyone on the road soon!