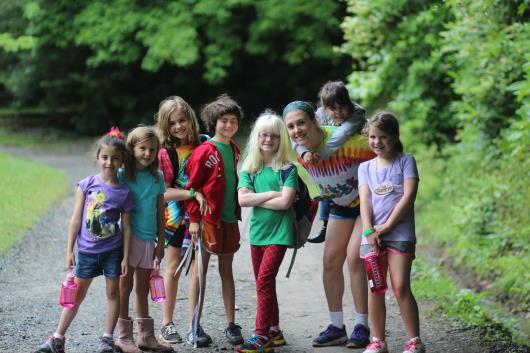 Our first full day with the mini-session campers turned out to be a wet one–the rain showers that rolled in Sunday night lingered over our wooded mountain for most of yesterday morning.
In true Rockbrook fashion, though, we weren't held back by the rain, or "dew" as we like to call it here at camp. Since Rockbrook girls like to greet every scenario with a song, we started off the morning with a rousing rendition of "My Dewcoat Is Up In My Cabin," at breakfast, in which the campers sing for someone to please "Bring DOWN, bring DOWN, oh bring down my dewcoat to me, to me!" Activities started up as usual soon after, just with a few improvisations thrown in to make this rainy day as fun as any other.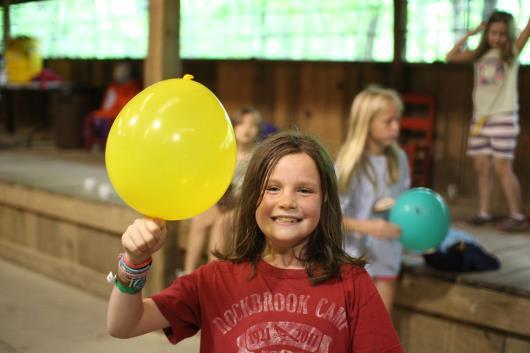 Tennis classes switched out rackets for paddles, and put together makeshift pingpong tables in the dining hall. Pairs of girls faced off over napkin-holder-nets in an epic pingpong tournament that had the whole dining hall cheering.
Not to be outdone, Archery, Swimming, and Riflery joined up with Sports and Games in the gym, for a pick-up game of balloon-volleyball. To make things more interesting, the counselors in charge hung a tarp over the net, so the campers couldn't see until the last moment where the balloons would emerge. Just when the girls were getting the hang of things, the counselors threw in another curveball by adding even more balloons, resulting in an action-packed hour of shouting girls, flying balloons, and big smiles.
Our craft activities continued as scheduled, sometimes with additional campers joining in from their outdoor activities. Girls who had thought they'd be spending their mornings hiking to a nearby waterfall, instead tried their hands at improv games in Drama, weaving in Curosty, and pillow-making in Hodge Podge. I even heard one girl, after trying out Drama for the first time due to the rain, promise the Drama teacher that she would be sure to sign up for Drama for the next activity rotation.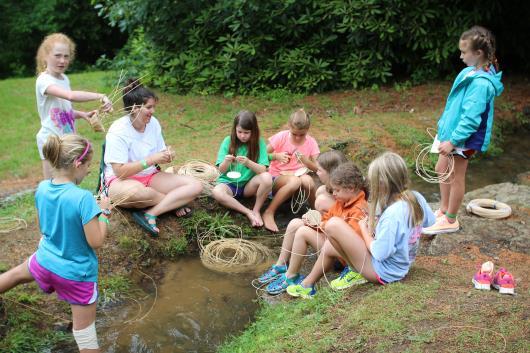 After a morning of crafts, group games, and ice breakers indoors, campers and counselors emerged from their cabins after rest hour to a pristine–if slightly damp–camp, sparkling in the sunlight. The rest of the day went perfectly as scheduled: kayaks ventured out onto the lake once more, arrows thudded into bullseyes at the archery range, Curosty classes took their basket-weaving out to the creekside to enjoy the scenery–all while campers of all ages zoomed overhead on the zip-line.
It is true that these exciting adventures (big and small), which campers encounter every day at camp, are what make Rockbrook an exciting place to be; but still, it is the way that our campers spent their rainy morning that makes Rockbrook special.
Elsewhere, you might pass a stormy morning sitting around the house, staring glumly out the window, waiting for the sun to release you from boredom. Here at camp, we treat that pesky rain to a song, then spend its duration trying new things, meeting new friends, and creating silly games that might never even have been thought of if the rain hadn't offered us the time.
We can handle the rain— it's boredom that has no place here at Rockbrook.