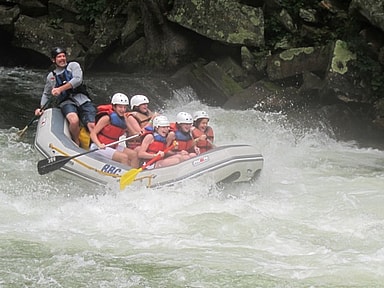 Mark Twain poked at the nation a bit. He elbowed us and said, "Twenty years from now you will be more disappointed by the things that you didn't do than by the ones you did do. So throw off the bowlines. Sail away from the safe harbor. Catch the trade winds in your sails. Explore. Dream. Discover." He encouraged us to get up and live!
As camp counselors we perfectly personify this assertion. Every summer we trade in air-conditioned rooms for mountain-chilled air, polished, made-up looks for muddy, natural complexions, and car wheels for cartwheels. We explore the splendor of the natural world. We dream of creating a world of beauty for our campers. We discover the sheer joy a child can bring to life.
Come June slow, sleepy mornings brought on by a sounding alarm clock transform into a rising bell, fresh fruit and songs sung between bites at breakfast. Hands normally busy texting and typing are suddenly paddling, french-braiding, and slipping snail mail into the post. We explore and desire the simple life. We dream in fairy parties and jungle breakfasts. We discover what summer means to us.
As the days grow longer and the weather warmer, we no longer flip a switch to fade the lights, but watch on as the sun's gentle pinks and oranges settle under the horizon as we welcome twilight's lightening bugs with open arms. Time typically spent choosing the day's outfit and honing a particular outward appearance is devoted to studying the inside of a person; the real beauty and essence of them. We explore the depth of a real friendship. We dream and strive to be the best role model we can be for our campers. We discover that we are capable of things we never imagined possible.
Twenty years from now look back on a life well lived.