Today we opened our June mini session and welcomed 77 campers to Rockbrook to begin their 2-week session. It was an exciting morning for everyone, certainly for the girls arriving because they were finally starting their time at camp, but also for the current full session campers and staff already here because they now had a new group of friends to meet and play with while at camp.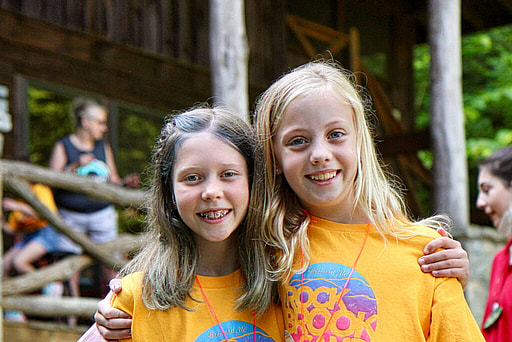 About half of the girls arriving today were brand new to camp, and about half are on the Junior Line (grades K-4). You could feel everyone's jittery excitement as the cars pulled up at each stop in our drive-thru check-in process. I imagine the girls were feeling a unique combination of nerves, almost intolerable anticipation, but also deep-down eagerness.
Meeting your counselors and the other girls in your cabin amplify these feelings, but the best way to harness this energy is to get started doing things. So that's what we do. The first job, after quick introductions, is to set up the cabin, making beds, arranging trunks, etc. But then it's time to tour the camp, and get a sense of the different activity areas, the dining hall, and other landmarks like the stone lodges, the tennis courts, the gym, and the lake for example.
A quick assembly of the whole camp on the grassy hill gave everyone a chance to sing a few songs, meet the Directors, Line Heads, and the Hi-Ups, and catch a glimpse of the mountain view in the distance.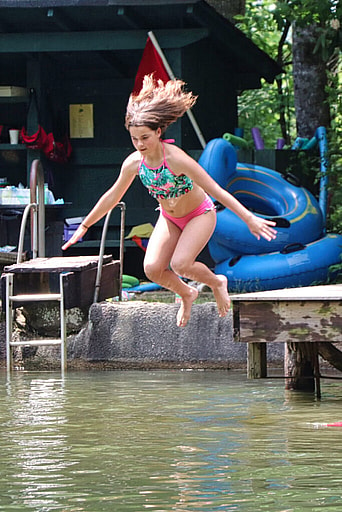 For lunch, Rick and his fantastic kitchen crew prepared a camp classic: tacos. With bowls of homemade guacamole, salsa, lettuce, cheese, tomatoes, refried black beans, and ground beef, as well as stacks of crunchy taco shells, it really hit the spot. And since the weather was perfectly sunny and breezy, we turned it into a picnic and ate outside on the hill.
After lunch, during rest hour, the mini session campers who just arrived changed into their swimsuits and walked down to the lake to learn about our swimming "Tag System" and to demonstrate their swimming ability. They took turns jumping off the dock, swimming and treading water to prove how comfortable they are in the water. There are three different colors of tags based on swimming ability, each indicating which part of the lake is best for that person (deeper for strong swimmers, and perhaps wearing a life jacket for beginner swimmers). Everyone who wants to cool off in the Rockbrook lake can do that in some way or another.
We had another all-camp special event in the afternoon— a festival of sorts focused on the theme of "animals." We called it "Petting Zoo." And if you saw the farm animals on hand, you can see why! The girls were able to feed a calf, a baby pig, a couple of goats, and chickens. There were many animal-rated other activities too: hobby horse races, animal costume bingo, making felt animal headbands, a flamingo ring toss game, face painting, and a huge limbo line. Of course, there were animal crackers as a snack, and with many of the girls dressed in different animal costumes, we had an afternoon menagerie!