The Nolichucky is a gorgeous wilderness river that stretches for 9 miles through North Carolina and into eastern Tennessee. It drops down through a gorge of rocks between the Bald Mountains and the Unaka Mountains forming an excellent, scenic and technical, whitewater run for kayaking. Today, Leland, Andria, Jamie and Brett led seven campers on a trip down the Nolichucky, spending all day kayaking on the water. With class III and III+ rapids most of the way, this is an intermediate kayaking river, and these Rockbrook girls were ready! They tackled the "Railroad" rapid, "On the Rocks" rapid, the "Quarter Mile" rapid, and the "Rooster Tail" rapid. They took time to play too, for example surfing a wave on the "Jaws" rapid.
A couple of girls had to swim after flipping their boats, but both Marli and Anna Grace were able to roll back up, hitting a true "combat roll" (rolling up, not while practicing, but "for real" in the more difficult setting of a whitewater rapid). The girls were very excited to be able to take this special trip and to paddle so well. Take a look at this excellent group.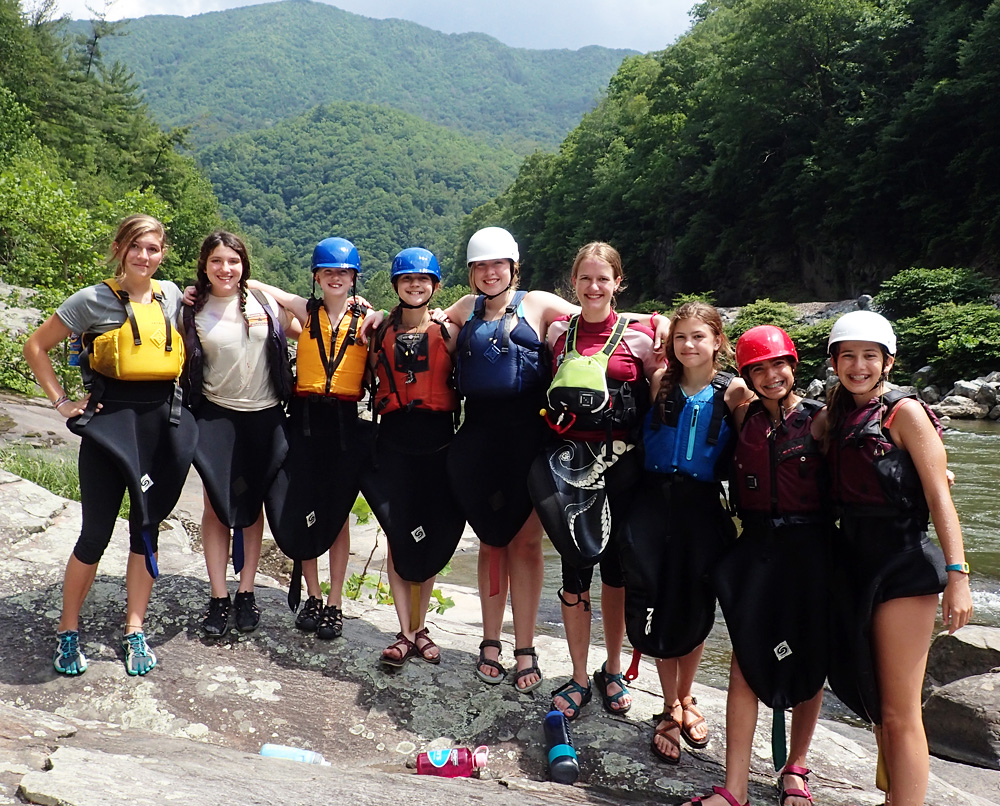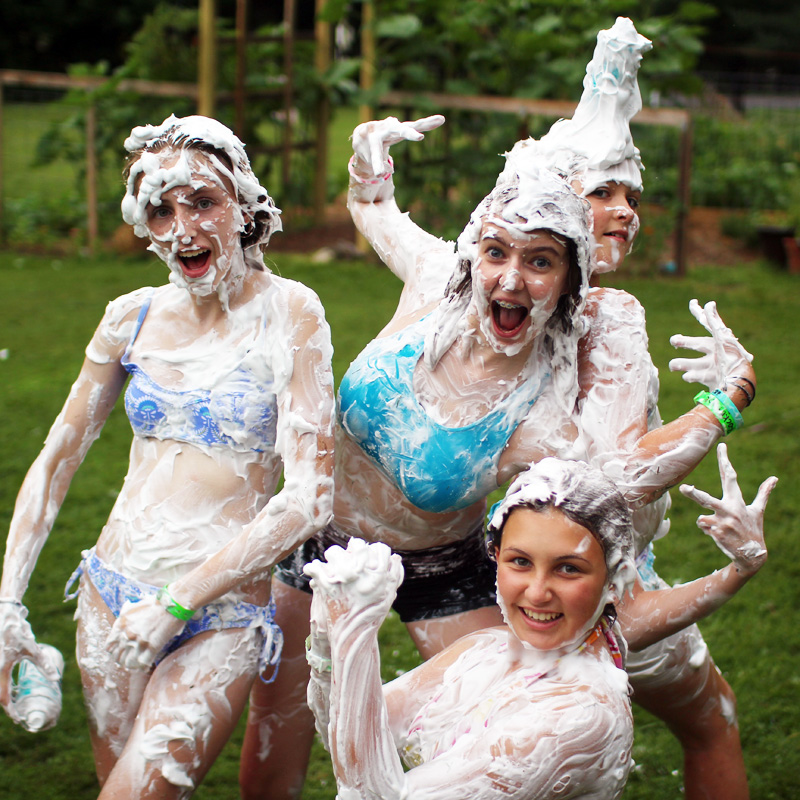 Maybe it was the fantastic dinner of pasta, roast chicken and green beans we enjoyed, or the blueberry cobbler (made from scratch with fresh blueberries) that showed up for dessert, or maybe the girls have now grown especially comfortable here at camp, but whatever the reason, we were all surprised by the explosive response that erupted in the dining hall when we announced an optional shaving cream fight for tonight's Twilight activity. It seemed like every age group was excited to put on their swimsuits and in about 15 minutes, we had more than 100 girls on the landsports field armed with a can of slippery white foam. There are very few rules to a shaving cream fight. Essentially, you squirt and spray shaving cream on everyone nearby, and run around trying the smear it into someone's hair, or into funny patterns somewhere on their body. It didn't take long either for everyone to be mostly covered with the stuff. The girls absolutely loved it, and really spent most of their time laughing after "smearing" someone, or being "smeared." With everyone slippery, we also pulled out a slip-n-slide to enjoy. This is all good, albeit a little messy, hilarious fun, perfect for a bunch of friends at camp.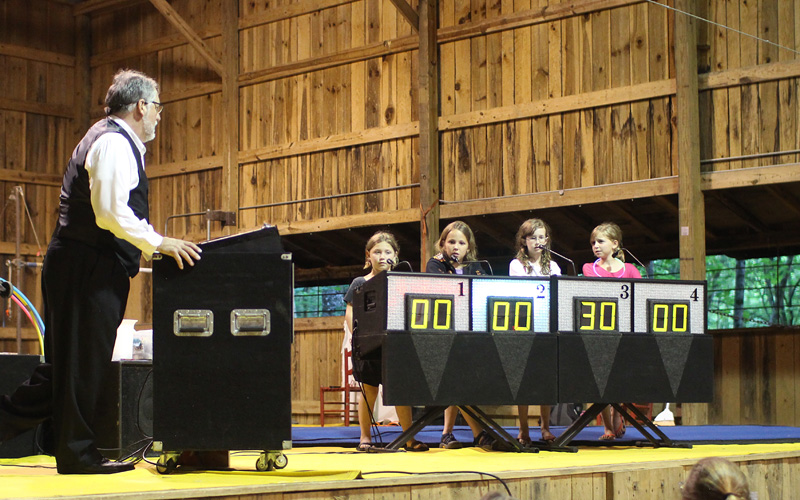 Our evening program brought back Bill Grimsly and his "Game Show Mania." A little prompting from Chase first sent the girls back to their cabins to invent wacky costumes… proving once again that everything is more fun in costume. Check out the photo gallery to see what they came up with. When they arrived at the gym, the girls found four game show podiums set up, complete with buzzers, lights, and scoreboards. After selecting random members of the audience, each round from a different age group, Bill presented a trivia question and answer game challenging the girls to name movie titles, musical artists, characters from books, and details from Rockbrook's history (For example, What does the F.B.I. cabin's name stand for?). Bill mixed things up occasionally by announcing hilarious "challenge rounds" where he would award extra points if a contestant could hula hoop the longest, or was willing to eat something "not so appealing" like canned sardines in mustard sauce. When a girl won a round of questions, her whole cabin received a giant cookie as a prize, which meant that the audience was always rooting for the contestants.
By the way, the answer is "Fanny Bell Inn." 🙂