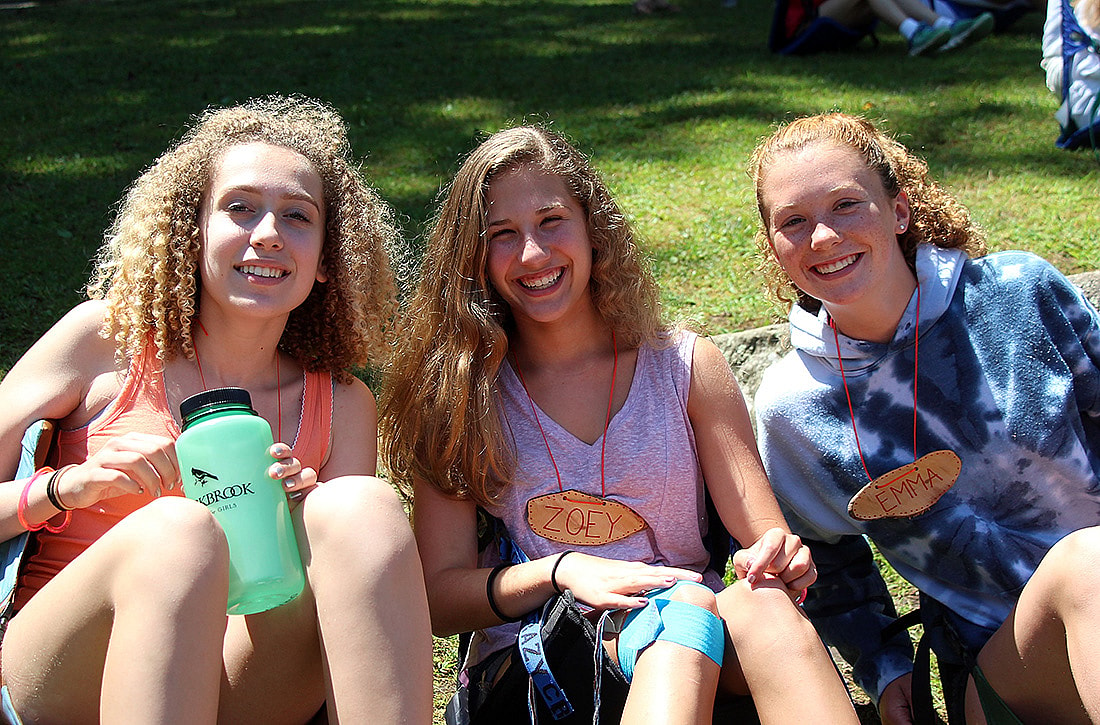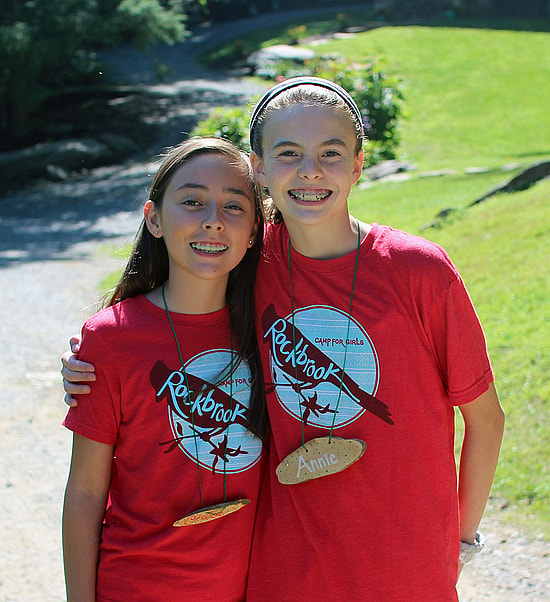 The first sign is the red and white balloons floating at the entrance, and the second is the smiling Hi-Up campers greeting you partway up the driveway. Then at the top the hill, when you see the mob of cheering counselors dressed in their staff uniforms, it's clear something special is happening, something VERY exciting. It's the opening day of camp! …in this case, for the mini session campers arriving to join the full session girls who have been at Rockbrook for two weeks now. For everyone— new and returning campers, and all of us already at camp —this is an exciting day. It means camp can finally begin for these girls arriving, reuniting with camp friends from last summer, and equally, it means we all have a renewed chance to make new friends in this active outdoor environment.
It was particularly cool and foggy first thing this morning, with the Dew Point (62 degrees) almost equal to the temperature (62.5), and, according to our camp weather station, with 99% humidity, the fog was really thick. It was the perfect morning to wear long sleeves, or, as one camper decided, to wrap yourself in a blanket at breakfast. When the sun popped over the hill, miraculously burning off the fog, we were treated to a perfectly warm, bright summer day ideal for exploring the camp, meeting all these new people, and then enjoying sample activities like a hike through the woods to Rockbrook Falls, jewelry making in the shade of the hillside lodge porch, archery, and gaga ball.
We held a quick assembly on the hill right before lunch to introduce everyone arriving to the directors and program staff, to recognize the cabins with the best inspection scores (awarding them the mop trophies), to learn about our lightning protocol (in response to our Thorguardian system) and the boundaries of the camp, and just to enjoy singing a few songs together, charging up our camp spirit.
An orientation to our waterfront area was also an important part of the day. We want to make sure everyone at camp understands our tag system and feels comfortable swimming in the lake. The new girls zipped right through their "swim demos," happily leaping in the water to earn their blue, green or yellow swim necklaces (Notice them being worn by the four girls below). These soft elastic necklaces indicate to the waterfront staff a camper's swimming ability and thereby where she can safely swim in the lake, in the deep areas, or perhaps restricted to the shallow section, for example. We make it possible for everyone at camp to enjoy the lake in some capacity, and the lifeguards are always willing to help a girl improve her swimming skills if she's interested.
We always plan something big for Sunday afternoons, some kind of all-camp event that integrates many of the components that make a great party—music and dancing, costumes that revolve around a theme, snacks, activities, games and challenges with prizes to win. What better way to launch our new camp session too? So with the help of the full-session Senior campers and counselors, we held a Star Wars themed carnival, or more precisely, a "Jedi Knight Training Academy" down on our landsports field today. There were a dozen different activity stations, each related to Star Wars: "Jedi Agility Training" that included a lightsaber duel with Darth Vader, a "Death Star Destruction" shooting game that used Nerf pistols, and an archery game where the girls had to hit a Sith solder with a paint-dipped arrow, for example. The girls made their own lightsabers using a foam pool noodle and different types of tape. They solved a matching game puzzle, and got their faces painted ("The Face is with You"), one girl turning her whole face into Yoda's! We had girls dressed as the character Rey, several Jedi Knights, Yoda, and of course many with the hairstyle of Princess Leia.
One highlight of the event were two huge inflatable games: a 25-foot tall, dual water slide, and a challenging obstacle course called "Leaps and Bounds." The girls lined up for multiple slides and leaps on each. Meanwhile, our snow cone machine ground ice for snow cones all afternoon, helping keep us cool in the sun. Group dances to favorite songs, racing about with water pistols, activity in all directions, we had an excellent camp party going on!
We'll be ready for our first full day of camp activities tomorrow, the girls scattering and eager to give everything a try. Stay tuned; it's going to be great!