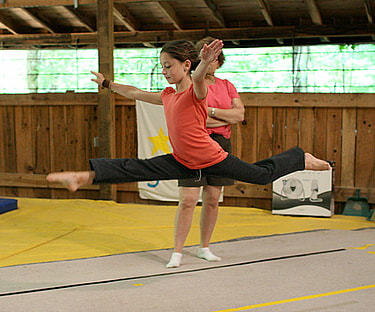 It's a "split leap!" Taken directly from Ballet and applied in gymnastics to Floor Exercises and the Balance Beam, this gymnastics skill begins with a leap forward where the athlete does a 180 degree split in the air, leaping off one foot and landing on the other.
The split leap is more that just doing a split in the air. Judges look for style, proper arm, hip and shoulder position as well. For example, it's important to keep your shoulders and your hips square. This is a common error, in fact, because many young girl gymnasts have to turn their hips in order to do a split at all, and once they learn this, it's difficult to "un-learn" it to do a split leap properly.
Of course, the trick to doing this gymnastics skill is excellent flexibility and strength, both of which come from proper form when practicing. It's important to keep your hips and shoulders square as you stretch and improve hamstring, hip flexor and quadricep flexibility.
The Rockbrook Camp gymnastics activity is a place where girls can practice their split leap, improve their flexibility, and learn the correct techniques for this important gymnastics skill.