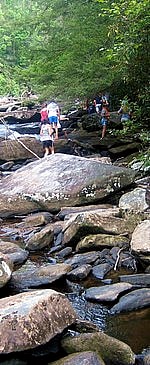 Today we have a guest post from Rockbrook alum, Lizzie Rizzo. Lizzie grew up in New Iberia, LA and attended Rockbrook for many summers. She and her husband Jordan currently live in Austin, TX. Here's Lizzie:
Columbus Day is not a holiday I typically make many plans for (do you?) But looking at my calendar a few weeks ago, I was pleasantly surprised to see that I had this day off from work (I work for a Boston-based company and the holiday is a bigger deal up there). So I started thinking about what to do with this extra day away – what a gift! Around the same time, out of the blue, Jerry texted me a photo of the harvest moon over Brevard. The last straw was when I was talking to a colleague who told me to look out for her call from an 828 area code number (odd since she is based in San Francisco, but was visiting family in Highlands). All that could only add up to one thing, it was time for me to get back to Brevard!
I spent 13 summers at Rockbrook as a camper and counselor and not a summer goes by that I don't think about camp – and yes, there's often a little tinge of jealously! I could tell you about how Rockbrook helped to shape me into who I am and was a place that I met lifelong friends, but y'all already understand that and no doubt have many of your own memories. So instead, I'll just say that this weekend has been full of many of the same elements present when I was here in years past – good friends, fresh mountain air and even a hike up at Sam Knob.
I recommend coming up to here when you can – whether it's for Patriot's Day, Canadian Thanksgiving 🙂 or just a quick weekend visit – make some plans, call your old friends and come back to your summer home.